Photos for
"The Great Escape" Cub Adventure 2016
(photos may take a moment to download)
The Cub waited patiently on the ramp for the hangar door to close. Sixty-Five horses needed only five blades to prime the carburetor. A generous throw of the sixth blade with mags hot and the Continental engine roared to life ("roared" might be an overstatement). After climbing into the Cub - checking the gauges - we taxied for takeoff. In the weeks ahead we will repeat this process on every morning we have a flight to enjoy. It's such a privilege to experience America from several hundred feet above while flying a vintage airplane. BFH0003 - Day 1 - North Carolina
Tobacco fields invite deviations from the flight plan course line with their brilliant lime green color. Bordered by hardwood trees getting ready for fall colors, their shadows create an image worthy of Mr. Nikon's talents.
BFH0013 - Day 1 - Virginia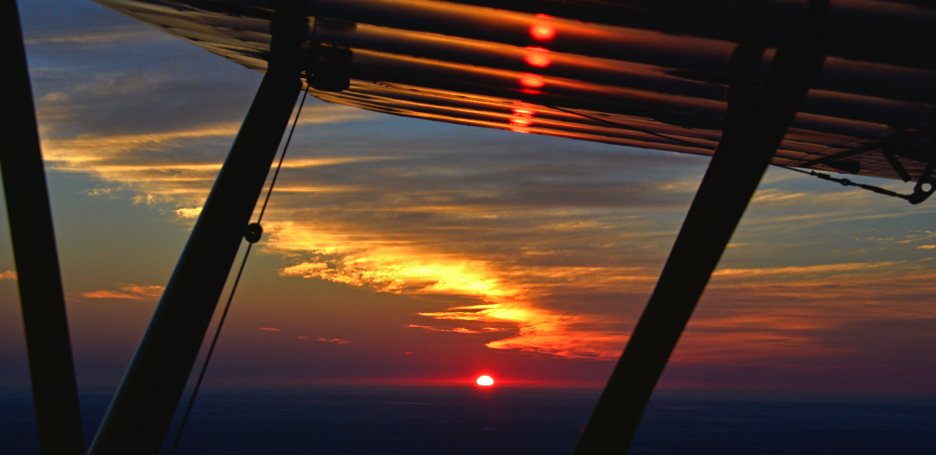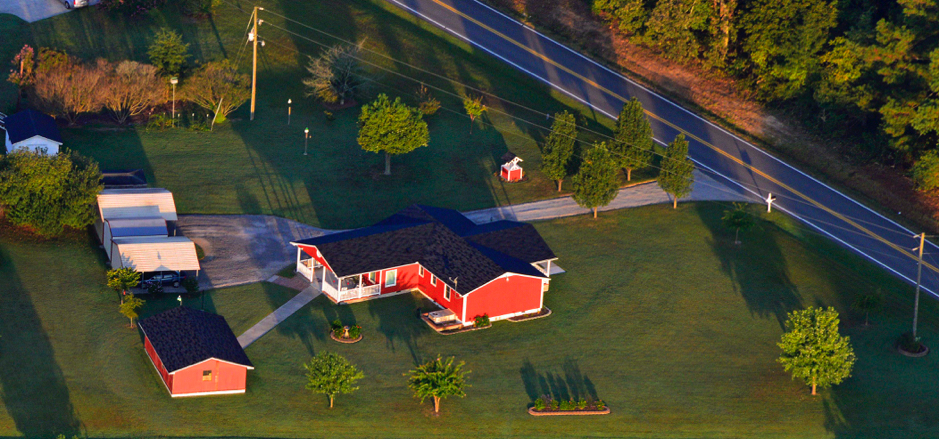 The morning sun at our backs beckons Mr. Nikon to capture the results of perfect morning light as it illuminates the earth below us. Families are getting ready for the day, businesses are opening, traffic is getting heavier and all are unaware that a tiny airplane above them is witnessing America at its best - the way pilots have enjoyed it for almost eight decades. We are glad you came along. BFH0009 - Day 1 - North Carolina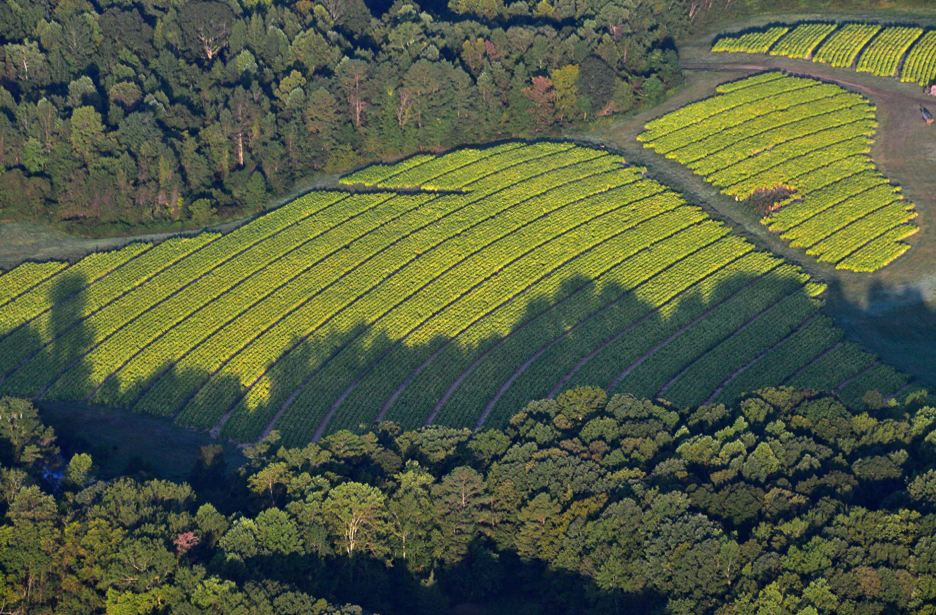 If you have ever held a fishing pole while spending time in a small boat, we know exactly what you are thinking. And what a perfect morning it is to drown a few worms. BFH0024 - Day 1 - Virginia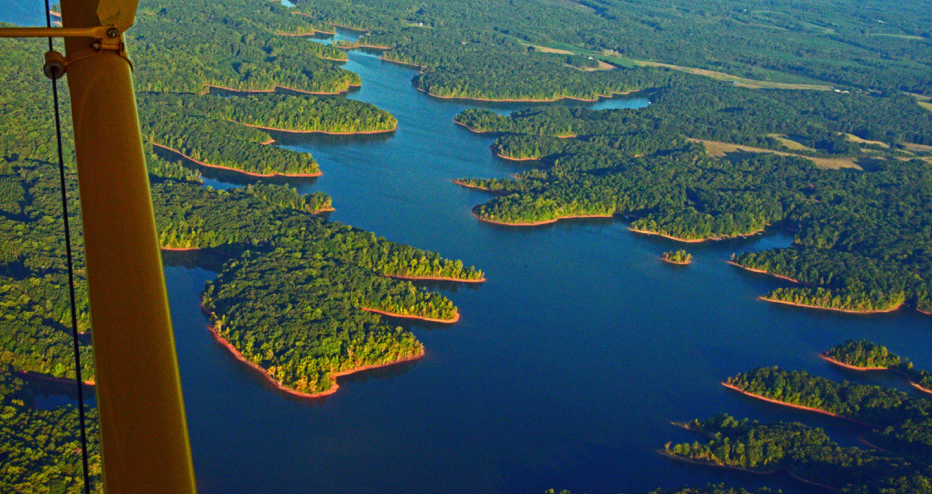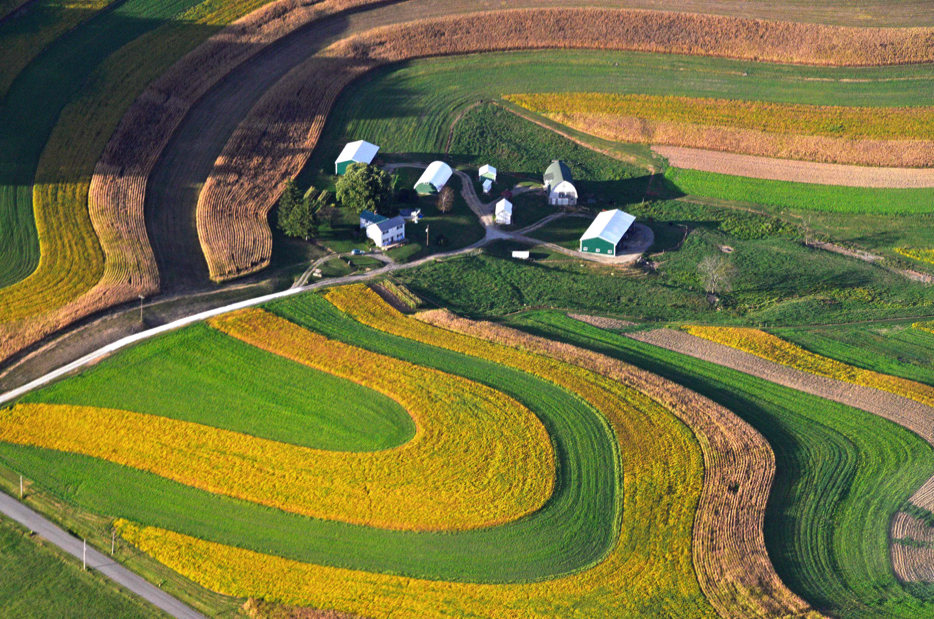 Departing late in the day meant an opportunity to work with pre-sunset light. Sure enough, there were many interesting patterns with great colors and textures to capture. This farm would certainly be a finalist in the "How many patterns and colorful crops can a person grow in challenging terrain" competition.
BFH0068 - Day 2 - Western Pennsylania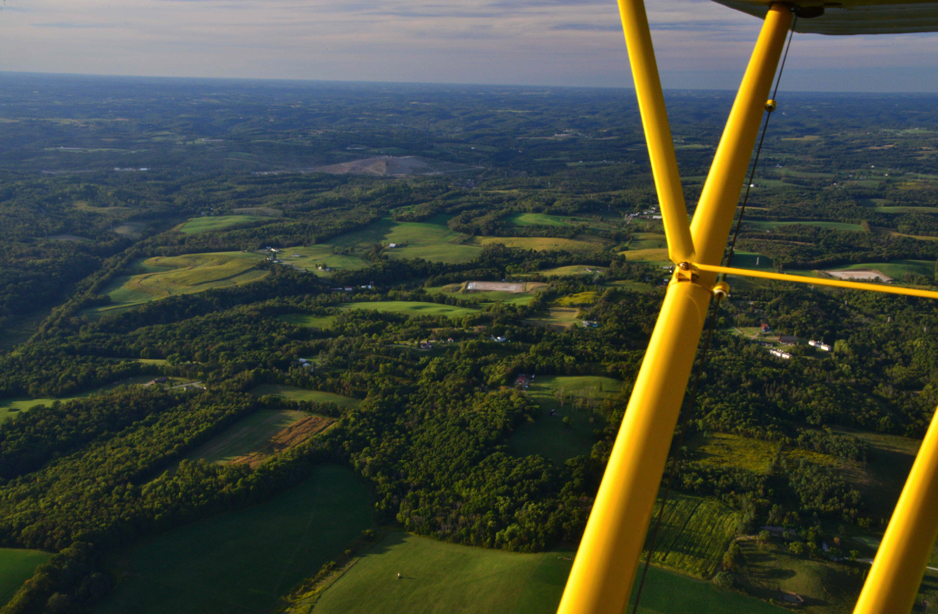 The sun kept peeking in and out of the clouds. At just the right moment Mr. Nikon captured the foreground with its saturated colors and long afternoon shadows. BFH0075 - Day 2 - Ohio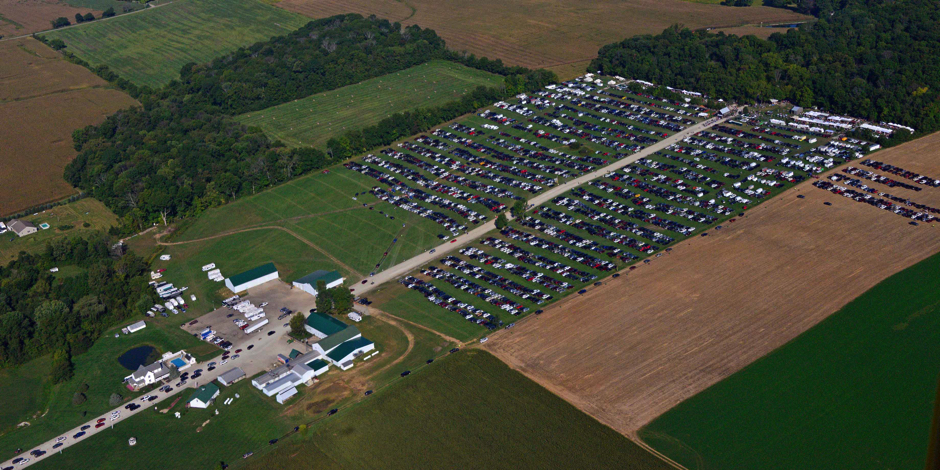 The morning flight was completely uneventful as we covered mile after mile of rich rural farm land. That is until we spotted this farm that was temporarily converted into a parking lot. BFH0087 - Day 3 - Ohio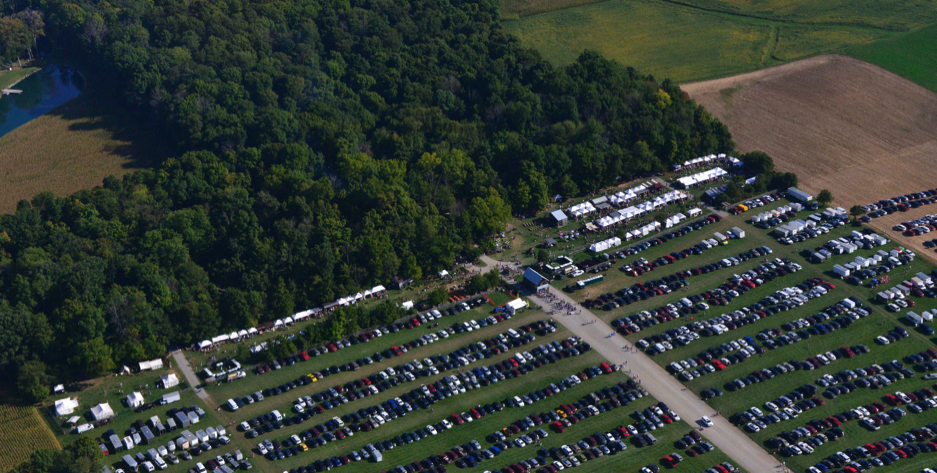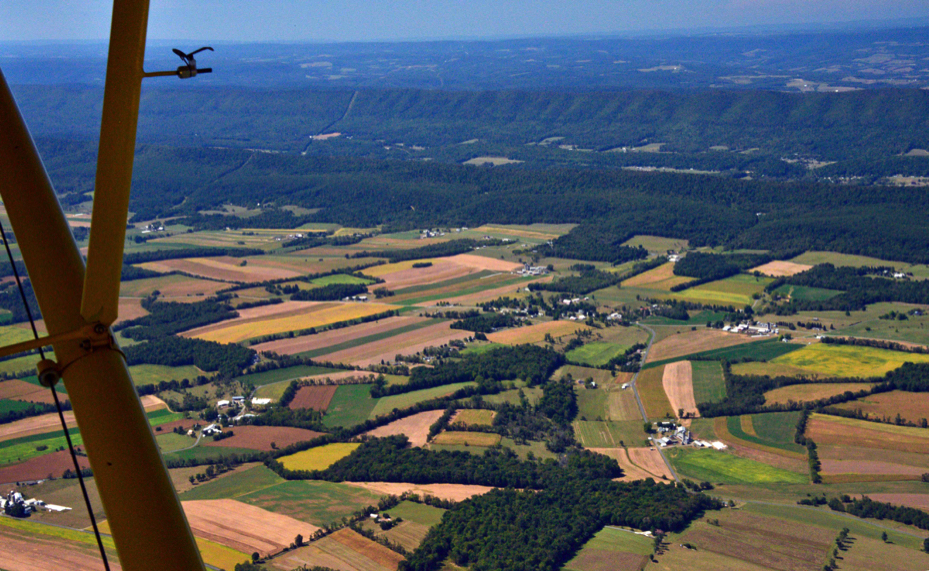 The topography of Pennsylvania can be described as rows of mountain ranges with broad flat valleys between each range. These valleys are home to a quilt-like pattern of farms. Naturally Mr. Nikon couldn't pass up the opportunity to show his stuff while the Cub had to photo bomb...again. BFH0033 - Day 1 - Pennsylvania

We banked hard right to get a better look at what the draw was on a beautiful summer morning. Along the tree line there were rows of white shade canopies. We got the impression there were goods to be sold - yet where are all the people? Do you have an idea of what was such a draw for so many people on a Friday morning?
BFH0093 - Day 3 - Near New Salem, Ohio
Weather took its toll on participation in the last Lee Bottom Fly-In. Forecast for the possibility of thunderstorms from Friday afternoon until late Saturday kept many pilots away.
BFH0126 - Day 3 - Lee Bottom Airport, Indiana (64I)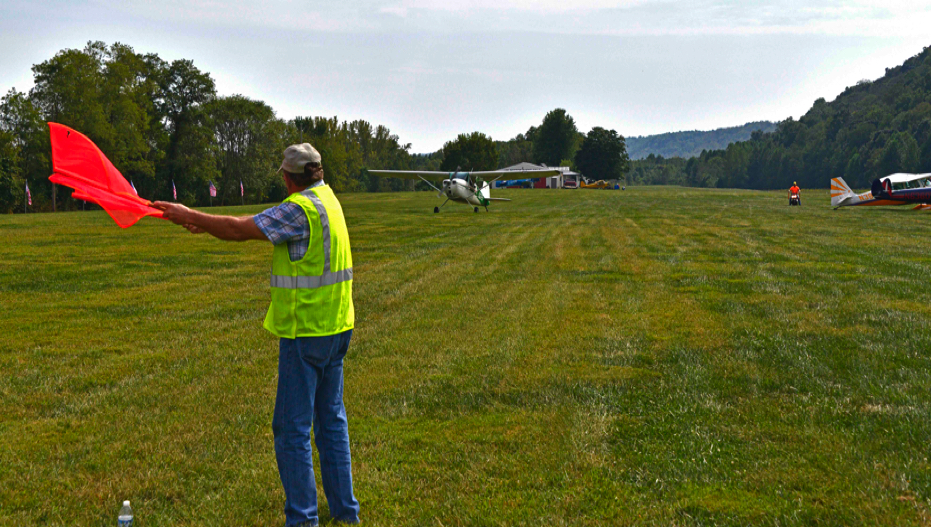 A dedicated group of good-natured volunteers kept the flow of parking aircraft running smoothly.
BFH0117 - Day 3 - Lee Bottom Airport, Indiana (64I)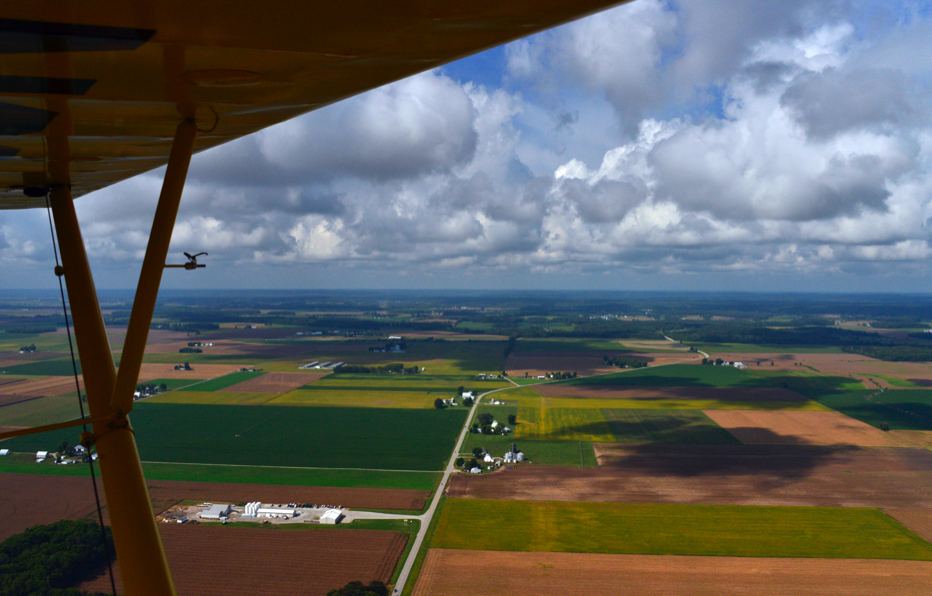 It took about an hour or so for the ground fog to burn off and the cloud bases to lift. Once in the air, Eastern Indiana made it perfectly clear Fall had officially begun as fields of corn had achieved that unmistakable cinnamon brown hue. BFH0128 - Days 4 through 6 - Indiana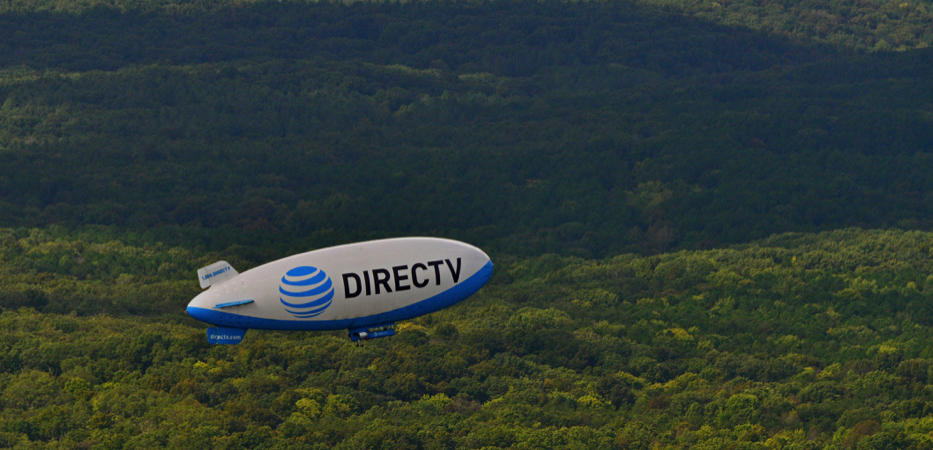 For the first time in all the years of Cub flying, we finally passed another aircraft on the same course as us. It wasn't a resounding, neck-snapping, "did you see that?" kind of passing; but rather a sort of "my ketchup is thicker than yours and I'll prove it by how slow it pours from the bottle." We are certain that the pilot of the airship saw the smirk on our faces as we passed at full throttle. No need for Mr. Nikon to use a fast shutter speed - we had plenty of time as several minutes passed while we were neck and neck with the airship. He even tried the time-worn shallow dive to gain the last bit of airspeed in a vain attempt to delay the obvious. We now have unquestionable bragging rights on this momentous occasion. BFH0174 - Day 6 - Indiana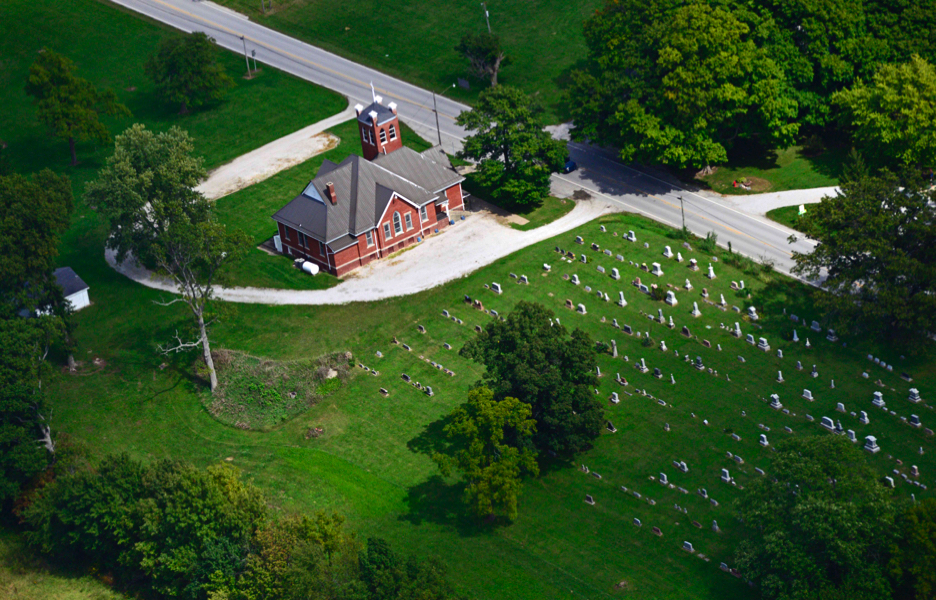 Cruising along under the overcast sky, a brief opening allowed a shaft of light to illuminate a portion of this church and cemetary. Instinctively Mr. Nikon captured the moment. When we widened the lens we realized we were over a tiny Indiana town replete with an aging water tower proclaiming the town's name. In a town so small surely everybody must know everyone else. Kind of embodies the qualities of rural America in just a few quick photos, don't you think? BFH0205 - Day 6 - Indiana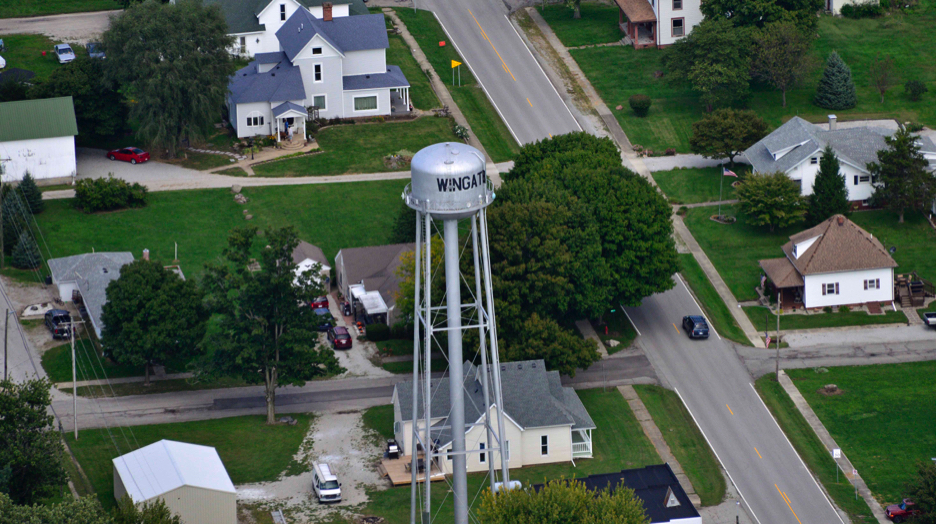 Welcome to Wingate, Indiana!
BFH0239 - Day 6 - Indiana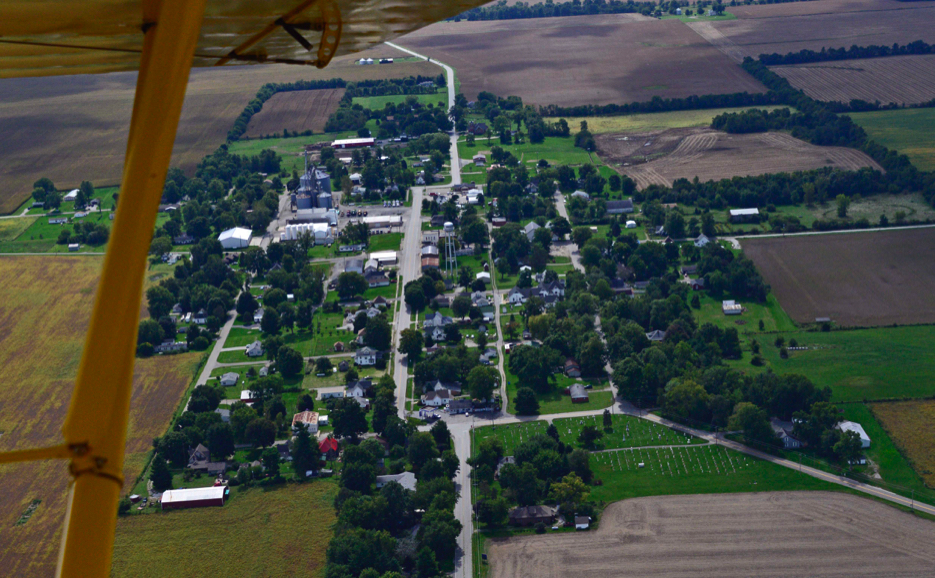 It seems apparent that many generations have lived here as witnessed by two nearly filled cemetaries - one at each end of the town. BFH0212 - Day 6 - Indiana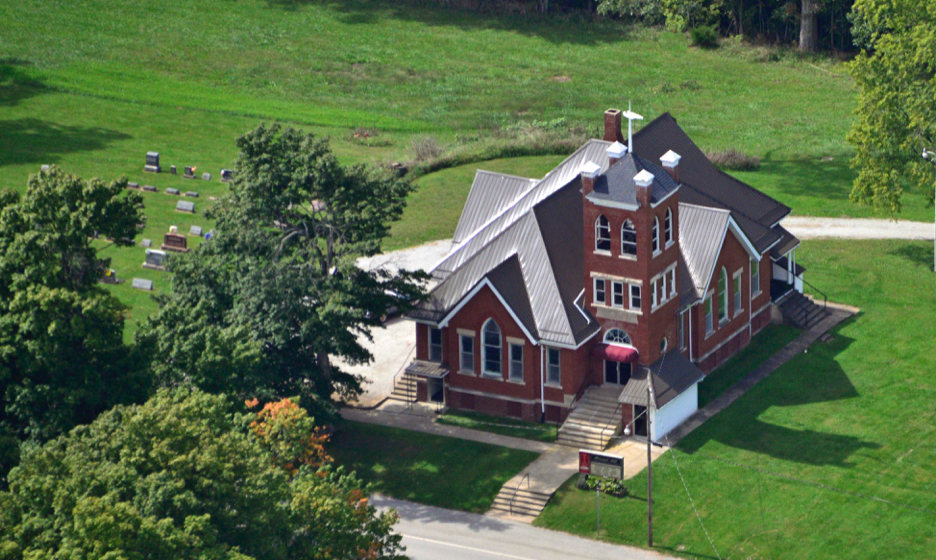 We couldn't leave without getting one more shot of the church that caught our attention in the first place (and its cemetary). These are the sorts of moments that a seat aboard United 467 at 35,000 feet just can't bring you.
BFH0227 - Day 6 - Indiana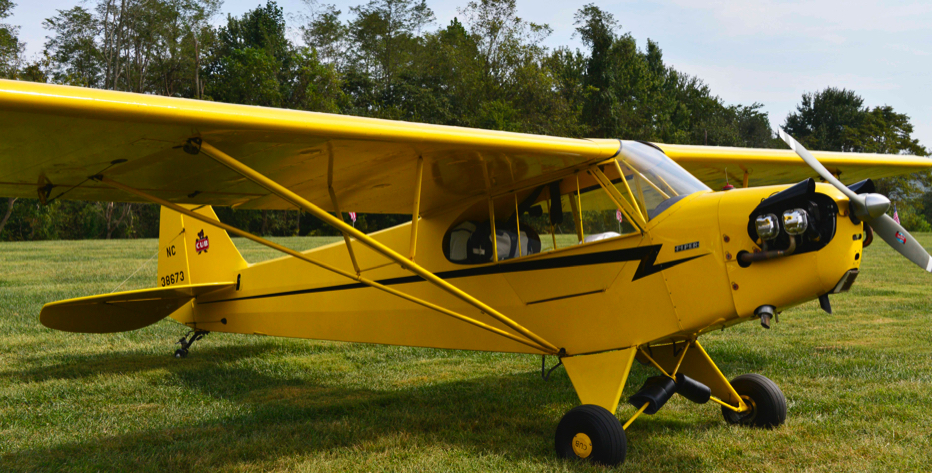 The Cub takes a break after a day in the air and a very nice landing on a well-manicured grass runway.
BFH0116 - Day 3 - Lee Bottom Airport, Indiana (64I)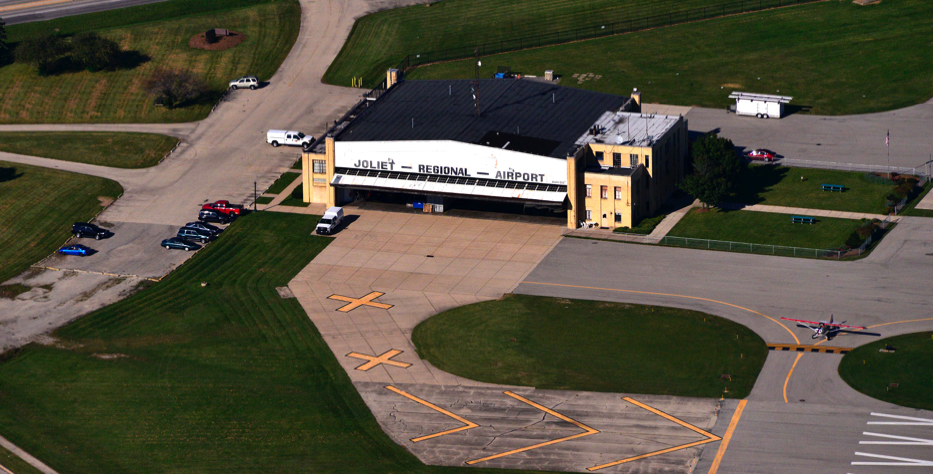 One of the older and more respected airports in the Chicago area has both a hard surface and a grass runway.
BFH0301 - Day 6 - Illinois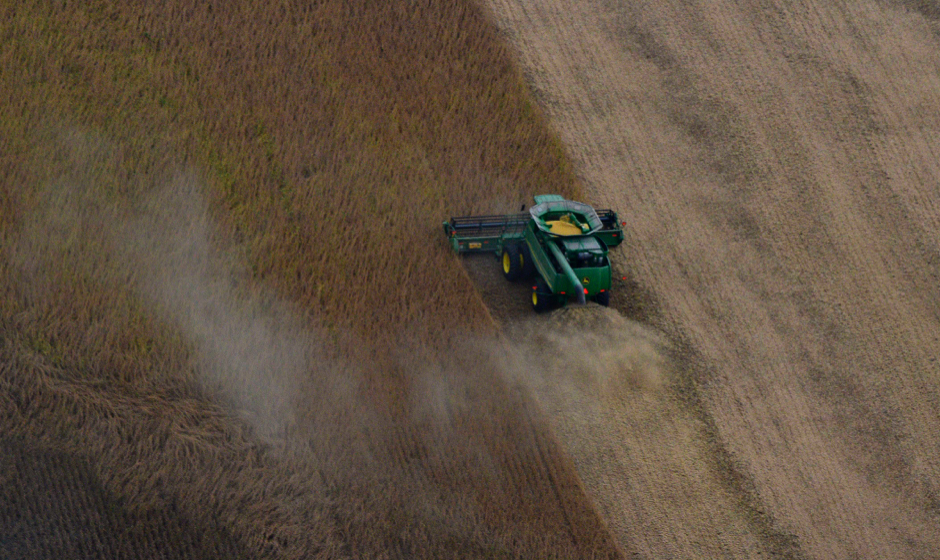 Modern day farm equipment handles multiple chores in state-of-the-art equipment. BFH0311 - Day 9 - Illinois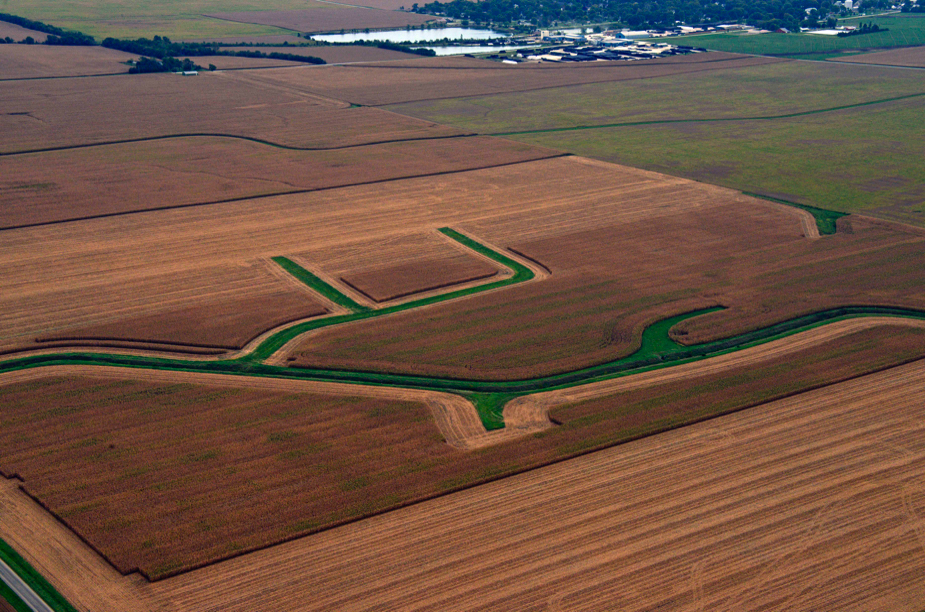 We realize the pattern created for the drainage was purely for efficient irrigation management, but it sure was fun getting the photo. BFH0345 - Day 9 - Illinois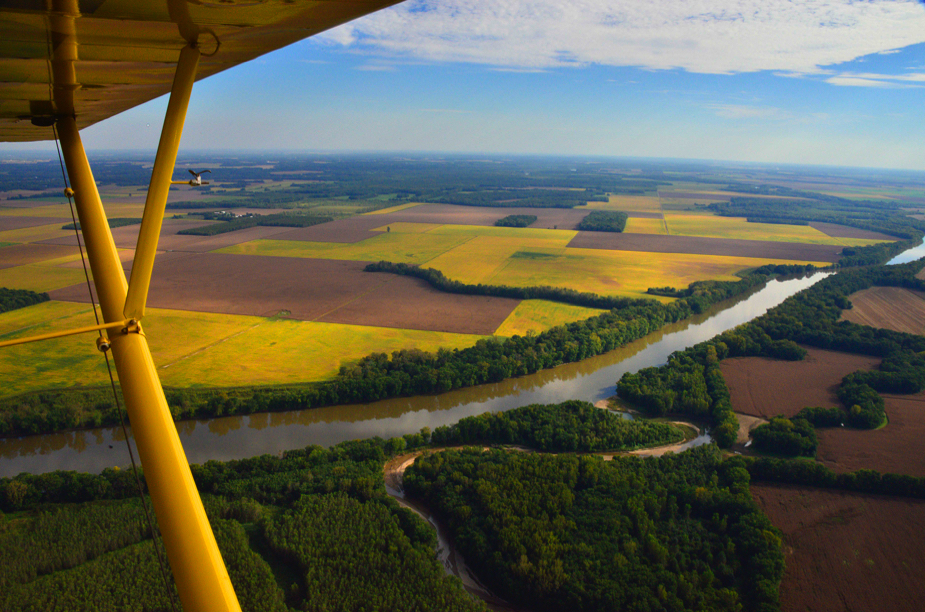 Just a few minutes before our last landing for the day we scrambled for Mr. Nikon. Our course had taken us parallel to this river. Late afternoon sunlight boosted the golden colors and deepened the greens.
BFH0377 - Day 9 - Indiana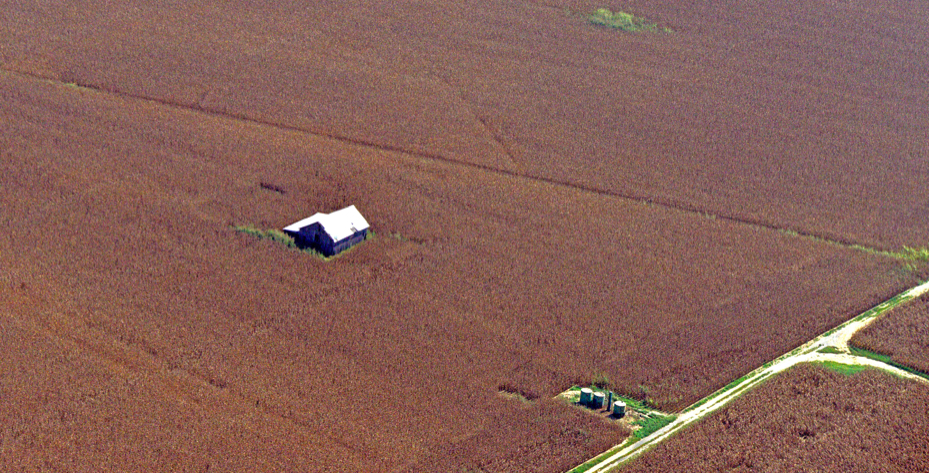 Seems like an odd place to build a barn. There are just too many potential captions for this photo.
BFH0398 - Day 10 - Indiana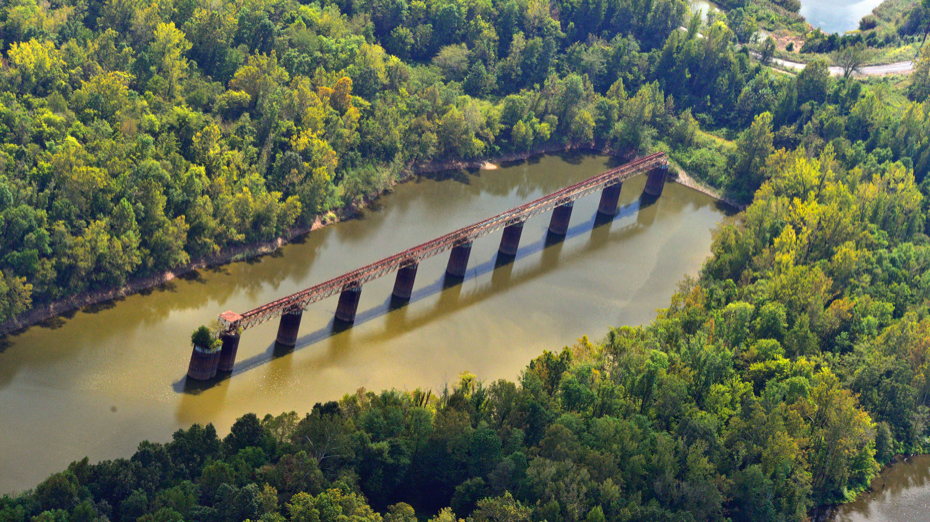 From a distance, we thought this was an abandoned railroad bridge. Once we flew over it, we discovered there were two other similar structures with water and trees around them. Since there were a number of power plants in the area, we are guessing that these structures might have been used as a sort of conveyor belt to move coal from one place to another. BFH0422 - Day 10 - Tennessee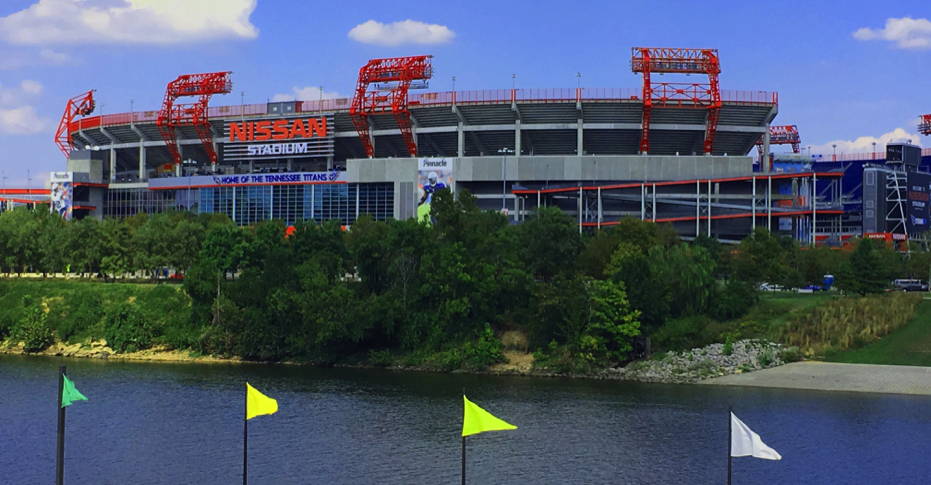 Across the river from the downtown's red brick, century-old buildings in Nashville, is this beautiful football stadium for the Tennessee Titans. Few cities could have pulled this complementary architecture off as well as Nashville. IMG_5152 - Day 10 - Nashville, Tennessee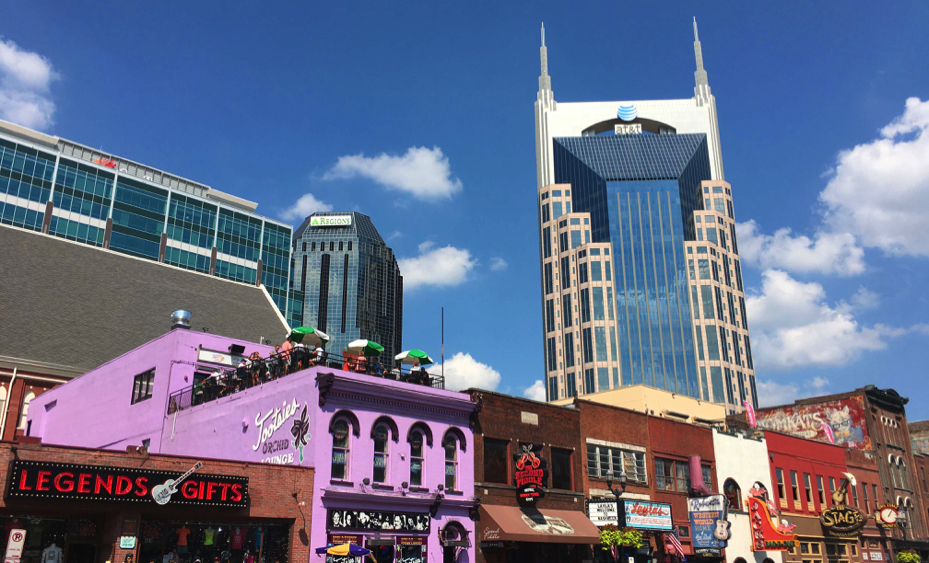 Almost as if the highrise buildings are looking over the shoulder of the bars in Honky Tonk Row, Nashville makes the transition from business suits to T-shirts quite easily. Good, honest Country Western, Bluegrass, and all things steel guitar can be found on the many streets of the "Row". IMG_5126 - Day 11 - Nashville, Tennessee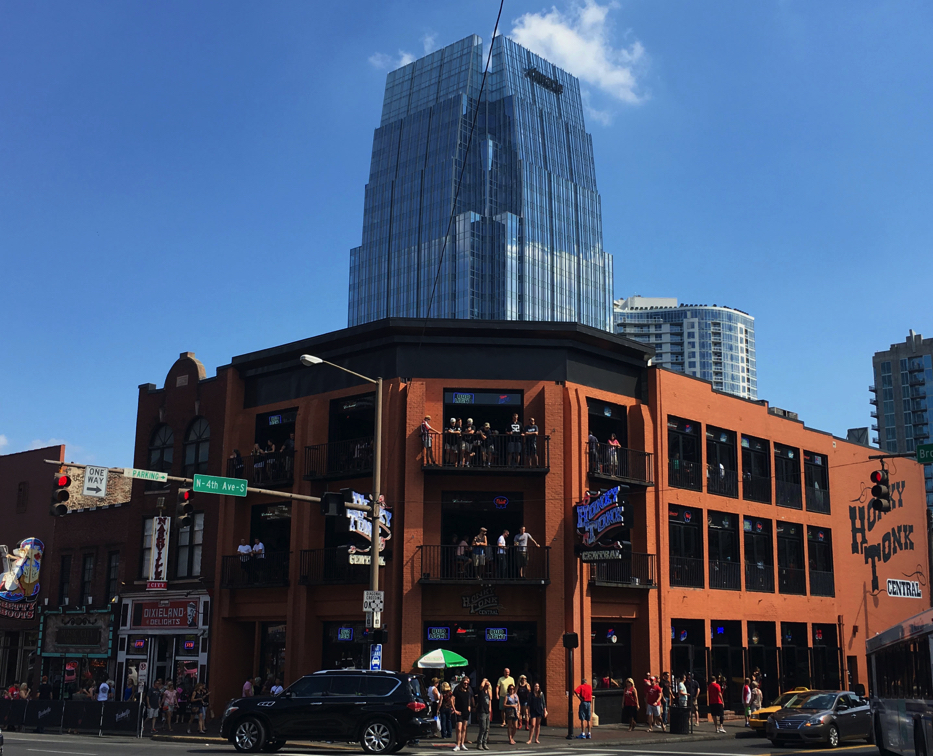 Our personal favorite was Honky Tonk Central. Crazy good music that ran from Garth Brooks to Charlie Daniels in a three story "havin' fun" kind of place. Boomers, GenXers, and Millennials all laughing and dancing to the music made for quite a sight. Finding a local was not easy. The Millennials next to us were from Boston, the GenXers on the other side were from Wisconsin...you get the picture. IMG_5141 - Day 11 - Nashville, Tennessee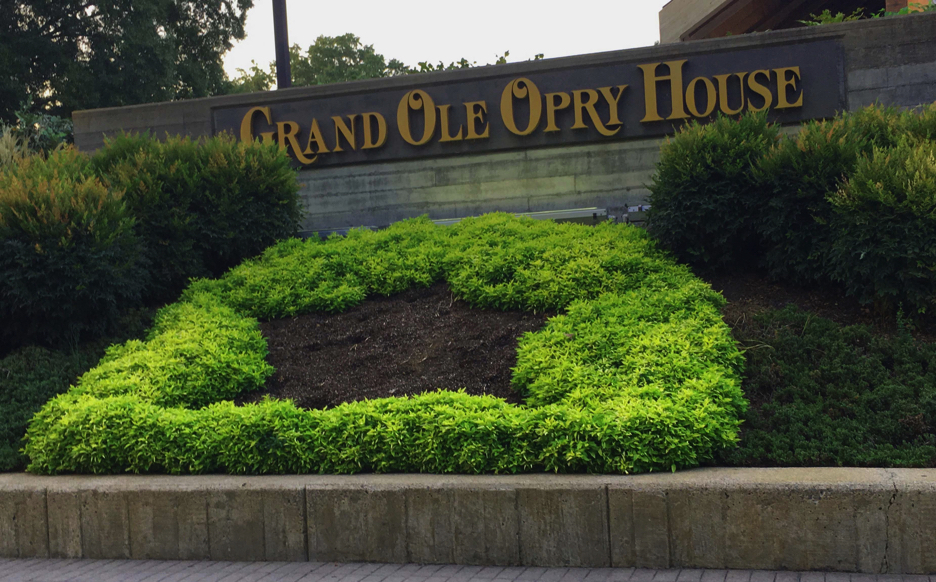 We debated whether or not to see a show at the (new) Grand Ole Opry House. Eventually it seemed like a good idea. IMG_5159 - Day 11 - Nashville, Tennessee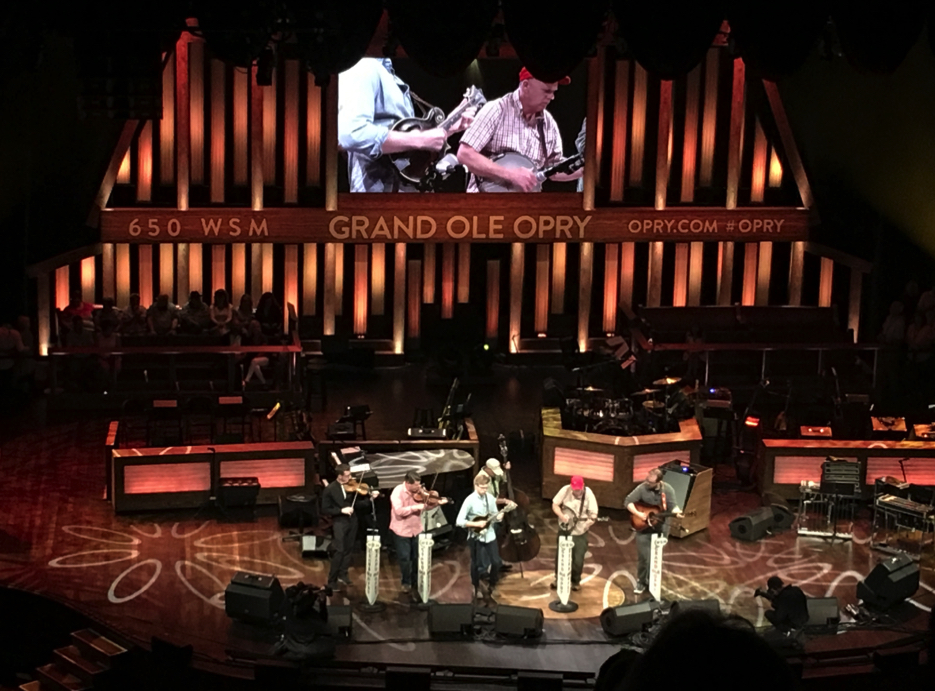 It's hard not to tap your foot when a half a dozen musicians start playing bluegrass. These guys were awesome. IMG_5163 - Day 11 - Nashville, Tennessee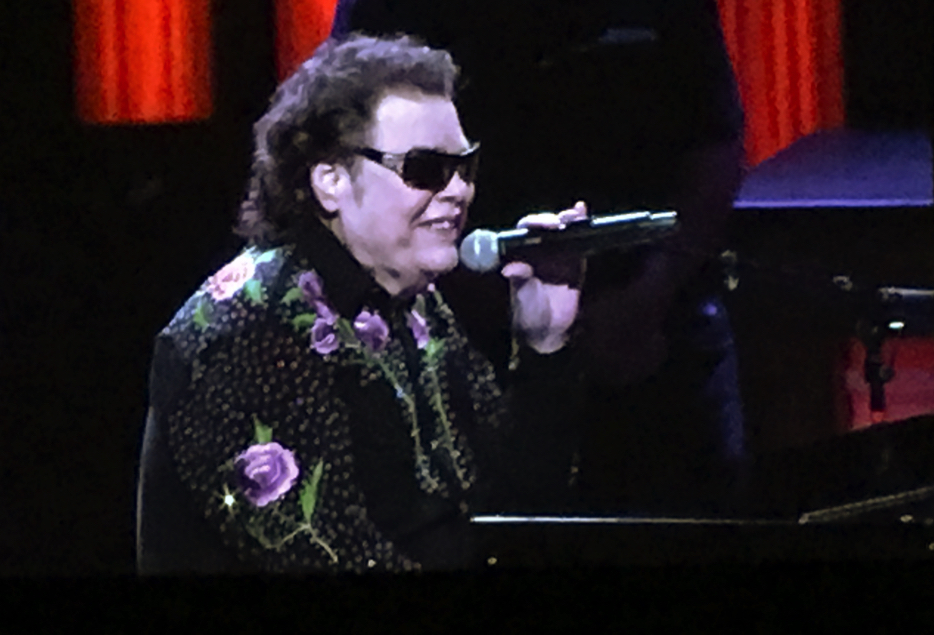 The show had a lot of really great talent, but when the show's headliner walked out on stage, the place went crazy. Ronnie Milsap got a standing ovation after each of his songs. Made us glad we decided to attend.
IMG_5184 - Day 11 - Nashville, Tennessee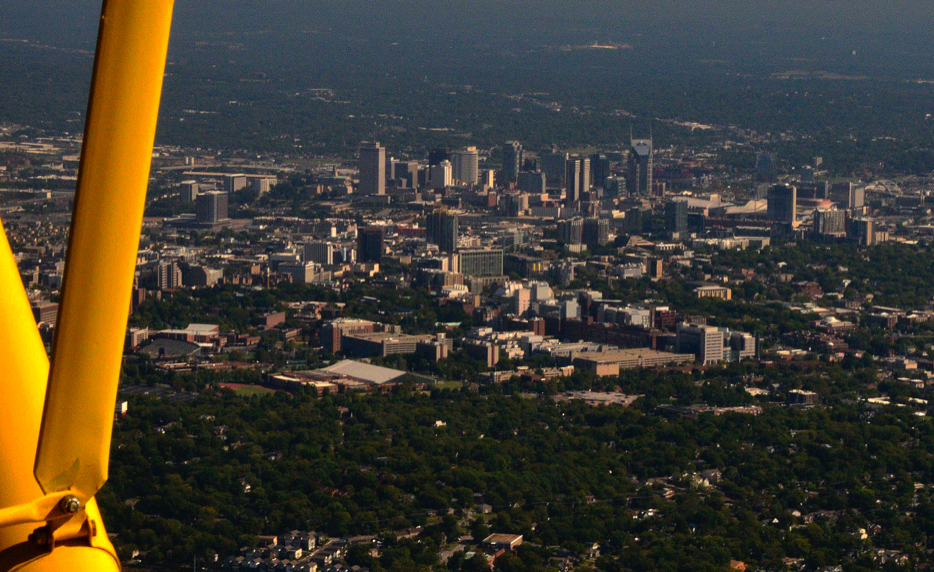 Nashville passes off to our left. A town we never really intended to visit when we started out on the original adventure this year (Western Migration). The persistent weather fronts that dared us to push west brought about the end of the Western Migration and gave us the Great Escape. We headed for better weather and terrain not yet seen. In the process, over two-thirds of the original flight plan was never flown. Instead we planned each day based on the weather forecasts. Having "rain days" to accommodate crummy weather removed the instinct to press on in marginal conditions. BFH0449 - Day 12 - Nashville, Tennessee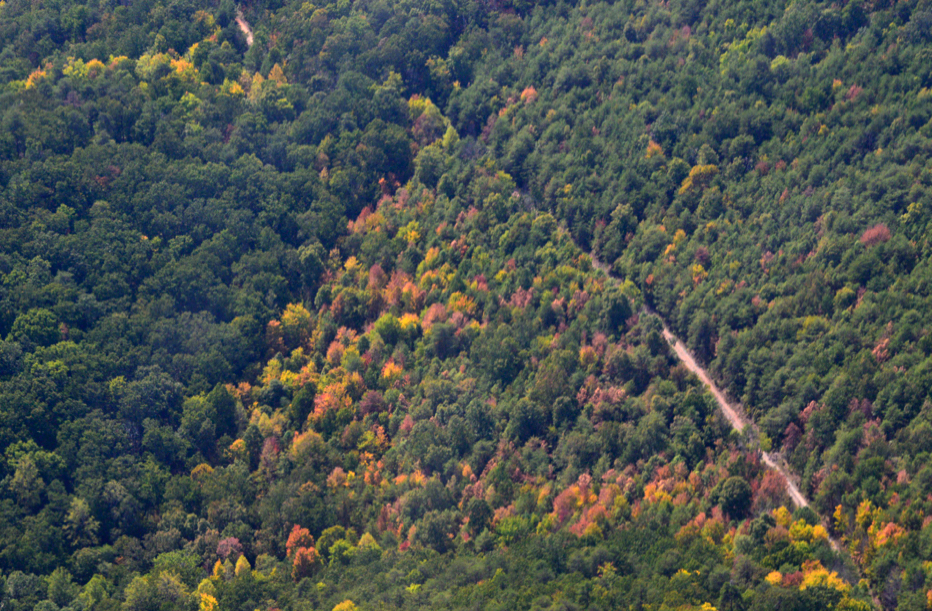 We spied several stands of hardwoods hiding in steep valleys that had begun to change colors. Fall is just around the corner. _BFH0482 - Day 12 - Georgia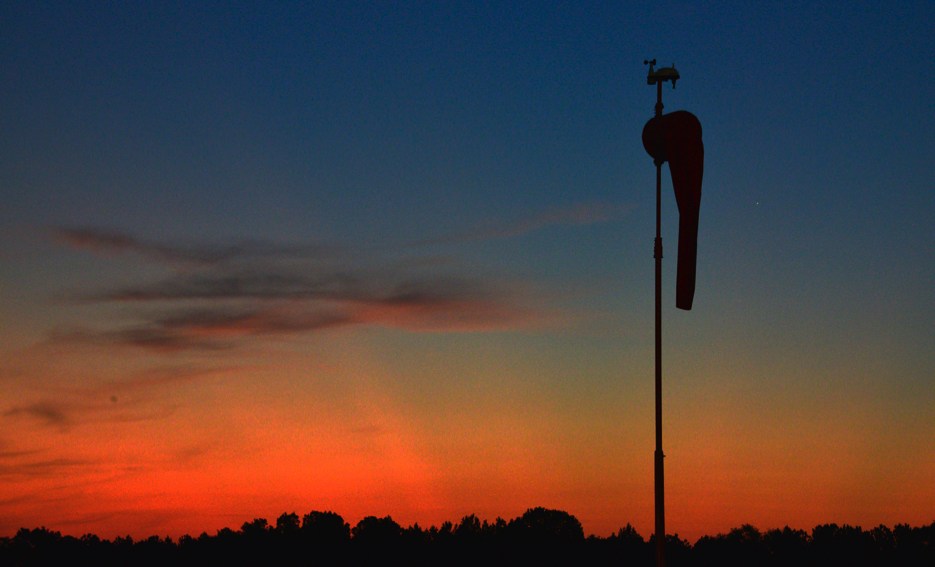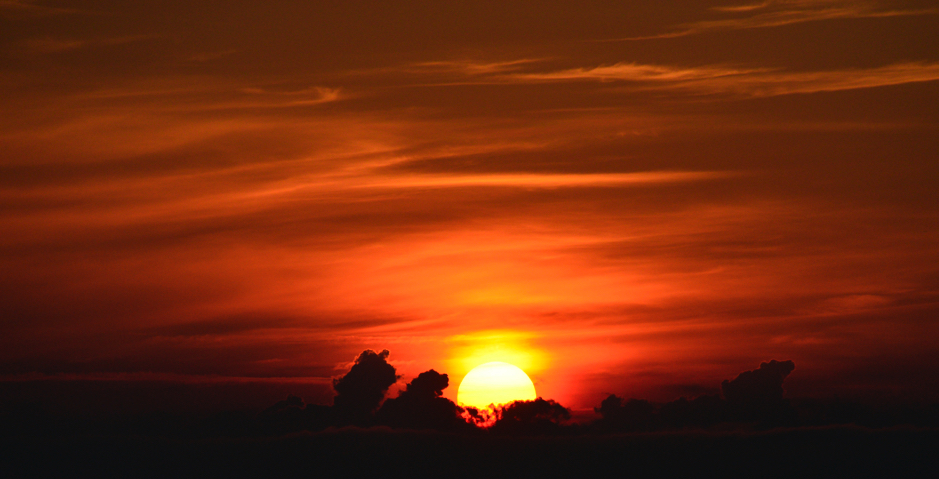 Climbing through 150 feet above the runway, the inside of the Cub's yellow interior turned bright orange. Mr. Nikon captured the deeply warming red hues as they battled for a position above the morning clouds.
We could make it home today if the storms over Charlotte, North Carolina would cease their eastward trend. With weather that obliged to keep the skies clear, only the ever-present headwinds were cause for concern. By the time most folks were having dinner, the Cub's feet lightly touched down at JNX (A.K.A. Home).
BFH0495 - Day 13 - Georgia
Mags off. The 65 Continental horses clatter to a stop. We sit in the cockpit for a long time knowing full well the minute our feet touch the ground the Adventure is over. Utilizing our time-tested reasoning that one adventure must end in order for the next one to begin, we reluctantly step out of the Cub.
We've been invited to visit Joe and his wife in Oklahoma City next year. Sounds like the beginning of some plans for 2017.
Thanks for following along...give some thought to joining us next year. Oh yes, don't forget your cup of coffee.
Cheers,
Bern Heimos
Trip Statistics:
Number of days on the adventure: 13 days
Number of statute miles flown: 2,440.1 miles*
Number of legs: 25 legs*
Longest leg: 2 hours, 14 minutes *
Shortest leg: 18 minutes*
Total flight time: 37.6 hours*
Gallons of fuel: 146.2 gallons
Estimated gallons per hour: 4.1 gallons per hour
Total photos taken: 527 photos
*The GPS kept track
Shortly after loading our bags and preflighting the Cub with the assistance of a flashlight, the morning show began. The main character was a limp windsock who stood rock still waiting for the sun to bring the first breeze he could respond to. Soon however, the main character yielded to the blood red ball of fire as it lifted above the horizon just as easily as a hot air balloon on a calm morning. BFH0518 - Day 13 - Georgia