Photos for
"Brodhead Grassroots" Cub Adventure 2017 B
and
"Birds of a Feather" Cub Adventure 2017 A
We are using High Definition photos.
They will take a while to download
Scroll down for latest photos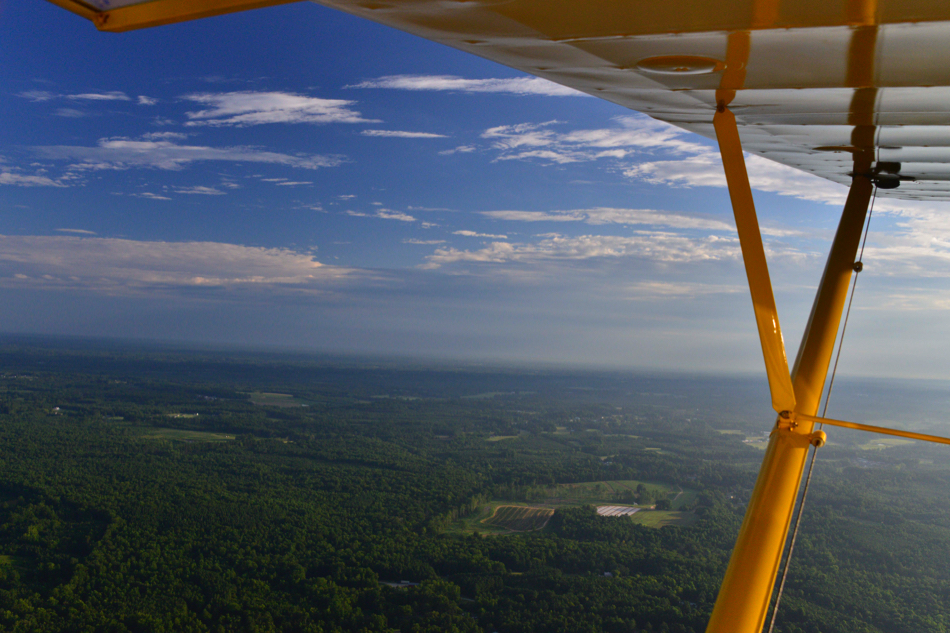 Even with significant headwinds, the beauty of this first morning of the adventure wasn't diminished. Mr. Nikon was at his best. BFH0003 - Day 1 - North Carolina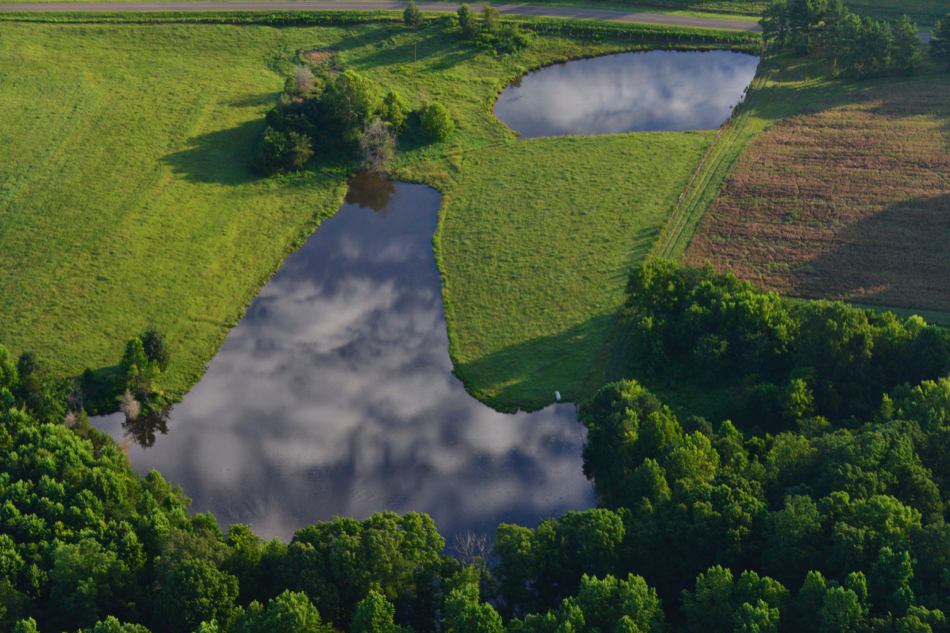 You get an instant feeling of success when one of these moments shocks you. All that is left is to compose and shoot. Wow, and it is less than one hour into the adventure. BFH0010 - Day 1 - North Carolina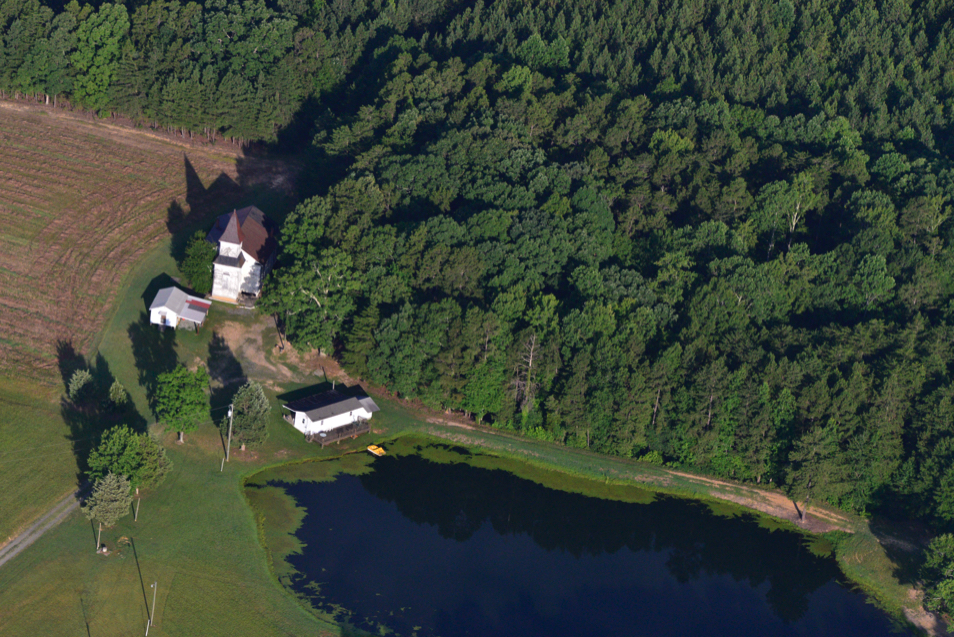 Okay, help us out here with your thoughts. We think this might have been an old church retreat site. We base that on the church-like structure. Also, we considered the building at the water's edge as possibly a place for kids to go when they are enjoying the pond (or small lake). Given that we are more often wrong then right, email us with your take on this: vintageflying@gmail.com BFH0023 - Day 1 - North Carolina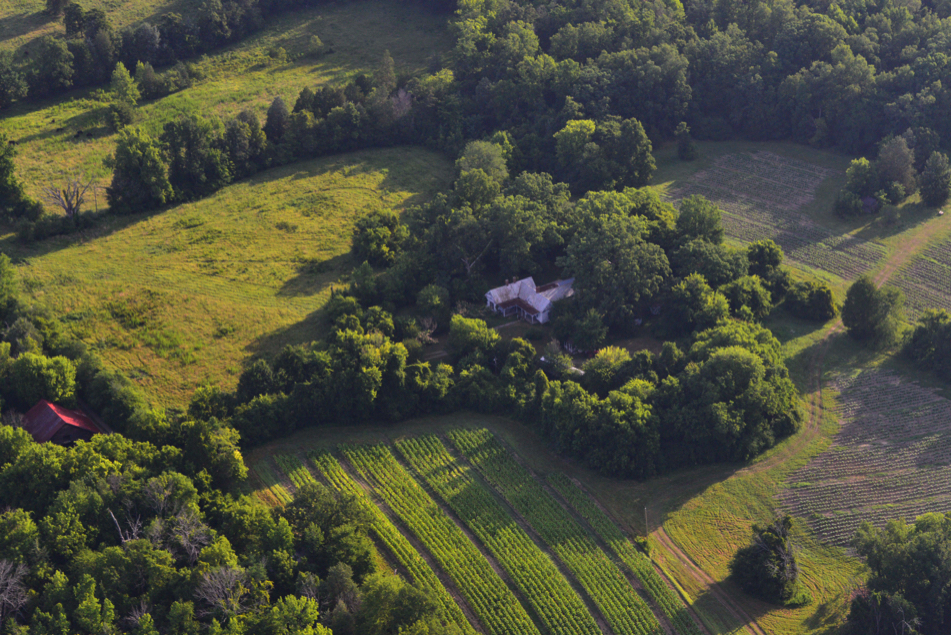 It appears that this old farm house was abandoned and the trees that once graced its landscape have become its camouflage to secure seclusion. BFH0026 - Day 1 - North Carolina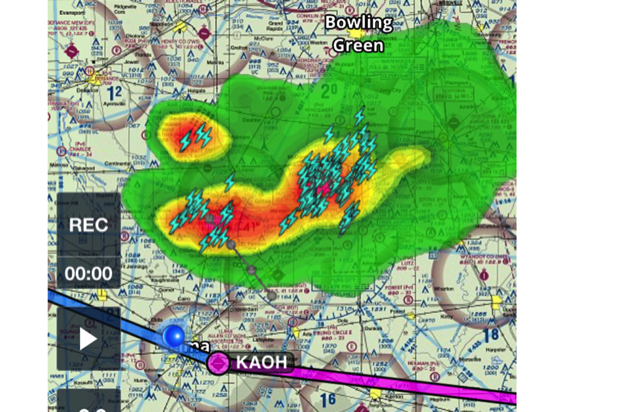 The radar images of a large thunderstorm of epic proportions led us to believe it would pass to our east. IMG_8273 - Day 2 - Lima OH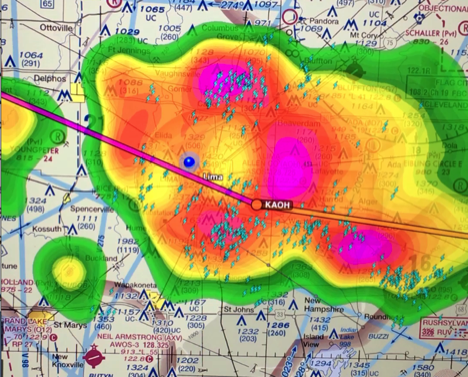 Yeah, like anyone should trust a thunderstorm to give any semblance of how it intends to act. At the last minute the storm got bigger and nastier and decided to visit Lima, OH. IMG_8275 - Day 2 - Lima OH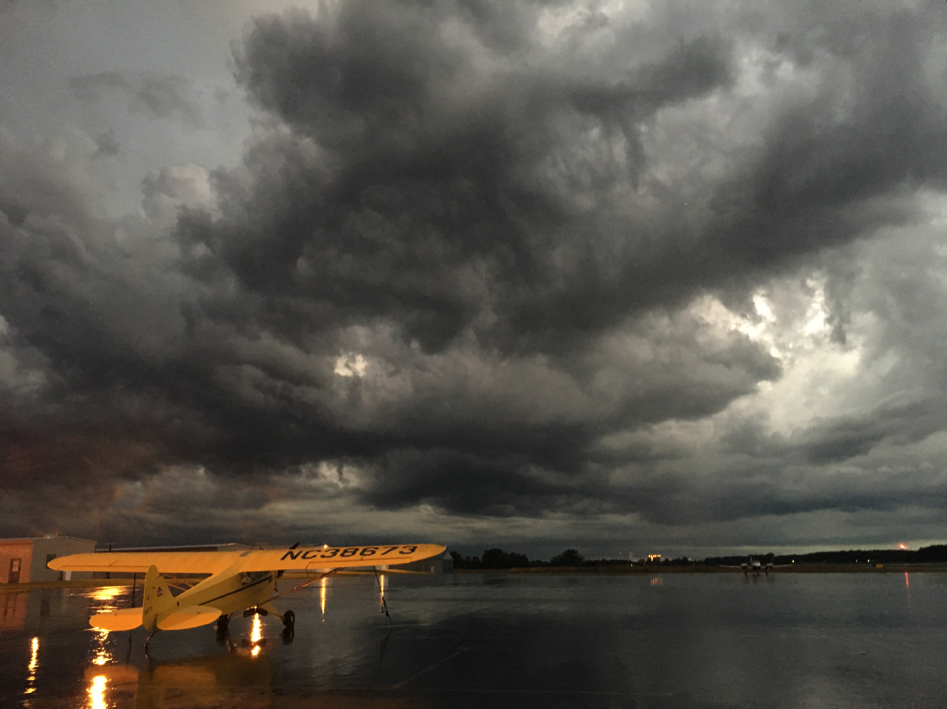 "But it was only a small storm when the Cub was tied down on the ramp" we justified to ourselves. The drive from the hotel to the airport that night, through several nearly washed out rural roads, made our guilt grow even more than the near constant flashes of lightning. As the courtesy car's headlights washed across the Cub's exterior there was an overwhelming feeling of relief followed by thankfulness. The Cub faced the storm and was undamaged. Perhaps a bit wet and lonely, but undamaged. IMG_8276 - Day 2 - Lima OH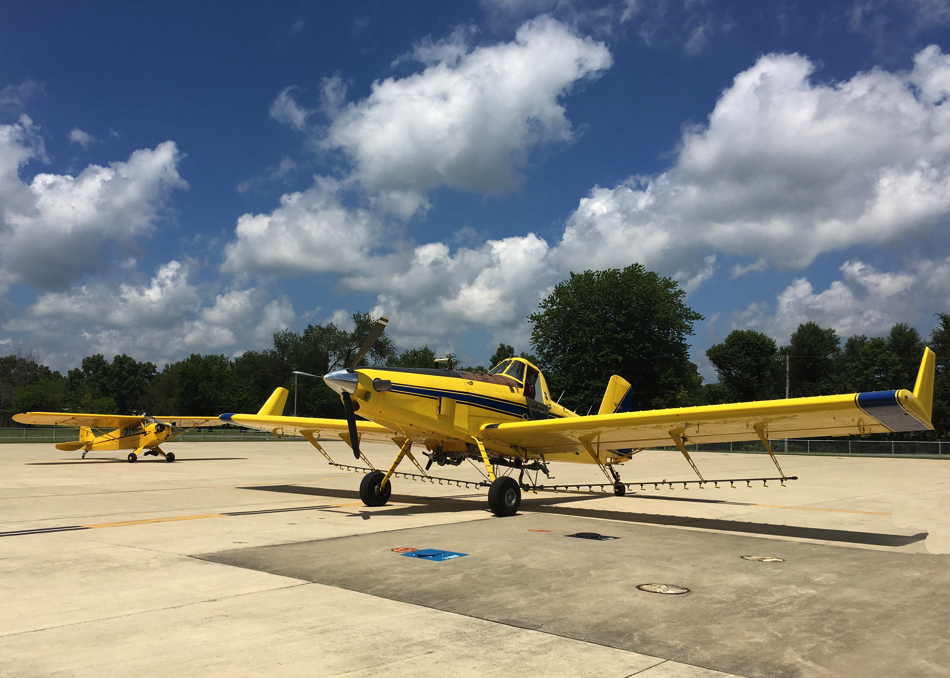 At a fuel stop in Plymouth, Indiana, a crop duster guy at the pumps came up and said, "I got my first ride in a Cub." (Okay, read that last quote with a heavy southern drawl.) That was all it took for a conversation to start. He was surprised to learn the Cub got its start in life as a crop duster. Gotta love aviation experiences like this. IMG_8288 - Day 3 - Plymouth, IN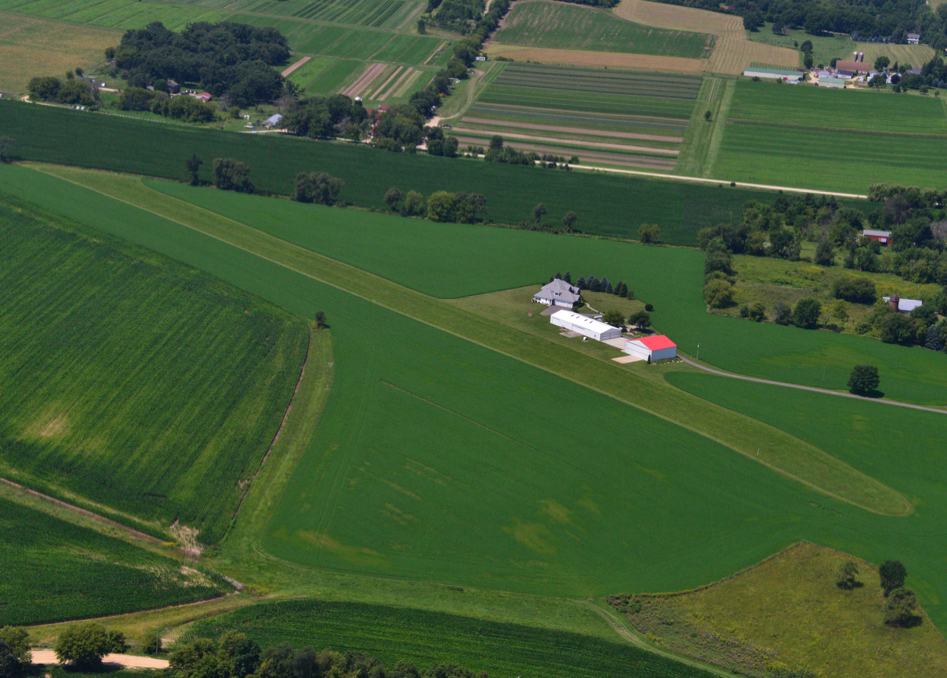 Flying low and slow requires scanning the terrain below for a suitable landing site if something were to go wrong. Something about this unusual hilltop layout beckoned us to take a closer look. - BFH0080 - Day 4 - Northern Illinois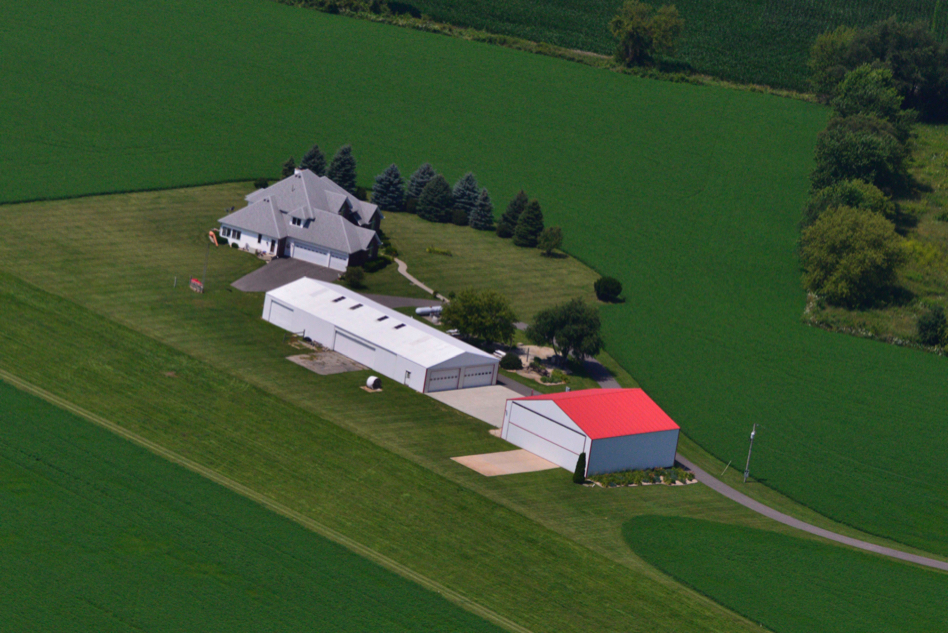 Yep, some very thoughtful person built a grass runway replete with a beautiful hangar (with electric door) just in case some low and slow pilot needed to land. And just look at the guest accommodations! - BFH0084 - Day 4 - Northern Illinois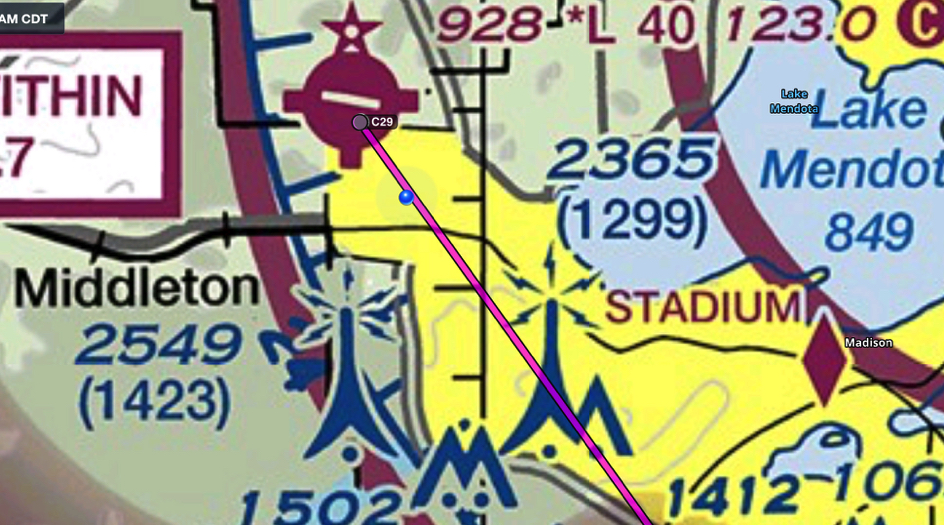 Less than five miles out from our destination, Middleton Airport, we decided to go for a "field goal". There are two very tall antennas (1,299' and 1,423' above ground level); they are about two and a half miles apart. We were at the pattern altitude which is 1,000' above ground level. We were 300' below the floor of the Class C airspace for Madison Airport, so going above the towers put us into Class C airspace. Certainly flying between two towers two and a half miles apart isn't difficult, BUT it sure gets one's attention. IMG_0625 - Day 4 - Madison, Wisconsin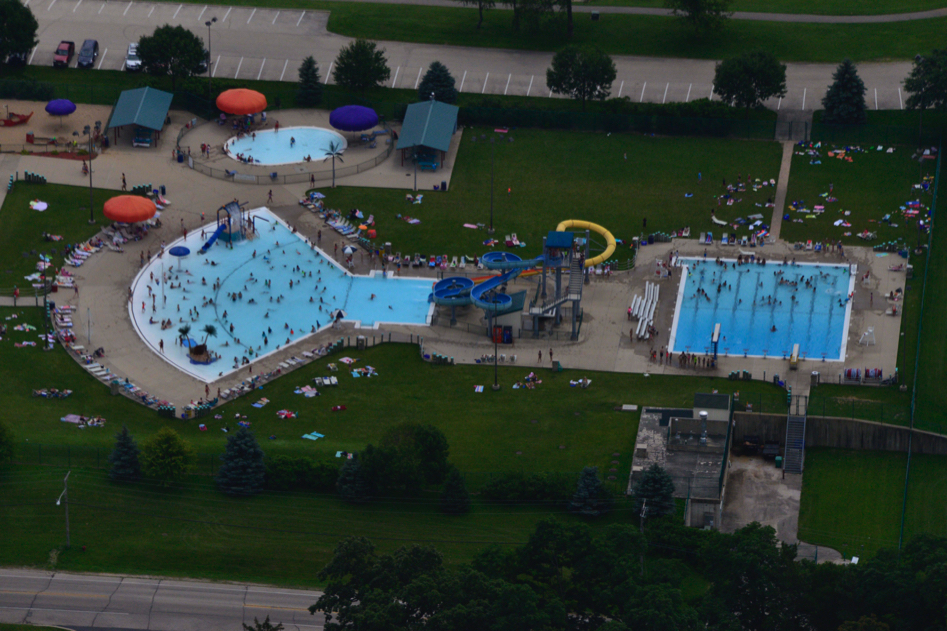 Nothing says summer like a day at the pool. Even with partially overcast skies, families made good use of their mid-week time. Most of the families down there may not consider a summer day at the pool worthy to be a lifetime memory. We can verify that summer days at Bellwood pool with my brothers were sentinel moments not to be forgotten. BFH0094 - Day 5 - Wisconsin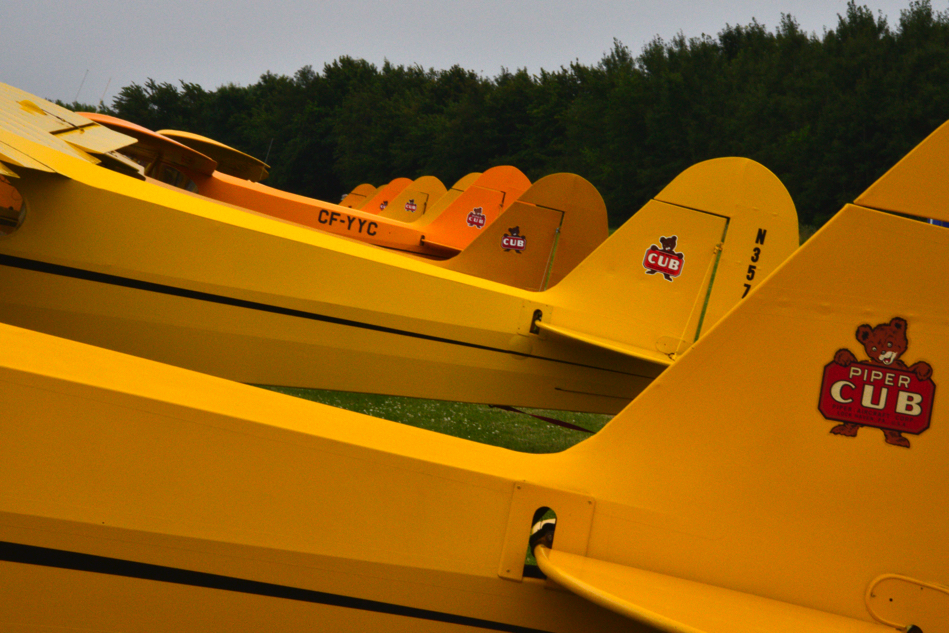 We were one of the first Cubs to arrive at Hartford airport, which was the meeting place for the J3 Cub's 80th Anniversary event know as "Cubs 2 Osh." Perhaps that's how we titled this adventure since one could hardly argue referring to it as "Birds of a Feather" isn't a reasonable subtitle.
A mere 15 minutes after we landed, a steady stream of Cubs began to arrive. Three Cubs with Canadian designations arrived together. The parking crew had their hands full.
It should be apparent that the term "Cub Yellow" has a rather wide spectrum of colors. It seems Mr. Piper wasn't as selective about duplicating the exact color and hue when purchasing paint in bulk. It was more likely about cost than specifications. Of course the individual opinions about which is the correct color yellow vary as greatly as the colors themselves. Our Cub is in the forefront of the photo and is "the" correct color. That's our story and we are sticking with it. BFH0108 - Day 7 - Hartford, Wisconsin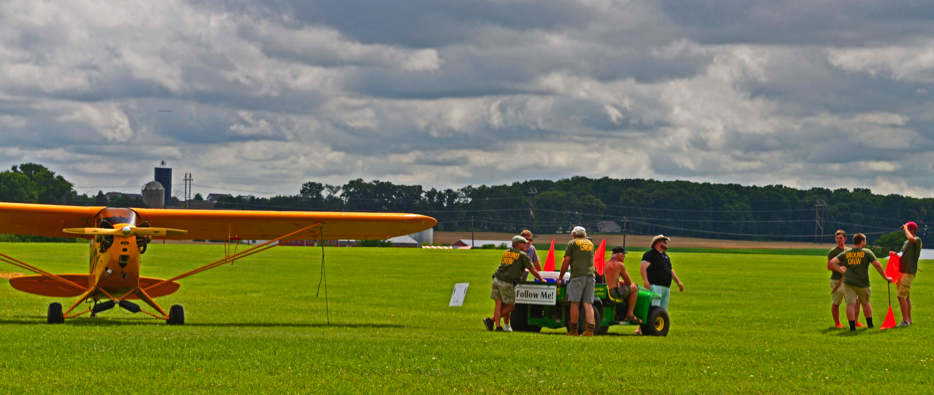 Stubborn steel grey clouds conspired to present a formidable barrier to inbound Cubs at Hartford Airport (HXF) until early Saturday afternoon. Those of us on the ground waited eagerly for any signs of aircraft approaching. It brought to mind scenes from the movie Memphis Belle, where crews waited on the airport's tarmac in anticipation of their B17s to return one by one. BFH0243 - Day 8 - Hartford, Wisconsin

Sure enough as the clouds release their blockade of inbound Cubs, the mood of all those waiting on the ground was noticeably elevated. BFH0219 - Day 8 - Hartford, Wisconsin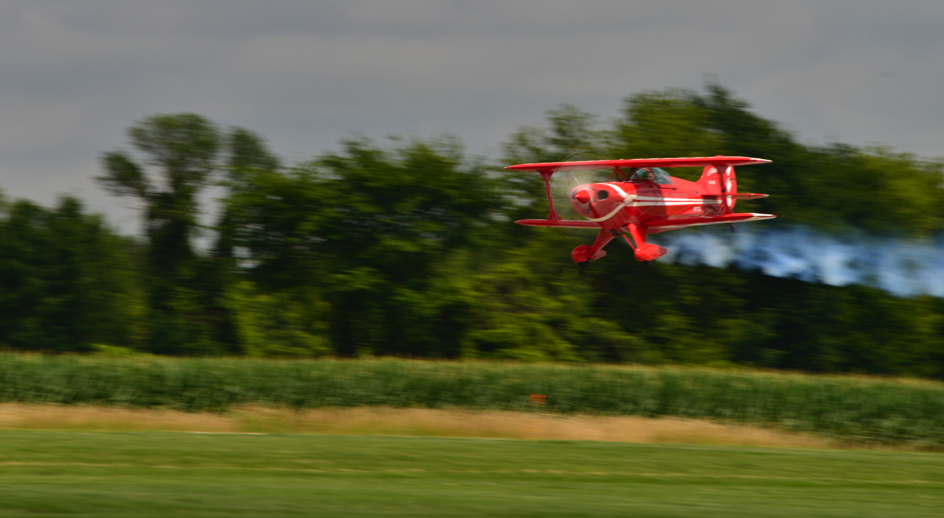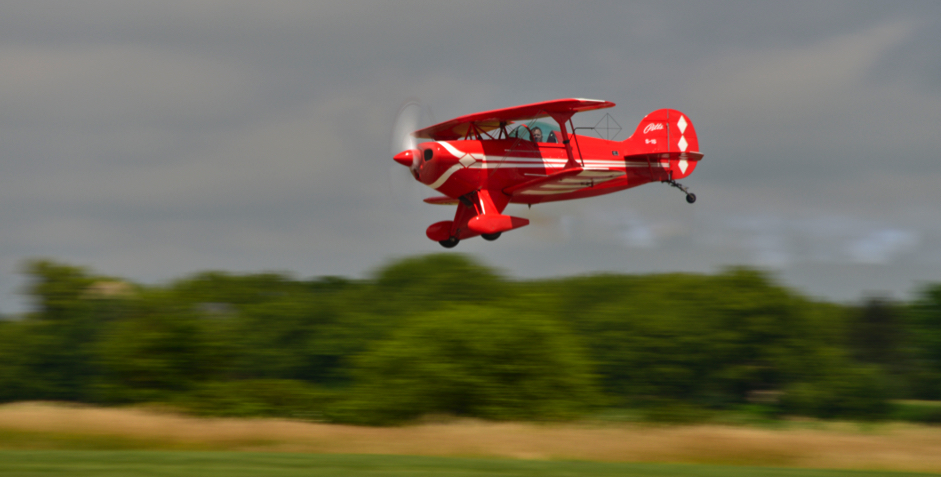 This little guy gave us a fly-by mini airshow complete with "smoke on." Though we noticed he couldn't resist taking a peek to be sure his skill were appreciated. Who could blame him? BFH0215 & BFH0219 - Day 8 - Hartford, Wisconsin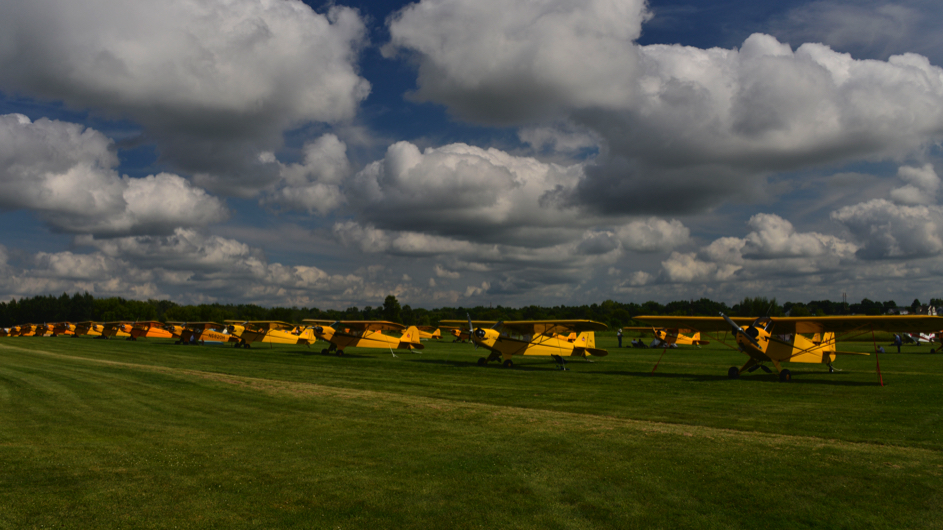 By nightfall about 48 cubs were tied down on the grass fueled and ready for the morning departure. BFH0274 & BFH0285 - Day 8 - Hartford, Wisconsin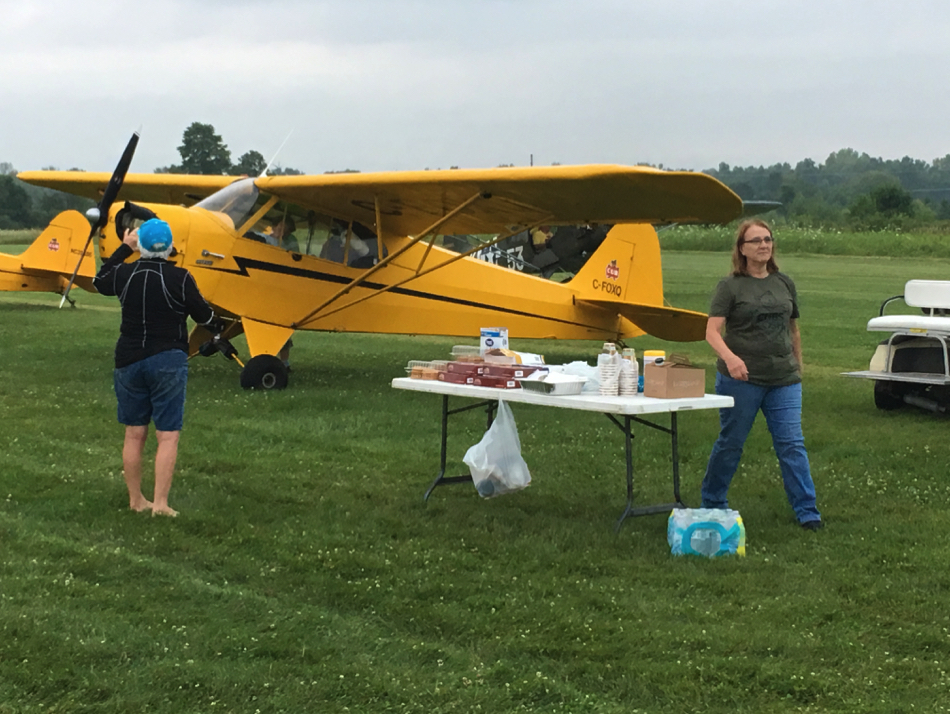 Most of us were awake before our 4:00 am alarm clocks went off on Sunday morning. From campers to hotel dwellers all of us knew we needed to be ready to depart by 6:00 am. The focus of each pilot was palpable throughout the dew-ladened grass tie down area. The Hartford volunteers had hot coffee and donuts brought out to the tie down area, so as reduce the time for us pilots to grab a bite to eat before we took off. IMG_8644 - Day 9- Hartford, WI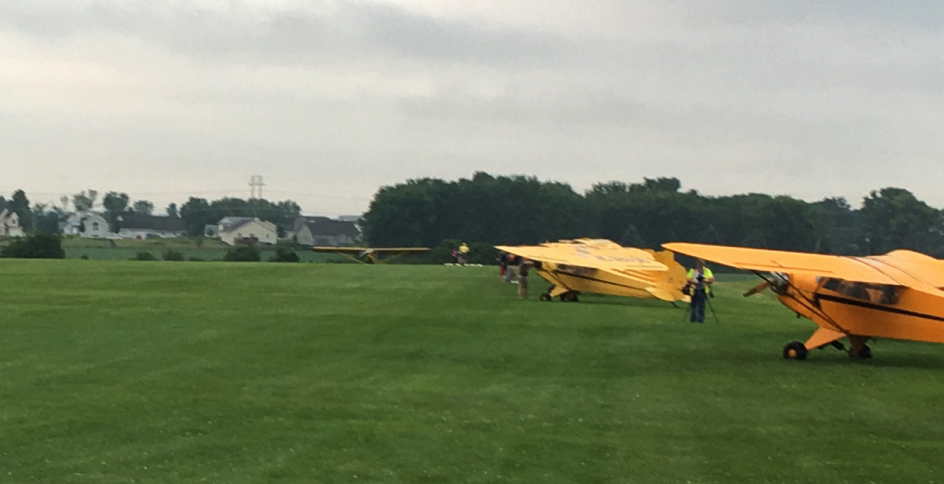 Each Cub taxied into position on the grass adjacent to the runway and shut its engine down. The lead Cub was in position on the runway with its engine running, waiting for Steve to wave him off and start the string of departures for Oshkosh. A crew of three or four ground crew would hand-prop Cubs waiting in line so they were ready to get into position without any delay. IMG_8647 - Day 9- Hartford, WI

Dozens of people walked by our Cubs as we secured them and commented on how long they waited to see the Cubs land and how they wouldn't have missed it for the world. Steve and all of those tireless volunteers at Hartford had worked their magic in making the Cub's 80th Anniversary a very successful and highly memorable event for so many. Thank you Steve and everyone who made this event possible. IMG_8655 - Day 9- Oshkosh, WI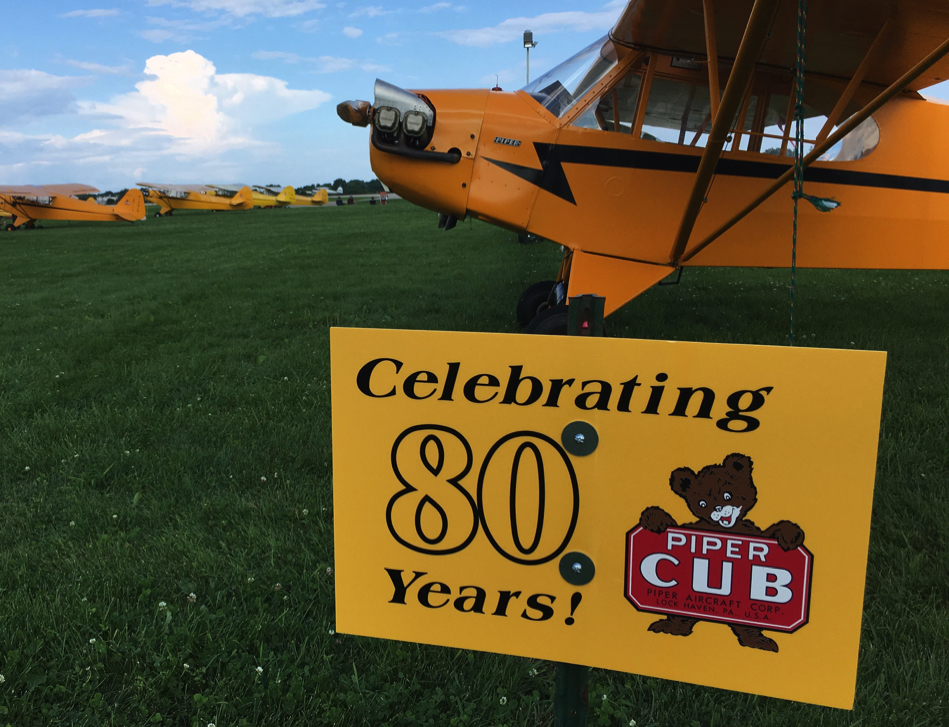 From the day before AirVenture 2017 opened until it ended; the Cubs were recognized for their 80 years of remaining an iconic airplane that shaped the future of aviation in America. IMG_8665 - Day 9- Oshkosh, WI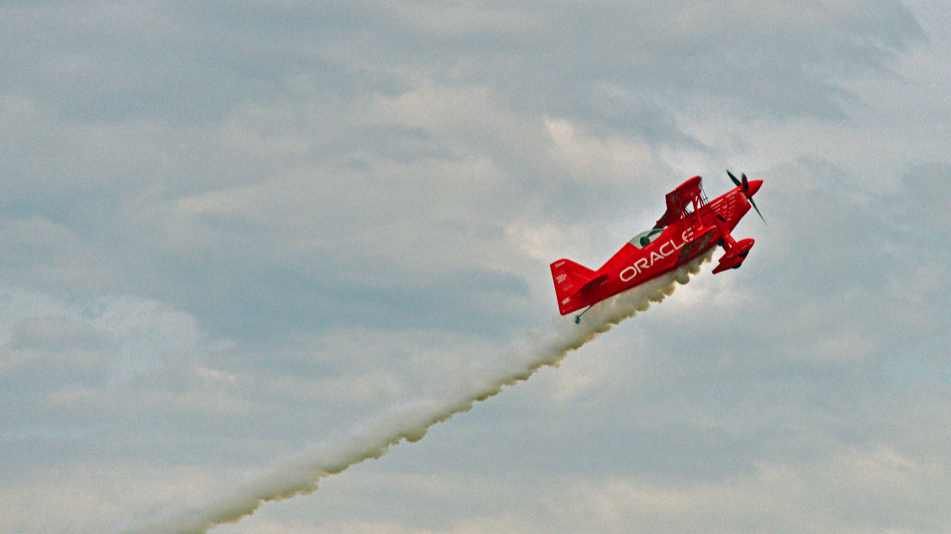 Through both the haze and overcast skies, Sean D. Tucker's performance was flawless. However, Mr. Nikon had his work cut out for him with challenging conditions. BFH0369 - Day 10 - Oshkosh, WI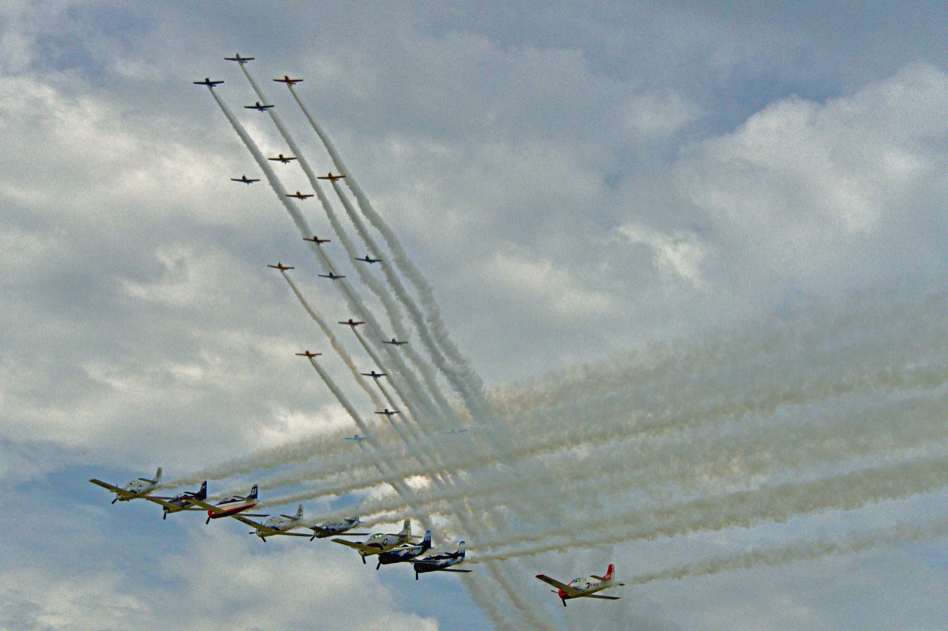 The deafening roar of dozens of World War II airplanes criss-crossing overhead in close formation, at three different altitudes, created a jaw-dropping sound that stopped the airshow crowd dead in their tracks. BFH0412 - Day 10 - Oshkosh, WI
With the sky clearing and lighting conditions improving, the smoke trails of these T6's create add an almost 3D-like quality to the late afternoon sky. BFH0445 - Day 10 - Oshkosh, WI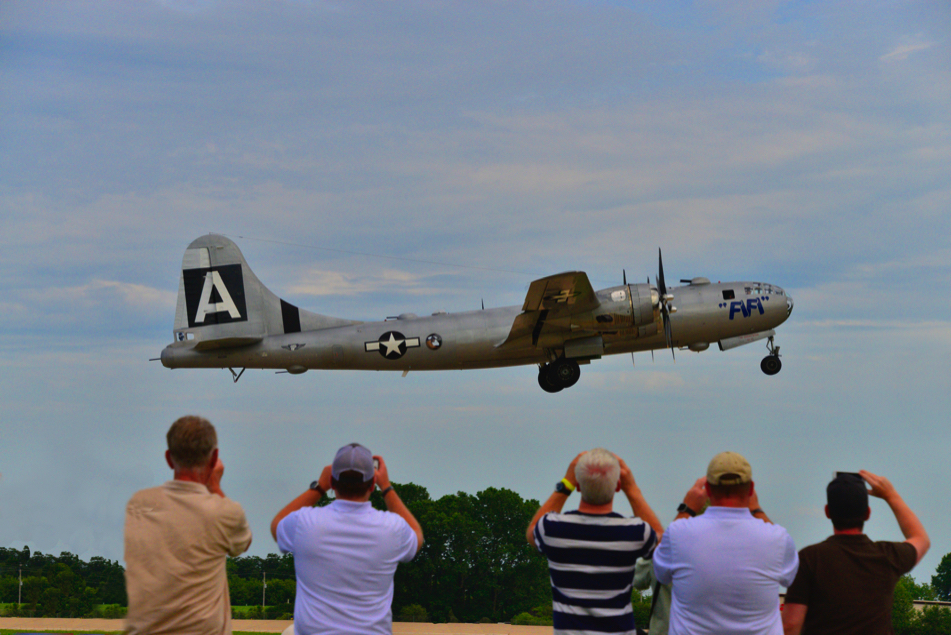 FiFi, our favorite B 29, departs while five guys attempt to capture her majestic yet imposing size and the sound of her four supercharged radial engines. BFH0462 - Day 10 - Oshkosh, WI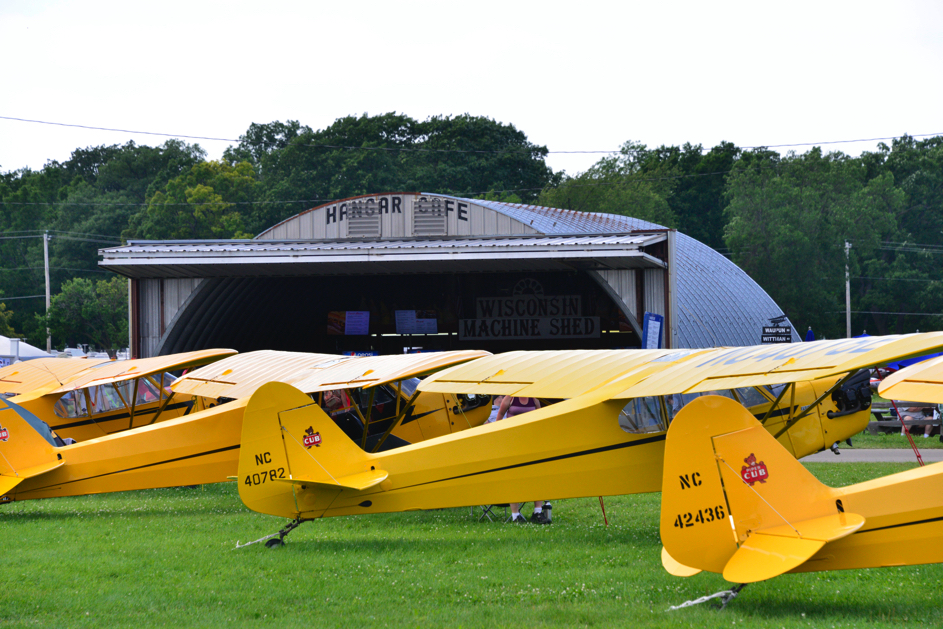 One could almost get the idea that the Cubs were lined up to order breakfast at the Hangar Cafe. Yep, a mind does funny things when the body doesn't get its daily dose of coffee and breakfast. BFH0706 - Day 11 - Oshkosh, WI
The skies filled with the roar of radial engines spinning their propellers and climbing past thousands of spectators. Nothing gets a crowds attention like a warbird's imposing thunderous engines at full take-off power during climbout. BFH0592 - Day 11 - Oshkosh, WI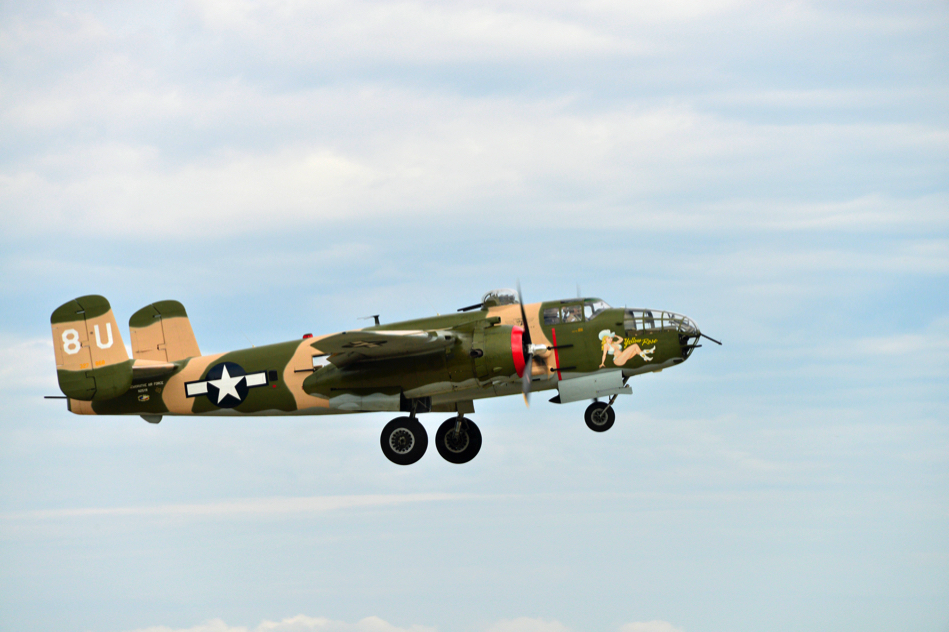 With bomb bay doors open, "Panchito" glistens in the Oshkosh afternoon sun. Though it is highly unlikely any bomber was polished so beautifully during its time in service, we sure love to see it so perfectly restored.
BFH0715 - Day 11 - Oshkosh, WI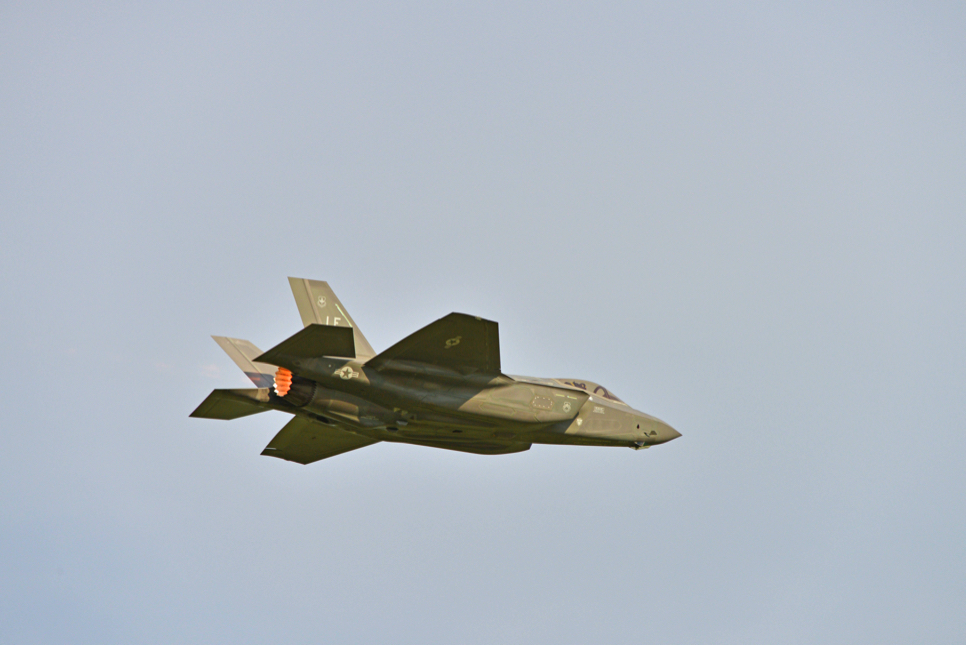 Go ahead, stick your fingers in your ears! It won't help much. Once your see the red glow of the afterburner it's too late to protect your hearing. And you ears don't get all the fun, your feet realize the earth below them is trembling. BFH1180 - Day 11 - Oshkosh, WI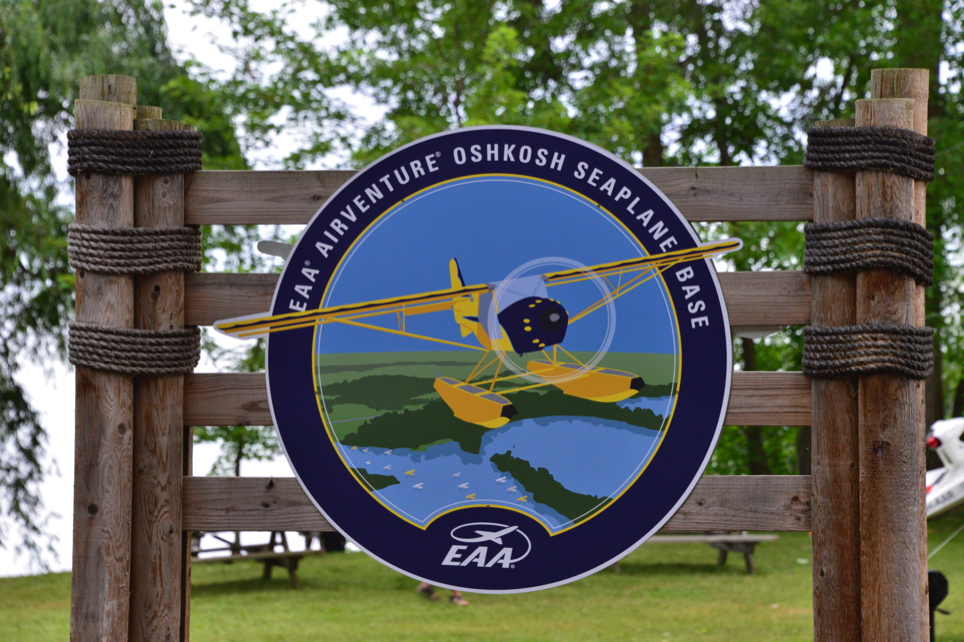 Take a path through the woods from the bus stop and the sounds and smells of the airshow melt into a distant memory. You have arrived at the most peaceful place in recent memory. The Seaplane base simply relaxes your mind with its bucolic vintage waterfront setting filled with airplanes that can swim. BFH1335 - Day 12 - Oshkosh, WI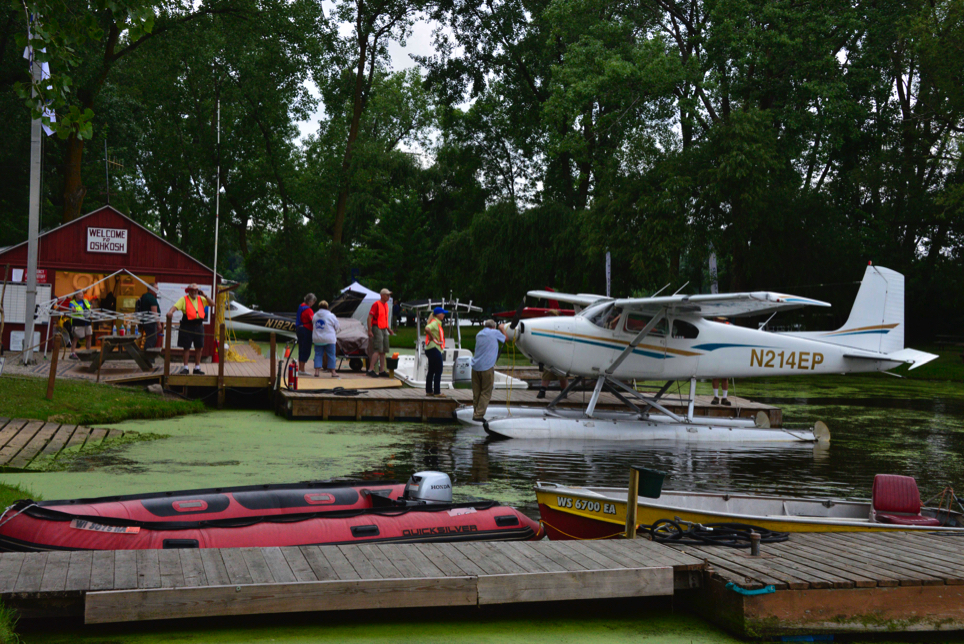 Soooo peaceful. Everyone moves with a sense of purpose as new arrivals make their way in. It could easily be compared to a family reunion. BFH1361 - Day 12 - Oshkosh, WI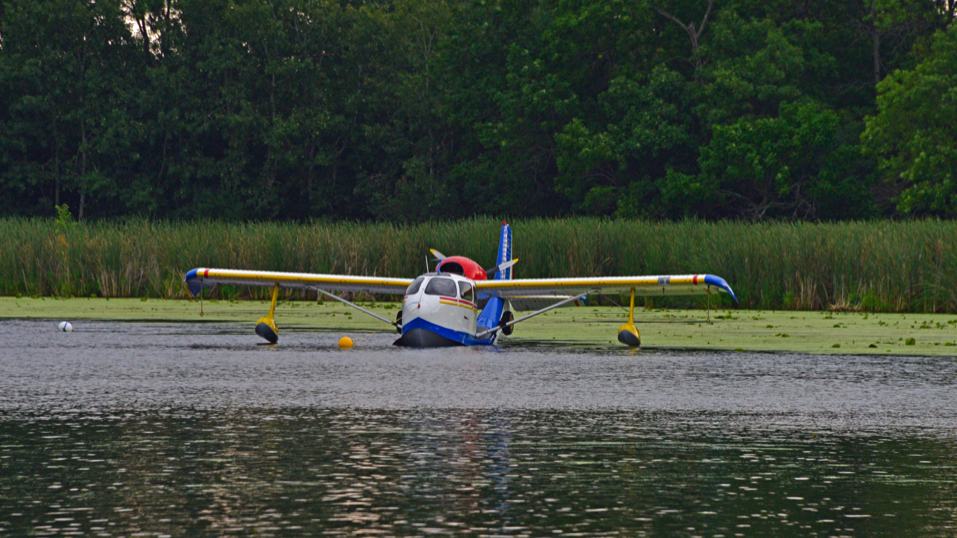 This shy little guy waited patiently for someone to play with. That always happens at family reunions. By the end of the week, he won't want to go home. BFH1342 - Day 12 - Oshkosh, WI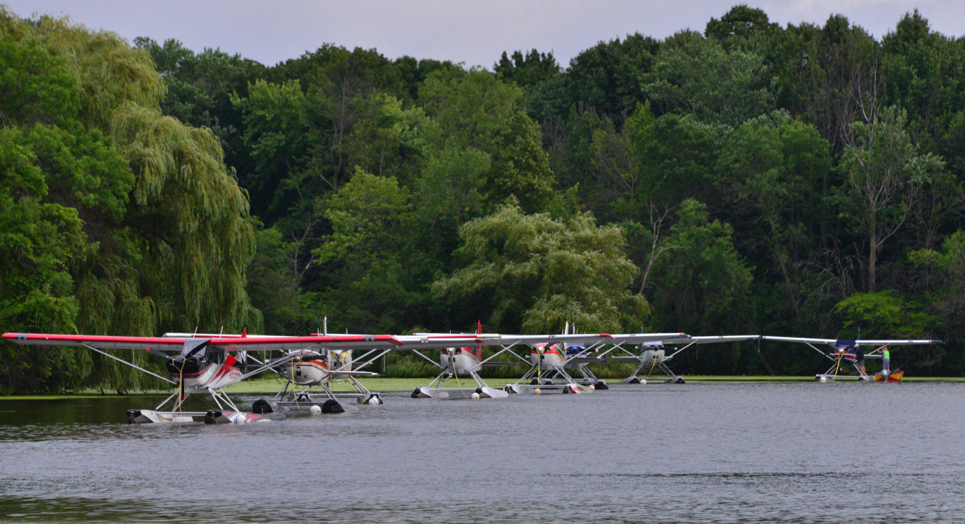 Gives a whole new meaning to tie downs on the ramp. BFH1339 - Day 12 - Oshkosh, WI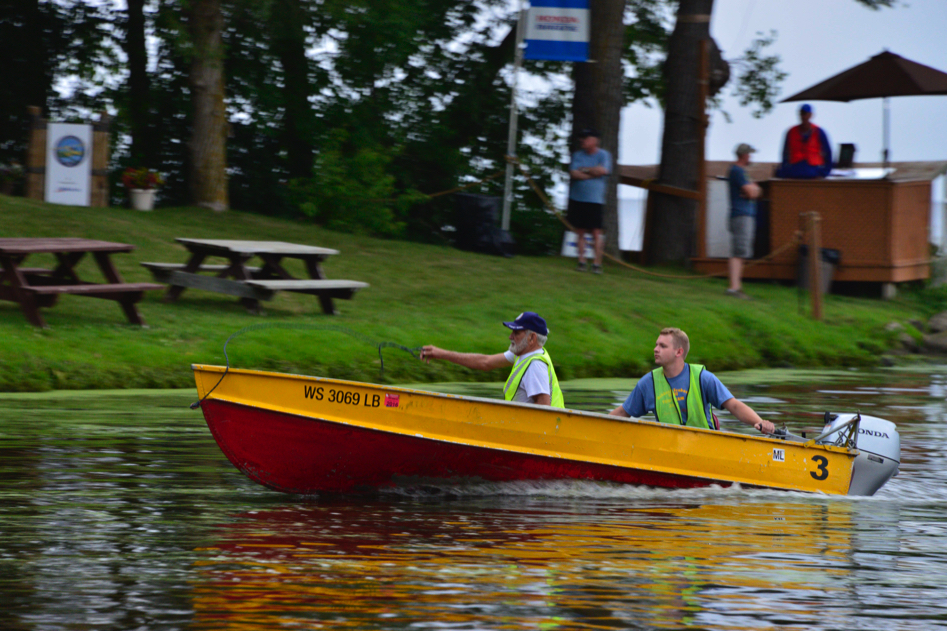 The water taxi carried folks from their plane to the shops on the shore. Some of the volunteers have been helping out for over three decades. BFH1367 - Day 12 - Oshkosh, WI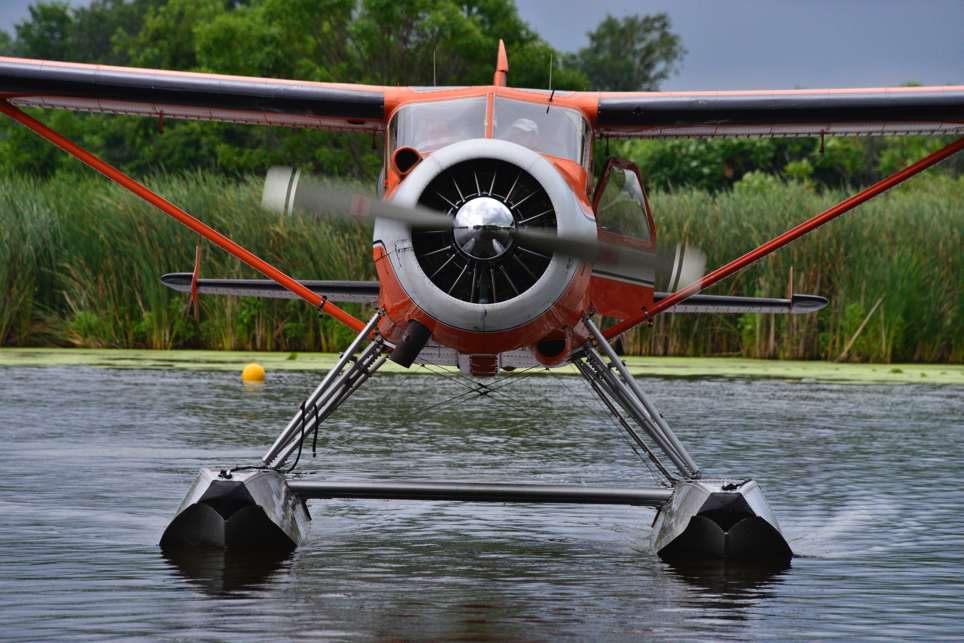 Turning towards the dock, this Beaver driver was very skilled at slow taxi and stopping at exactlyt the right spot on the dock. Of course the sound of a round engine just makes it all the better. BFH1405 - Day 12 - Oshkosh, WI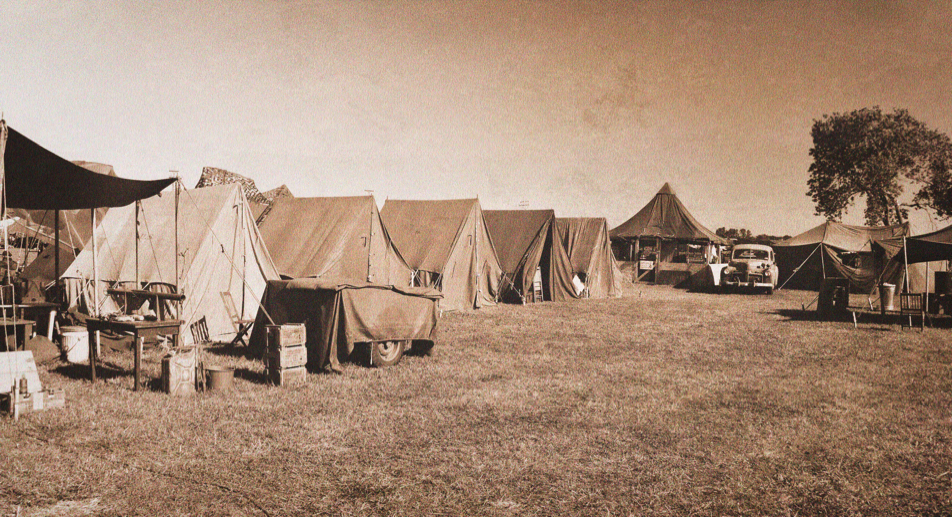 Over the years the re-enactors have expanded their "camps" and added era-specific artifacts that easily take us back to the environment our troops faced while not fighting. By mid-morning the sun had gained sufficient command over the canvas tents that they gave off their unmistakable musty cotton odor. BFH1421 - Day 13 - Oshkosh, WI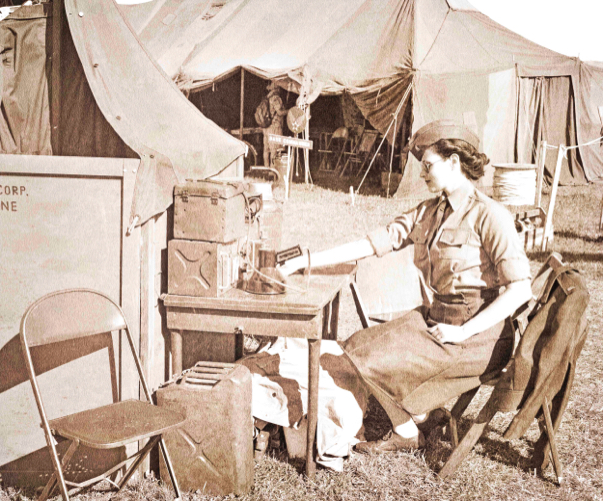 Monitoring radio frequencies on the camp radio was a 24 hour operation at times. BFH1431 - Day 13 - Oshkosh, WI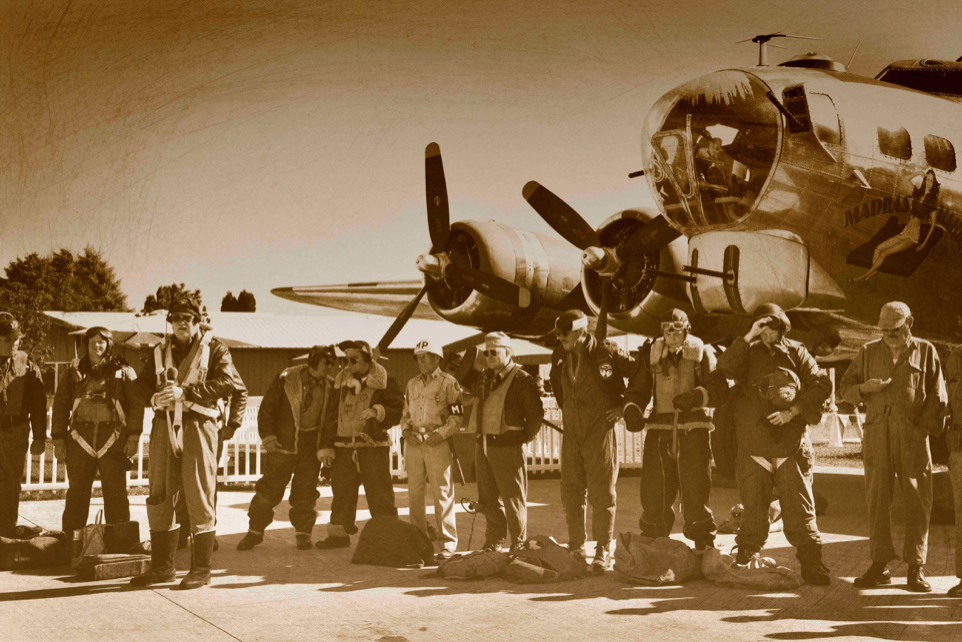 Just another mandatory morning briefing for all personnel. Perhaps some enthusiasm was lost due to the heat. BFH1450 - Day 13 - Oshkosh, WI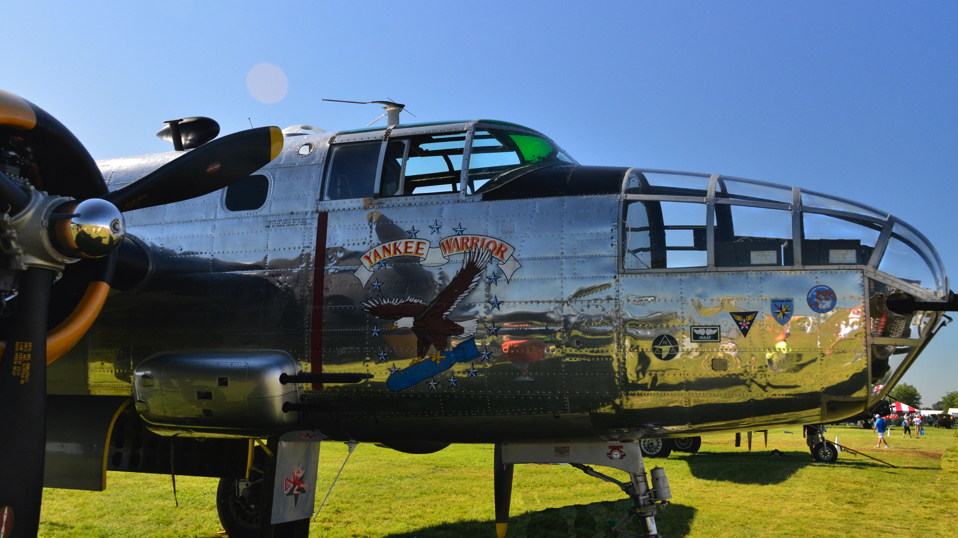 Pictures are fine, but for the real feel of what it was like, simply break out your credit card and go for a ride in this beauty. BFH1501 - Day 13 - Oshkosh, WI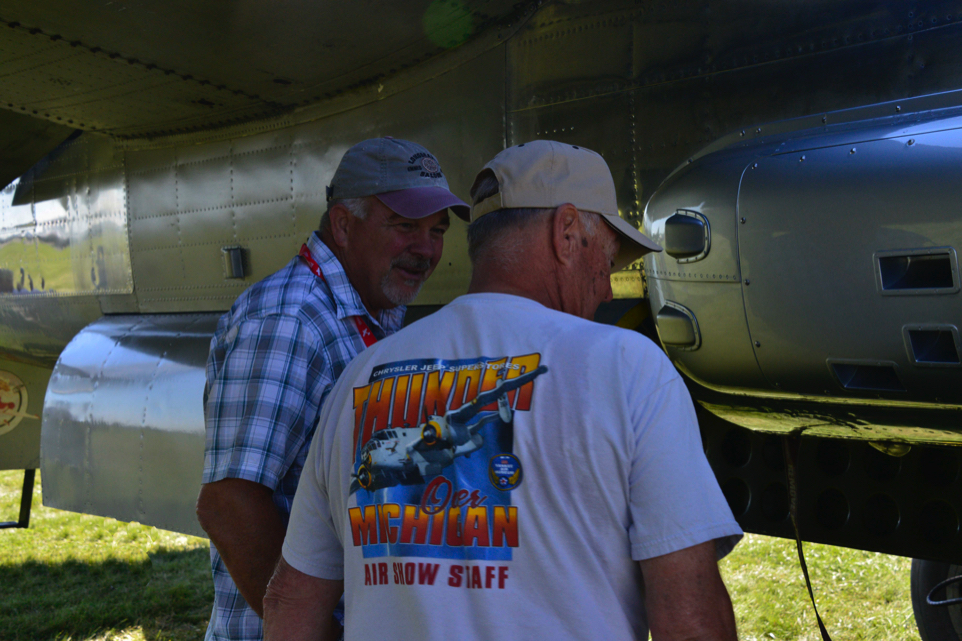 The guy on the left is about to take a flight in a plane he read about as a kid. Long after he was supposed to turn out the lights at bedtime, he was regularly caught with the flashlight under the sheets to finish "just one more chapter, dad." BFH1511 - Day 13 - Oshkosh, WI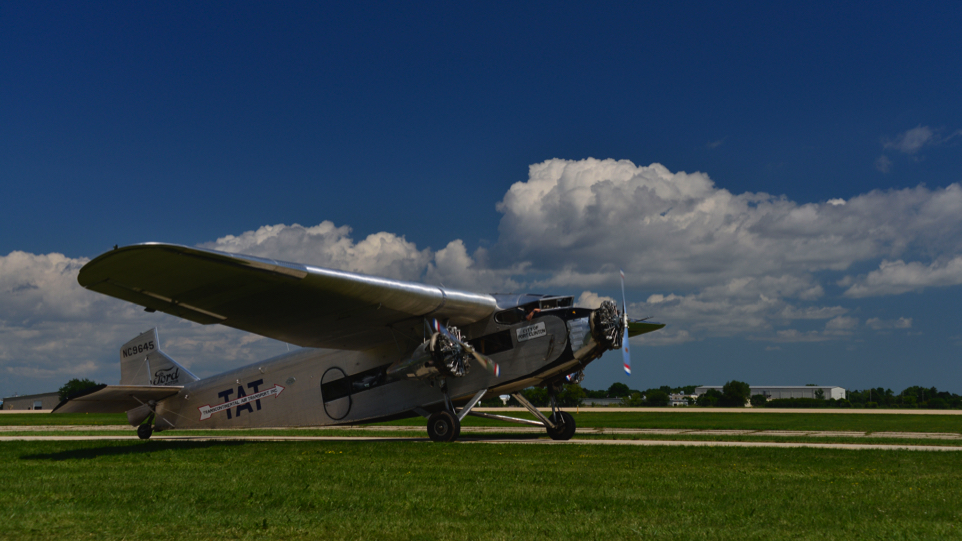 Three redial engines, one fairly slow climbing vintage airliner, and plug your ears! Heads snapped skyword when the Ford Tri Motor took to the air. With a shape only a mother could love, the Tri Motor lays claim as one of the first successful cross country airliner. BFH1599 - Day 13 - Oshkosh, WI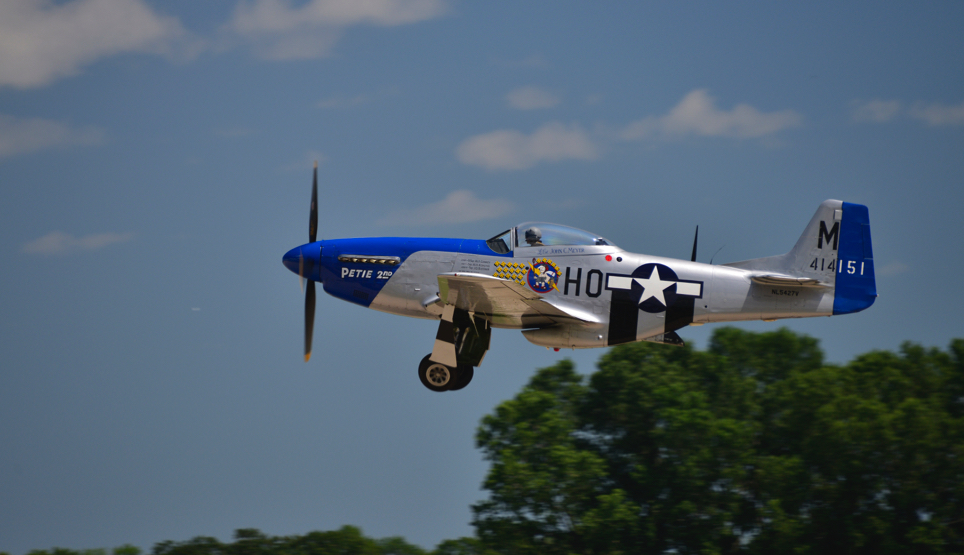 Speaking of head snapping toward the sky aircraft; no other plane commands more attention than the highly sought after P51 Mustang. We would like to thank all of you who restored one of these unbelievable airplanes. We enjoy every second we get to witness their greatness in flight. BFH1643 - Day 13 - Oshkosh, WI
The daily airshow starts with a rather unique entry of our American Flag. Once the announcer broadcasts to "look high in the air above airshow center," Two skydivers deliver our flag as everyone on the ground stops in their tracks and places their hand over their heart. On the very last note of the song, the flag carrying skydivers touch down and gently guide the flag into waiting arms. Is this a great country or what? BFH1680 - Day 13 - Oshkosh, WI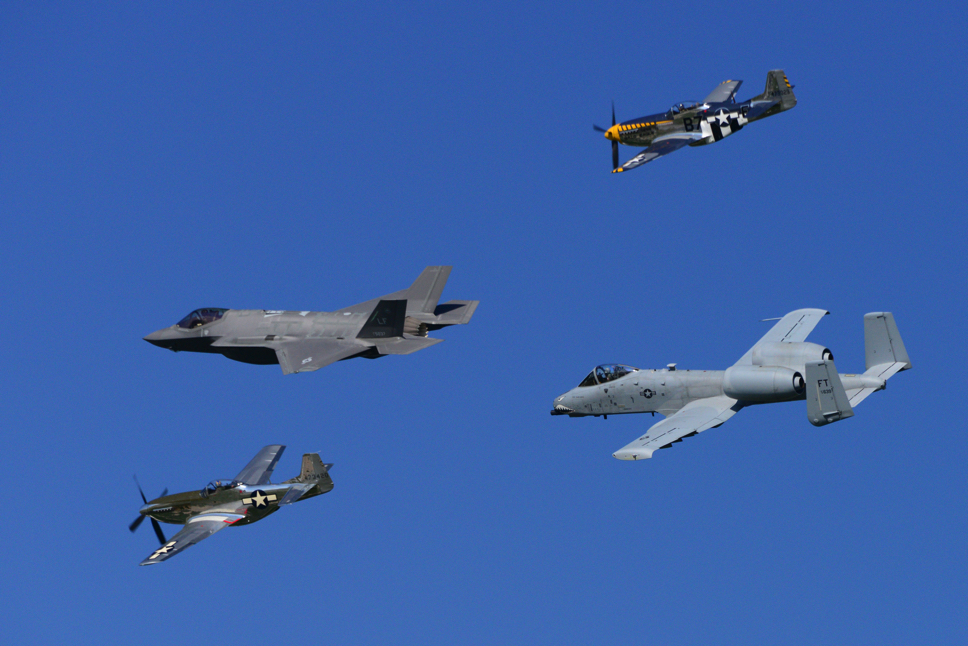 USAF Heritage Flight is short for the United States Air Force Heritage Flight. It was created in 1997 to celebrate the 50th Anniversary of the United States Air Force. There can be no better way to end the daily airshow than this fitting tribute. BFH2016 - Day 13 - Oshkosh, WI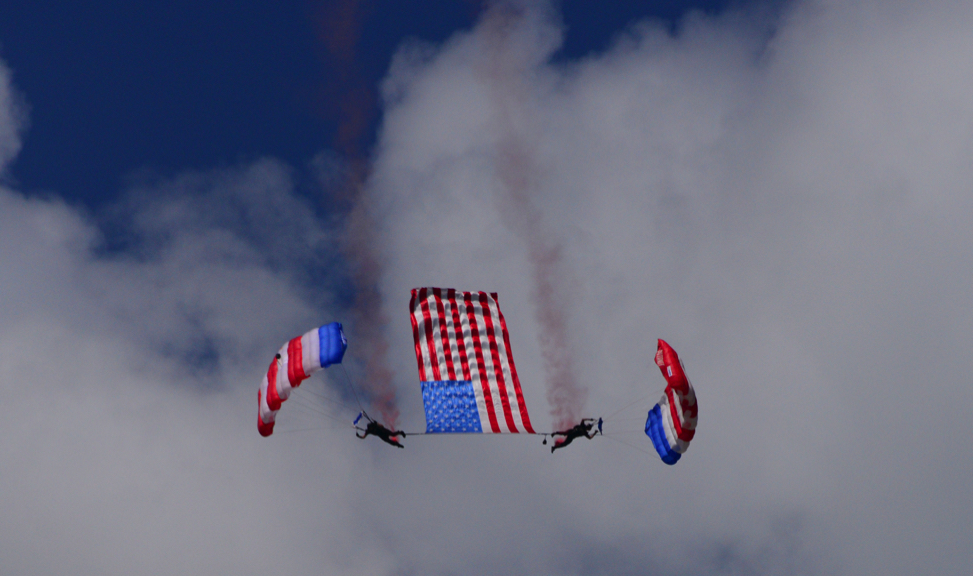 Checking the compass to insure we stay on course along with throttle and altitidue we sometimes are unaware of the terrain just below our wing. Thankfully, Mr. Nikon was ready in an instant to capture some unbelieveable green contour crop fields. BFH2137 - Day 14 - Iowa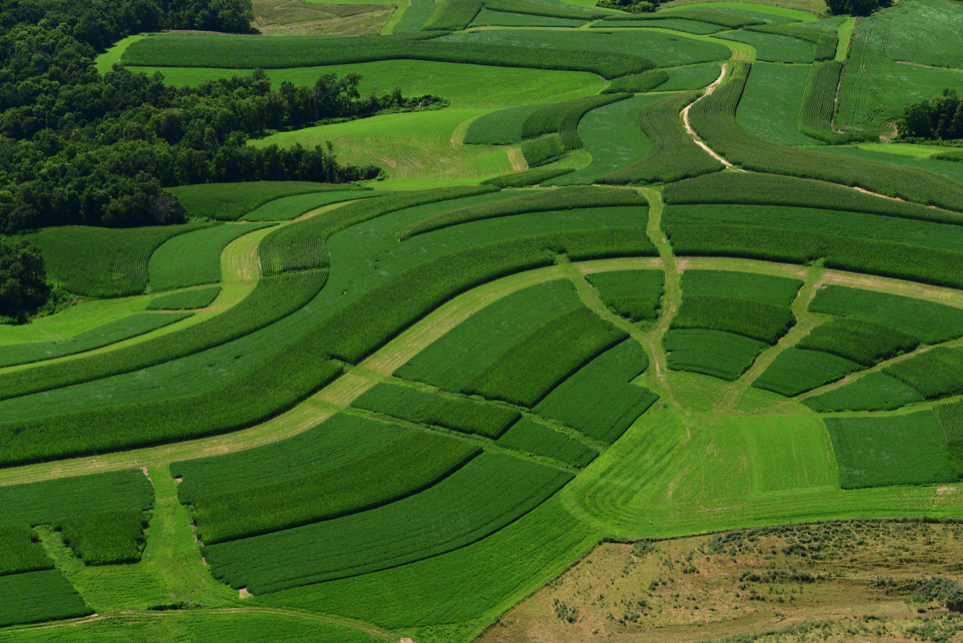 Crossing the Mississippi River is never boring. There are always barges navigating this icon of mercantile shipping. The farms on either side are rich with crops nurished by the delta soil from the head waters on down. It goes without saying the bountiful rainfall this year doesn't give any color but green a chance to show its stuff. BFH2158 - Day 14 - Iowa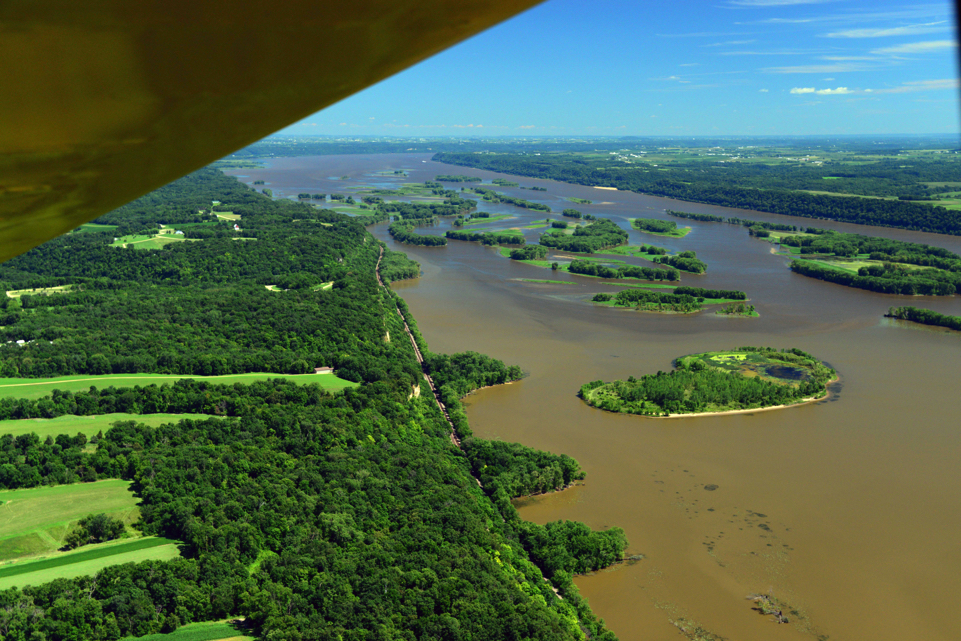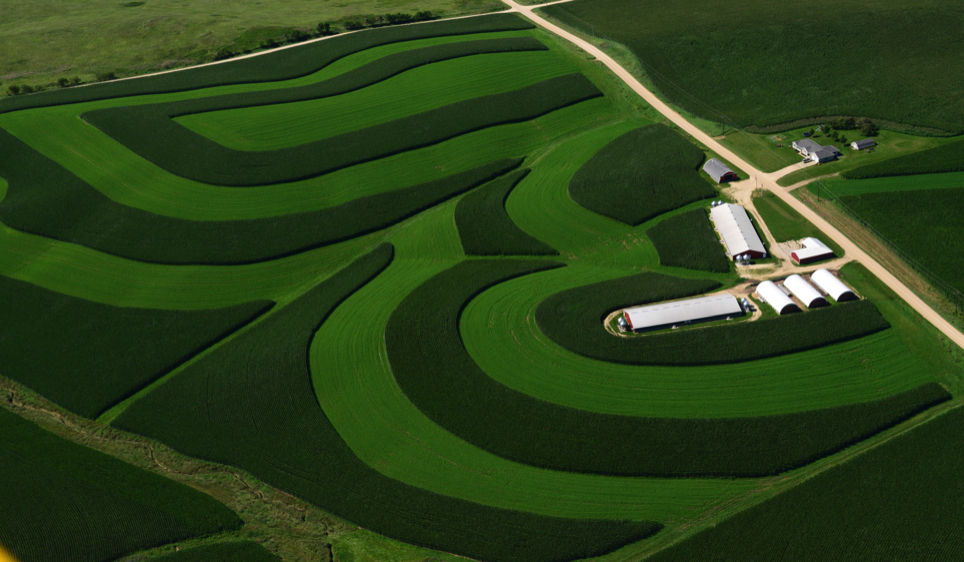 Our 15th day on the adventure opened with a shot Mr. Nikon would remind me of for a very long time. He did this with absolutely no help from any kind of post processing software. We did crop and reduce the file size so it could be posted. The first shot, in this series, he chose to photo-bomb with his struts. Fortunately for all of us, he doesn't get to choose what shots get posted. BFH2187 - Day 16 - Illinois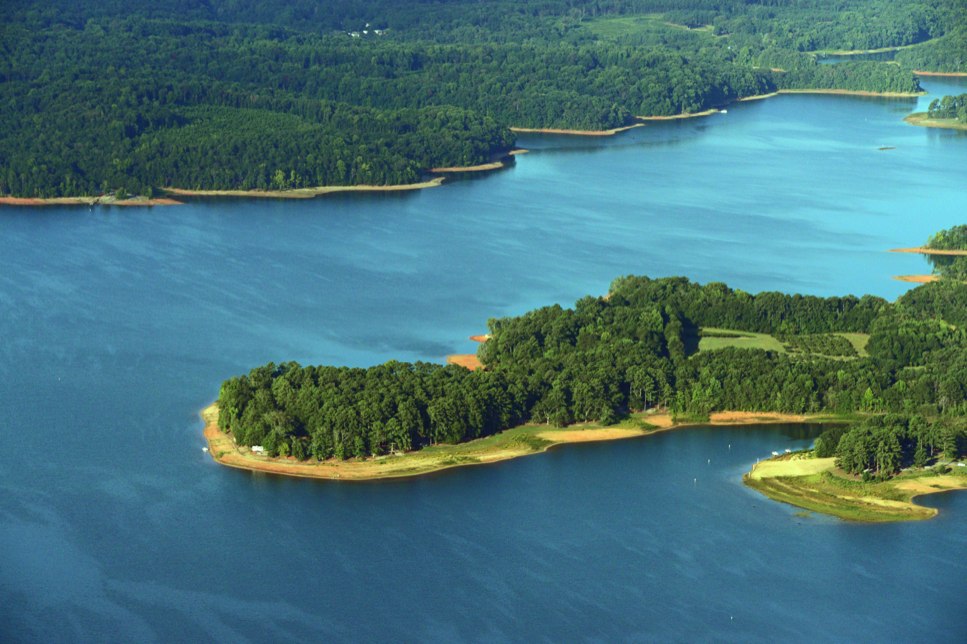 The last morning of the adventure our flight track took us just four miles south of Clemson University over Lake Hartwell in South Carolina. While we could easily see Clemson's football stadium off to our left, it was the shoreline of Lake Hartwell sunning itself on a warm midsummer morning that got Mr. Nikon out of bed early.
A few hours later we landed at Johnston County (JNX) our home base under clear blue skies and calm winds. It wasn't as difficult to bring this adventure to a conclusion as others in the past because we plan to leave on a second adventure a month from now. BFH2271 - Day 18 - South Carolina
Thanks for coming along. We hope you'll join us in early September when we head out again for a second time this year. Oh yeah, don't forget the cup of coffee...
"Birds of a Feather" Cub Adventure 2017 A
Trip Statistics:
Number of days on the Adventure 18 days
Statute miles flown 2,598 miles
Number of legs 26 legs
Longest leg 2.1 hours (there were four of them)
Total flight time 43.1 hours
Total fuel 162.8 gallons
Gallons per hour average 3.8 gallons per hour
Photos for
"Brodhead Grassroots" Cub Adventure 2017 B