Photos for
"Three Rivers" Cub Adventure 2019
We are using High Definition photos
They might take a while to download
Pushing the Cub out of the hangar into the brilliant blue skies and warm August morning air meant we were only a few minutes from departing. The Cub, now ladened with the weight of the baggage and gear, felt only slightly heavier while taxiing to the run-up area of Runway 21. The days preparing for the adventure all came down to rolling down the runway until the wheels lifted from the pavement. Day 1 - BFH0002- North Carolina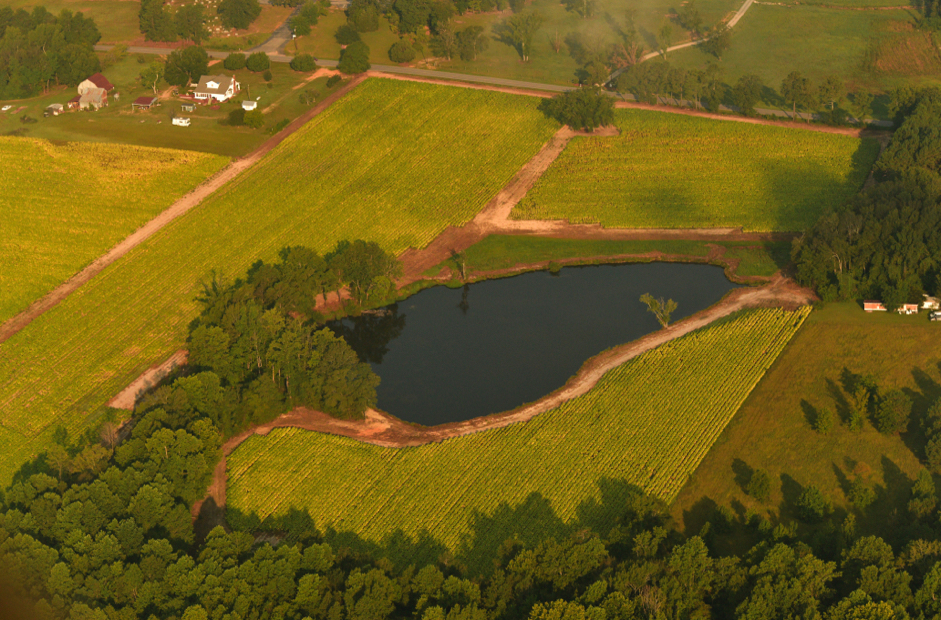 Mr. Nikon couldn't resist the challenge of capturing a sunset on Lake Chatuga. We'll be spending a few days with friends in the Appalachian Mountains. Day 1 - BFH0059- North Carolina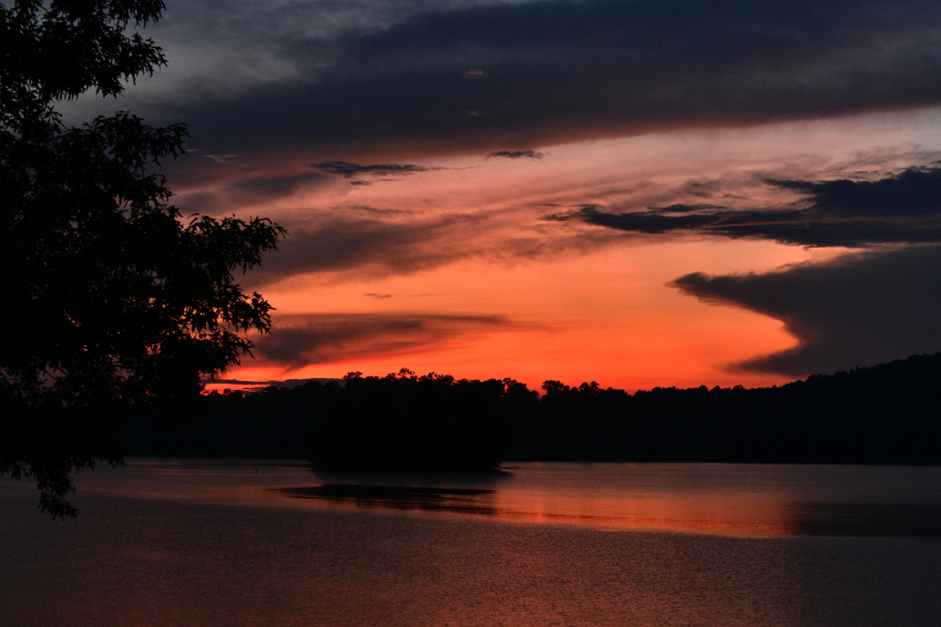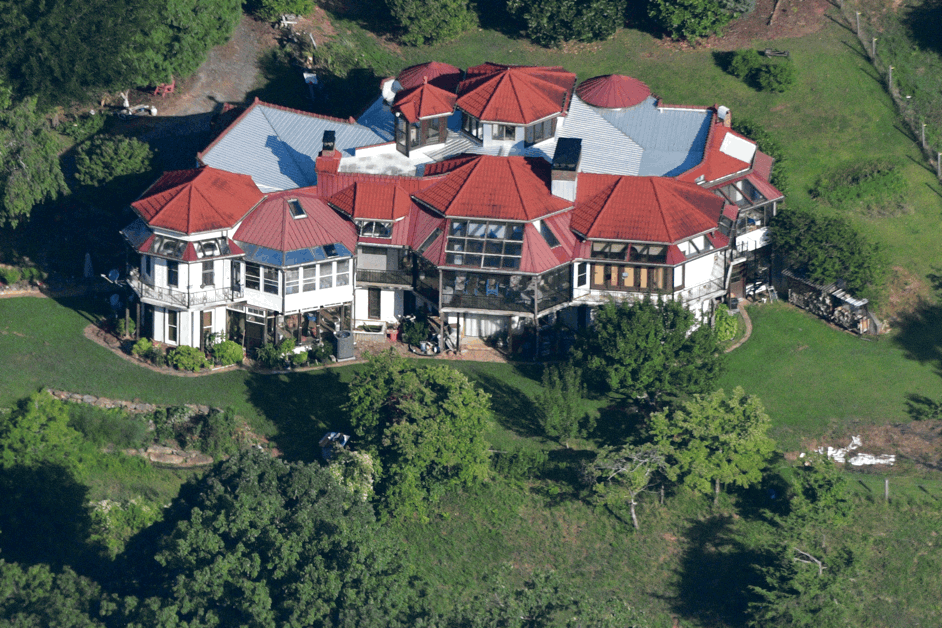 This very custom built home deep in the Georgia mountains seems to express the defiant nature of non-conforming residential mountain homes. Fortunately, it only took about 5 seconds to capture the photo. Later in our hotel room we were able to digest the interesting roofs and windows . Day 4 - BFH0262- Georgia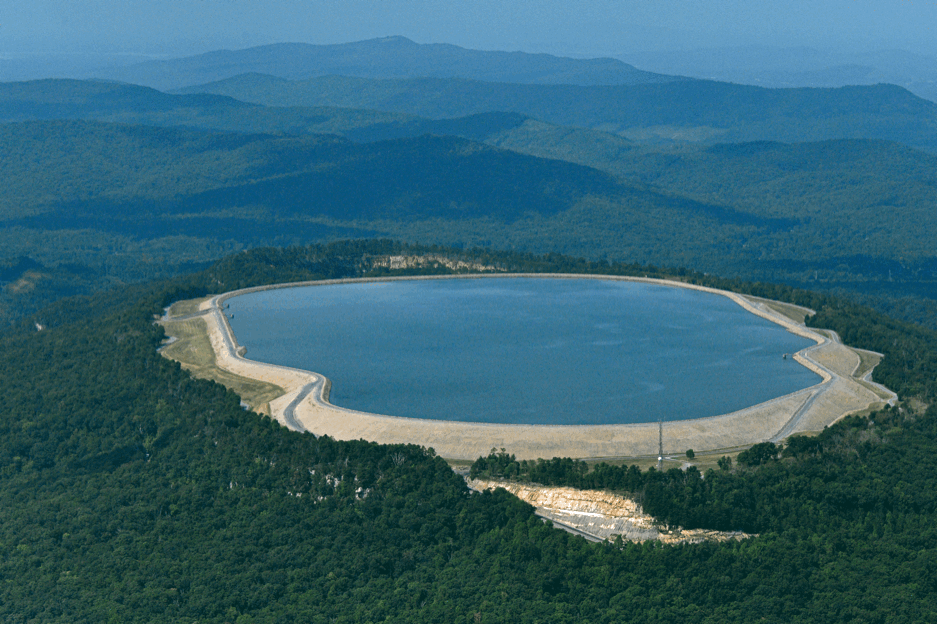 This unique mountain top man-made lake is not only huge but its relationship to the other lake just down the hill from it is quite compelling (see photo below). Day 4 - BFH0284- Georgia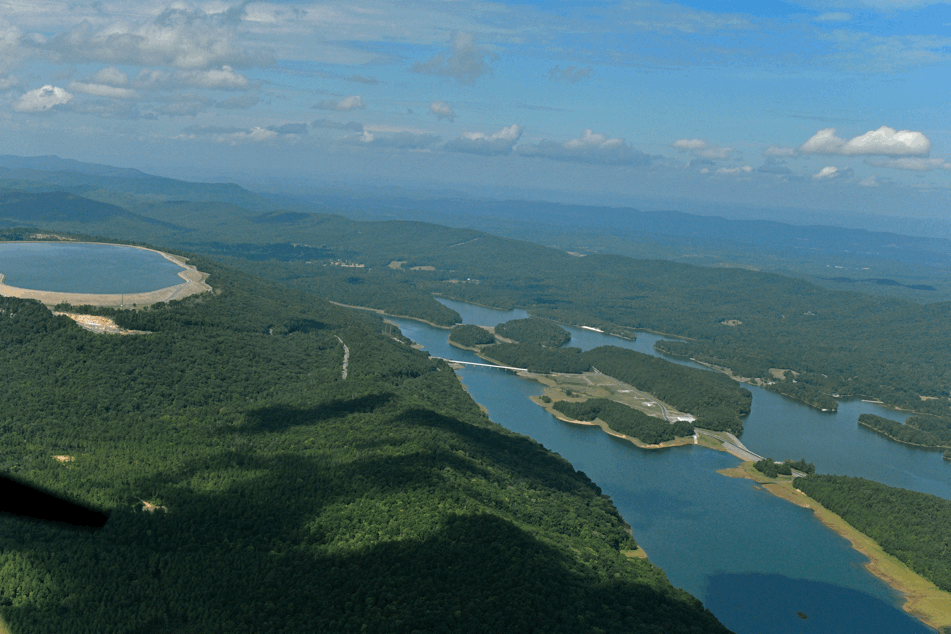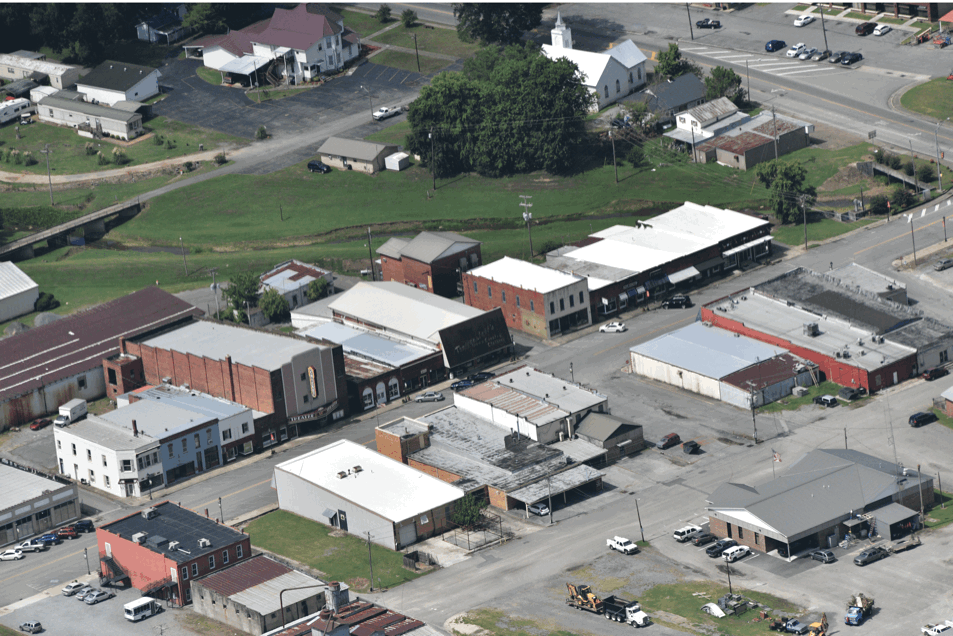 Noon on a Thursday and this poor old main street has seen better days. It does look like the "Cricket" movie theater is still entertaining the locals. Day 4 - BFH0296- Alabama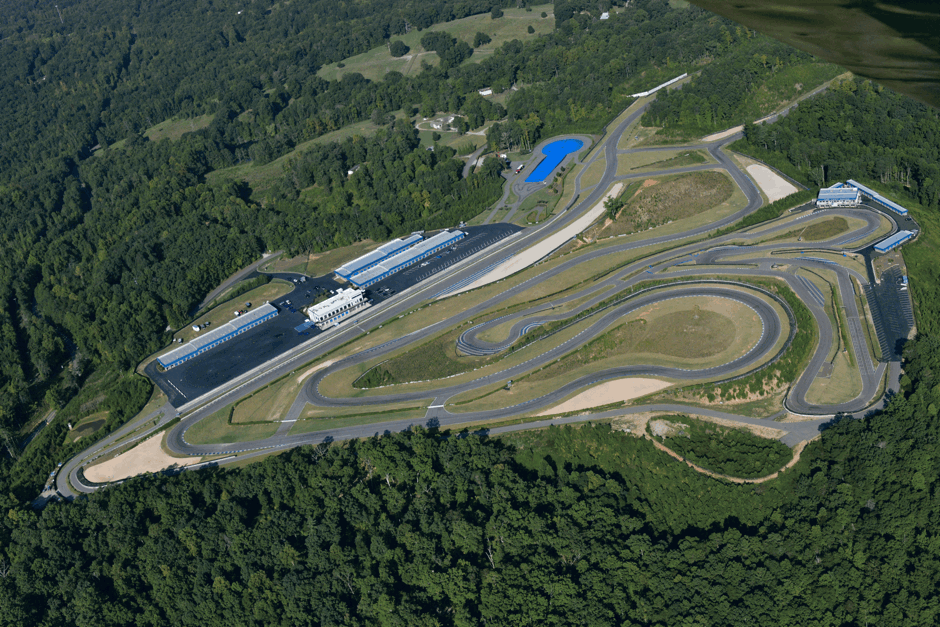 Most every unique place we see and photograph from aloft comes as a complete surprise. Hidden among the forested hills of Georgia this shape caught our attention so we headed over and got a quick shot of this possible test track and/or practice track. You might recall one of the last photos in the Cub Adventure 2018 was a very, very large test track. Day 4 - BFH0269- Georgia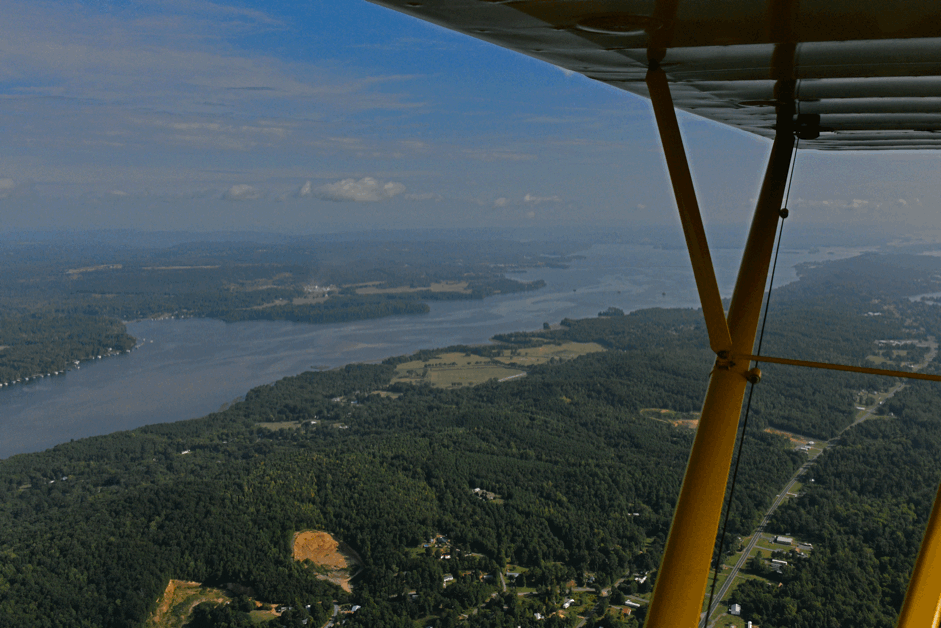 Shortly after we departed Albertville, Alabama this morning, Mr. Nikon was unceremoniously pressed into action. Just northwest of Albertville and to the right of our course line we began our quest to follow the Tennesse River. "But it looked so small in the sectional chart" we thought. Day 5 - _BFH0319 - Alabama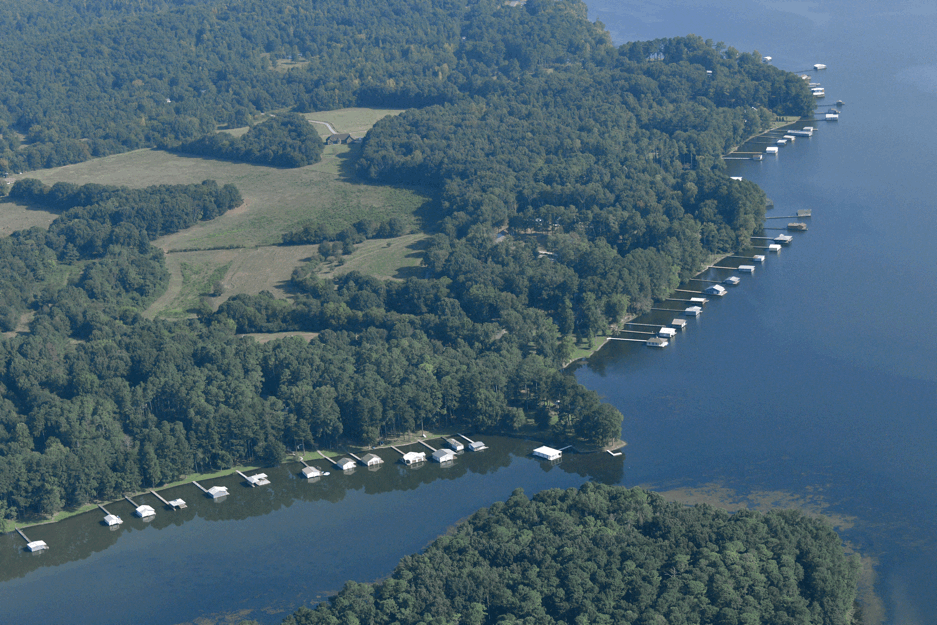 This is a working river that provides recreational activities, commerce, needed water supply delivery and a plethora of other benefits. Did you ever wonder if boat houses feel like they never get any respect? Let's face it. Having their foundations 30 to 40 feet off a shoreline certainly could make them feel unworthy to live like their prestigious relatives, some of whom live in the mountains. (Yeh, we shouldn't skip breafast 'cause it makes us ask these sort of questions). Day 5 - _BFH0320 - Alabama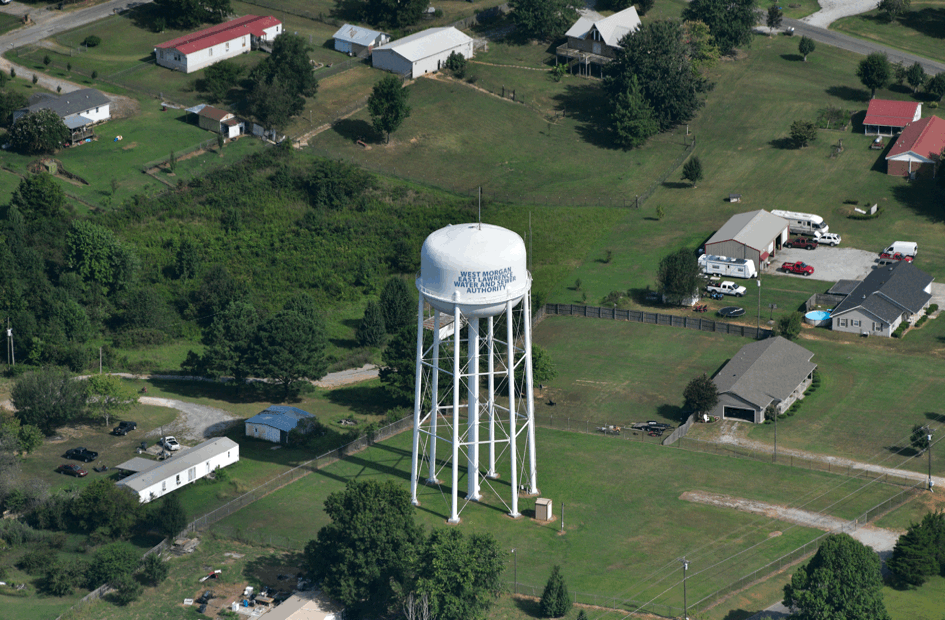 We often stray off course to read a town's name on a water tower. Most towns subscribe to placing just their name on them. That is until we flew over this one. Obviously our minds did some straying off course of their own. Okay, this is one of those days when we ponder some unanswered esoteric questions that come to mind. Can't you just imagine the West Morgan, East Lawrance Water and Sewer Authority board meeting dedicated to naming their newly constructed water tower? Evidently the board meets in that little tan house at the foot of the water tower on very warm days. And how did they solve which town would get the coveted "top billing?" We must admit leaving both towns the names off of the tower would bring an even larger quandary. Just naming it Water and Sewer Authority in large letters wouldn't be in the best interest of the two non-compadible functions in the same title. Ugh! Okay, we feel better getting that off our chests. Thanks Day 5 - _BFH0327 - Alabama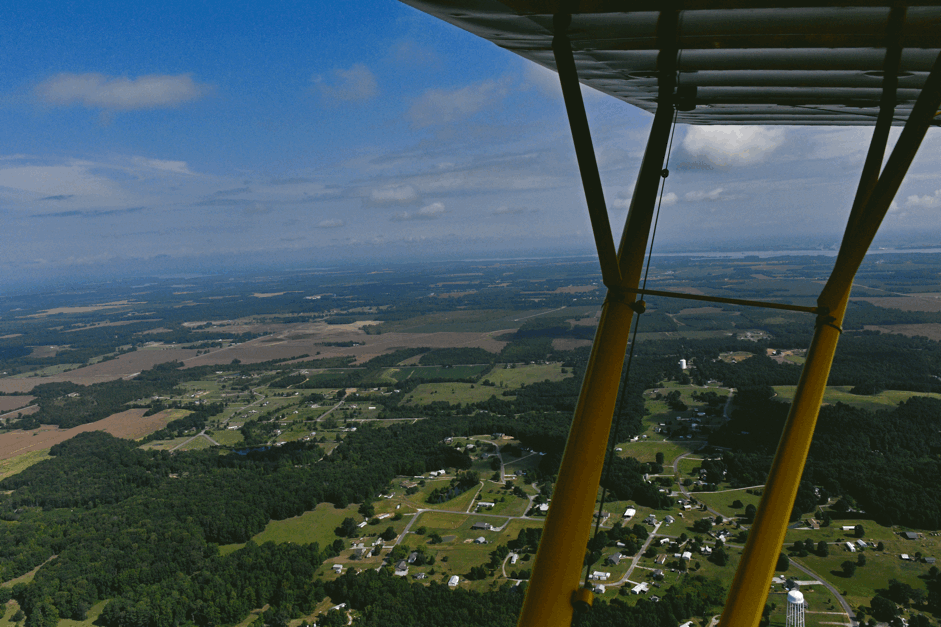 At times we can't closely follow the Tennessee River due to airspace restrictions and weather. In this photo we can see the river between the two lift struts. As it turns out, we enjoyed flying over Alabama and consider it a beautiful state to get to know from the air. It's time well-spent leisurely taking in the beautiful forests, towns, and stunning summer colors and hues. Day 5 - _BFH0329 - Alabama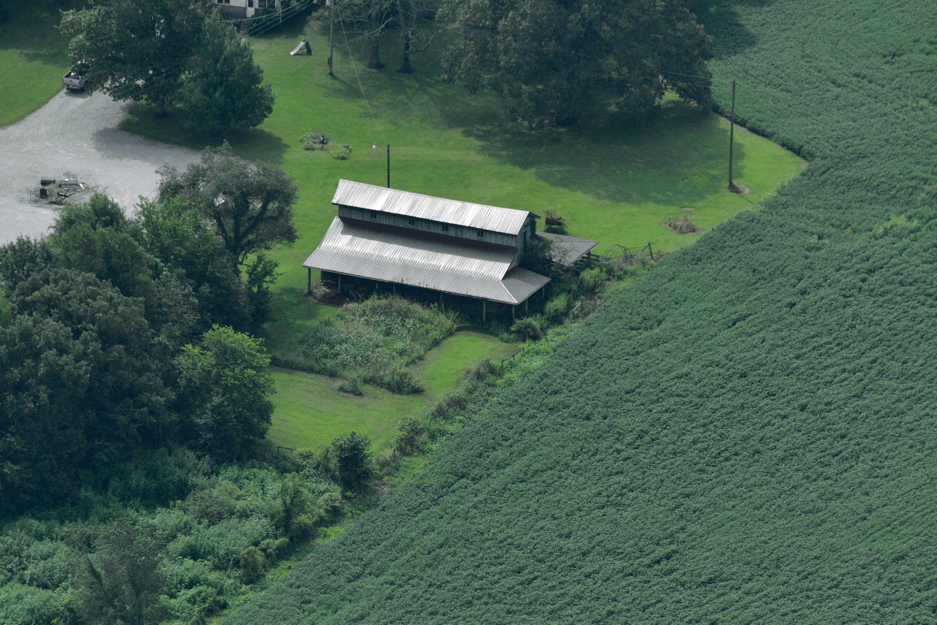 We flew by this nearly old brush hidden barn, something about it didn't seem right. The wood was weathered consistent with an old barn of this vintage, but the roof looked new. We decided to do lap around the area and take a closer look. The next photo makes this all very clear. Day 7 - _BFH0330 - Kentucky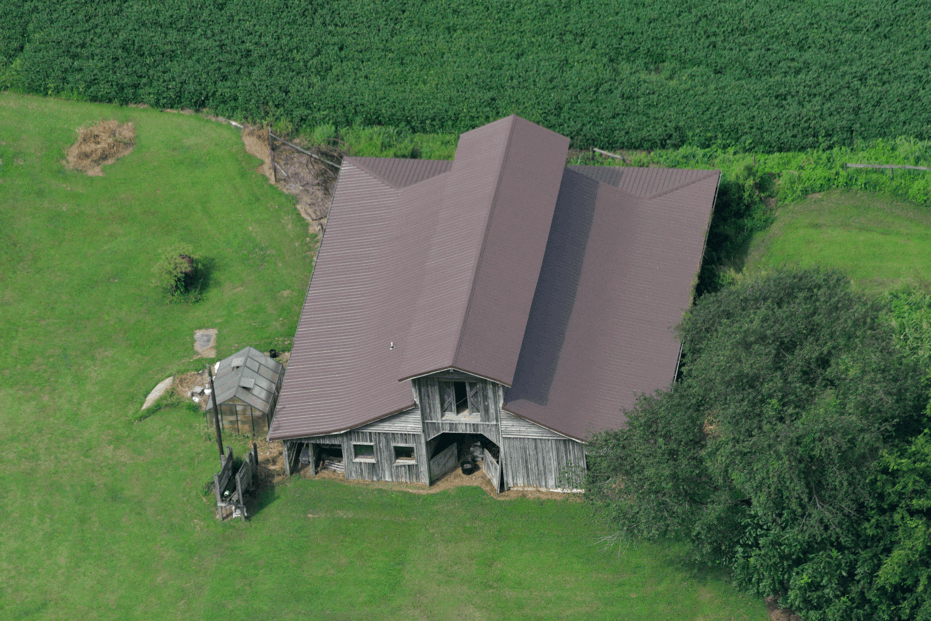 The wood used to build this barn looks to be old, but the overall condition of the building is in very good shape, especially the roof. Hats off to a nice job on this homestead. Day 7 - _BFH0330 - Kentucky
Yep, everything looks normal with our glass panel. Guess we can keep Mr. Nikon busy for a while. Day 7 - _BFH0349 - Kentucky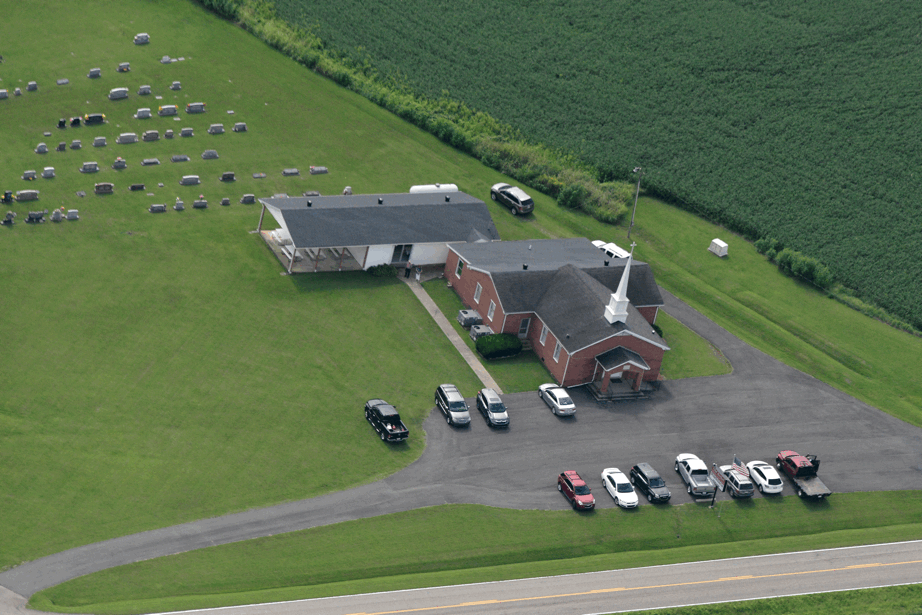 It's the last church service on Sunday morning at this small rural church tucked between bountiful acres of crops. Farmers are a hardy bunch. We are all thankful for their tireless work. Day 7 - _BFH0373 - Missouri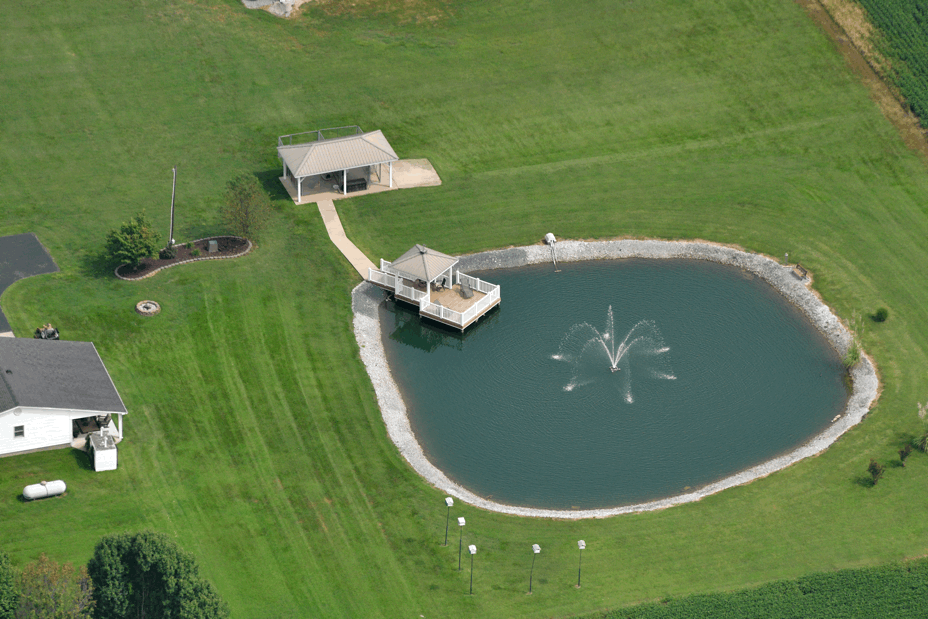 This years award for "Best Use of Back Yard with a Pond" goes to these hard working folks. Not only can they enjoy their pond-side gazebo with a Bellagio Fountain-like water feature, but their dogs in the covered area can be close at hand in their shaded dog run with high tech dog houses. But wait, there is more. Who do you think gets the credit for maintaining a near perfect Scott fertilizer back lawn... YES...it's mom. She's on her turbo charged rider lawn mower at the far left of the photo just beyond the roof of the house. Day 7 - _BFH0387 - Missouri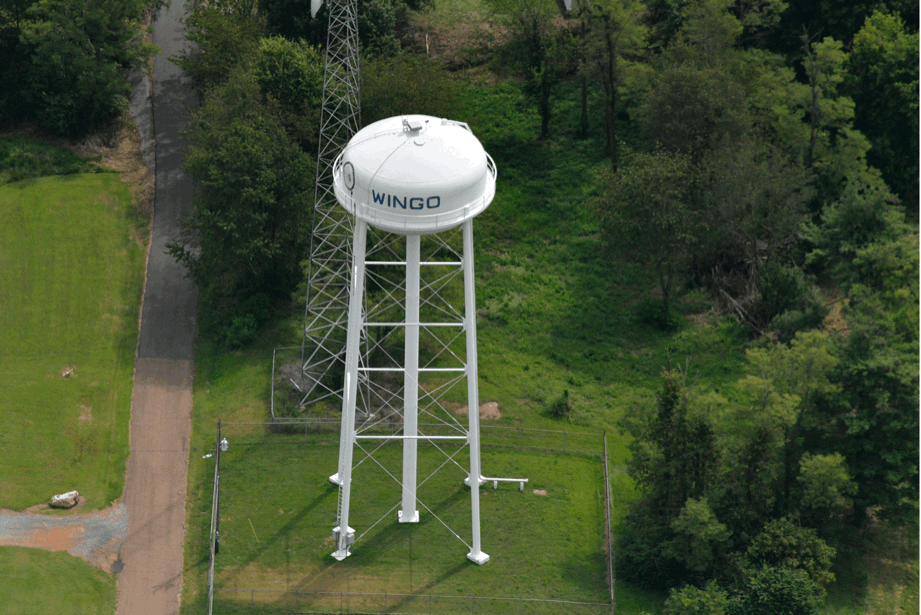 Now here's an example of a pilot-friendly water tower marking. We know exactly were we are after checking out this fine water tower in the town of...Wingo which in 2010 had a population of 632 people. Day 7 - _BFH0416 - Kentucky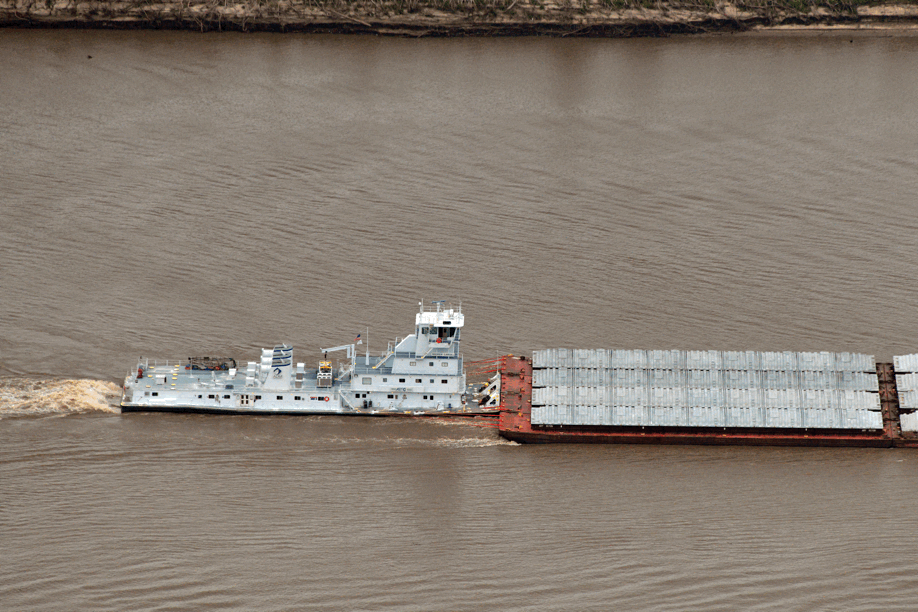 What could be a more iconic representation of the Mississippi River than a river boat pushing up a muddy wake as it navigates its way north on the Mississippi River at the confluence of the Ohio River. Day 7 - _BFH0458 - Mississippi River.
The confluence of the Ohio and Mississippi Rivers joins two of the most storied rivers in our country. Getting to experience this from our seat in a vintage airplane gives us pause to consider how many pilots for decades have passed this way under similiar conditions. Day 7 - _BFH0469 - Mississippi River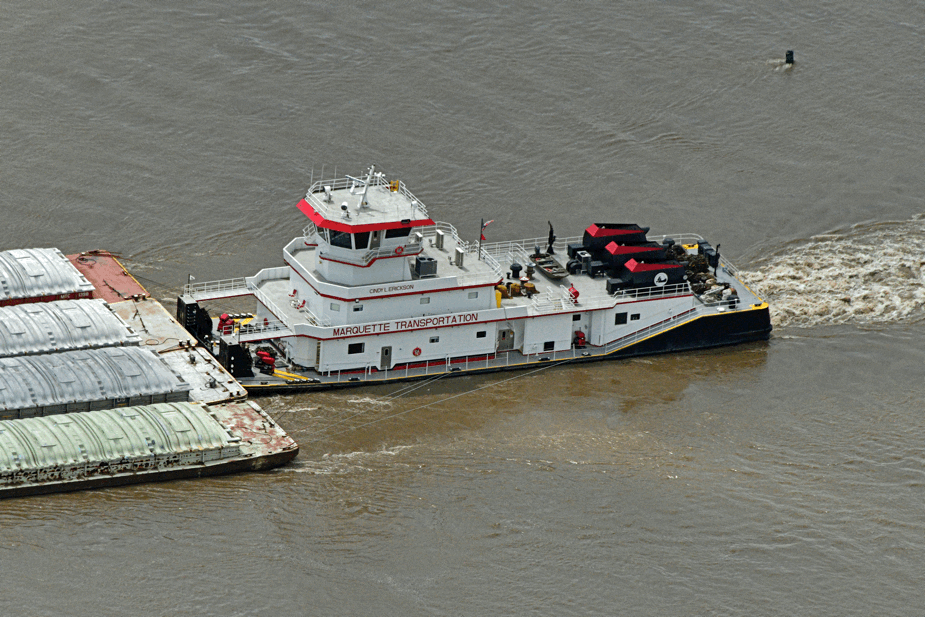 Crossing the Mississippi River provided another opportunity to capture one of the ubiquitous boats pushing barges on the river. A closer look reveals the the boats name (and perhaps its operator) is a female. Coping with all the forces of nature that constantly try to push a group of barges off course must be a bit like herding cats at times. Day 8 - _BFH0513 - Mississippi River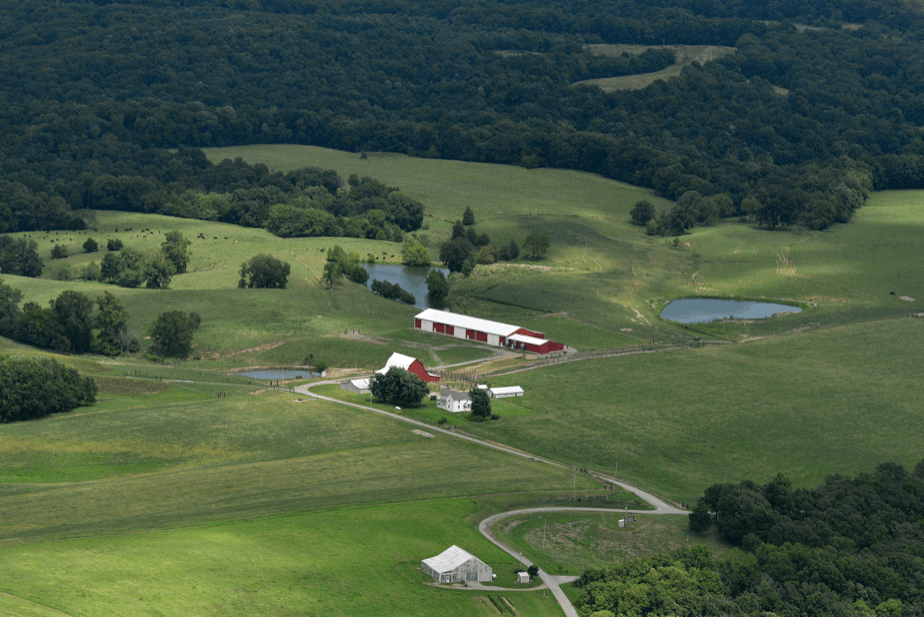 Partly cloudy days have their photographic rewards in some instances. Together with the ultra green pastures and forests due to this years near biblical rainfall, shafts of sunlight make accents on some everyday scenes. This image would be rather ordinary on a cloudy day and to some extent on a sunny day as well. Most certainly by luck, the pastures with the livestock are illuminated. The red and white buildings would have been over-saturated in full sun. Mr. Nikon sorts all those variables out in milliseconds. Day 8 - _BFH0513 - Mississippi River
Farming on the Mississippi River delta's bring about some unique patterns that might not be appreciated to someone traveling on a road. It also indicates how far from the river the delta extends. Day 9 - _BFH0532 - Mississippi River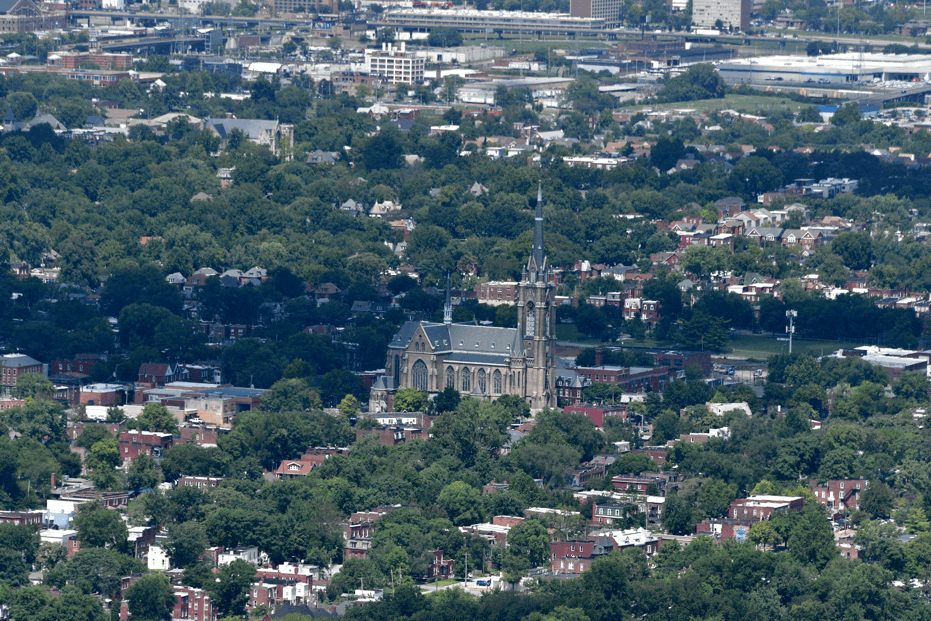 With downtown St. Louis just moments away Mr. Nikon was looking for a wide angle shot that would indicate the sprawling city size. However, a cloud shadow (now behind the church) moved and the church was highlighted against the local neighborhoods. Mr. Nikon abandon his wide angle shot and went for the telephoto image. What a grand old church still maintaining its purposeful presents to its community. Day 9 - _BFH0532 - St. Louis, Missouri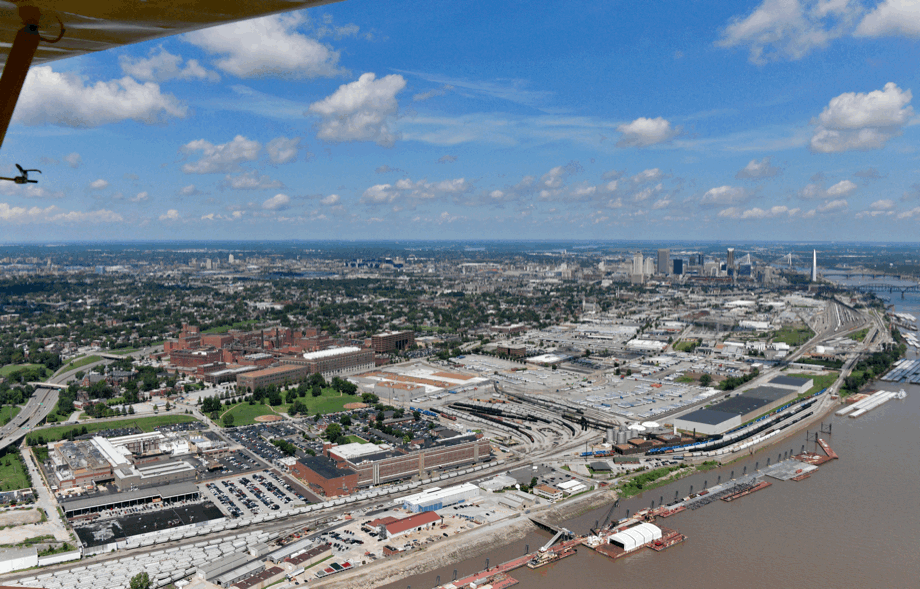 This wide angle shot was just after the previous Church shot. The vastness of St. Louis and its relationship with the Mississippi River is well defined in this one image. Day 9 - _BFH0549 - St. Louis, Missouri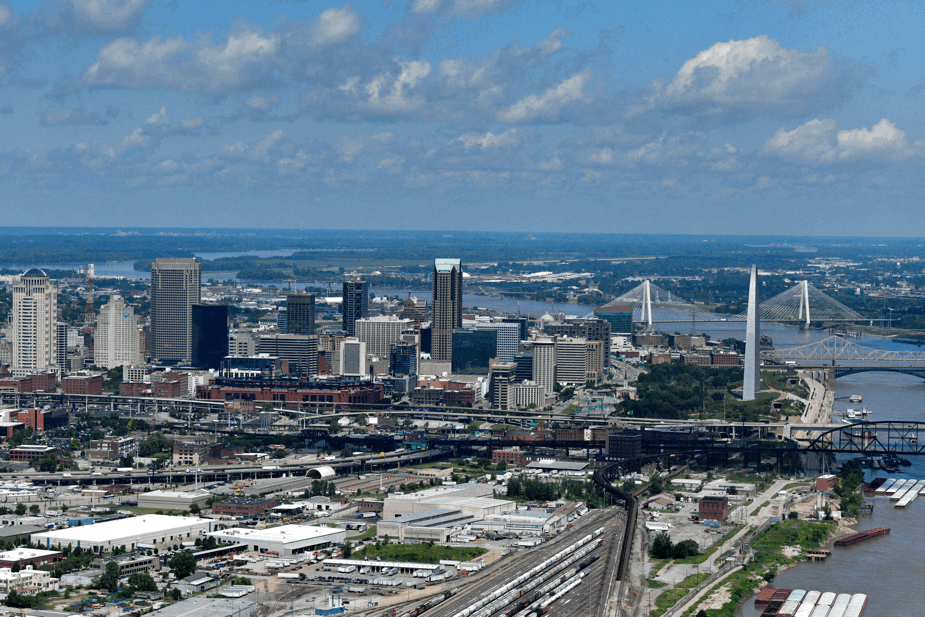 Skyscrapers compete with the Gateway Arch for airspace above the city. Even the new suspension bridge behind the arch is relagated to "also in the picture." Day 9 - _BFH0554 - St. Louis, Missouri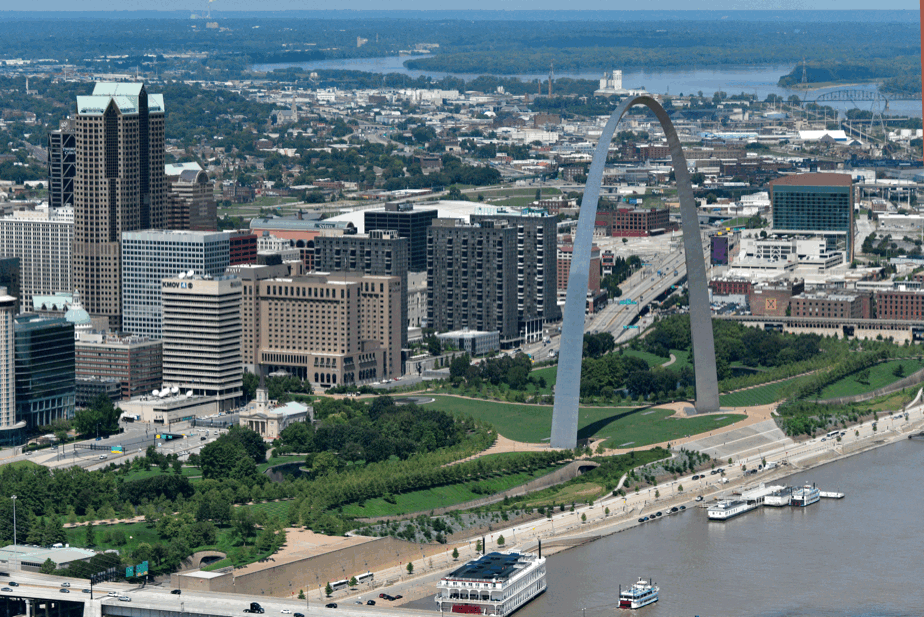 Gateway Park is a very nice use of open space in an otherwise high density business district of the city. Not as large as Chicago's 319 acre Grant Park, but the welcoming statement of the Gateway Arch puts it in competition. Day 9 - _BFH0571 - St. Louis, Missouri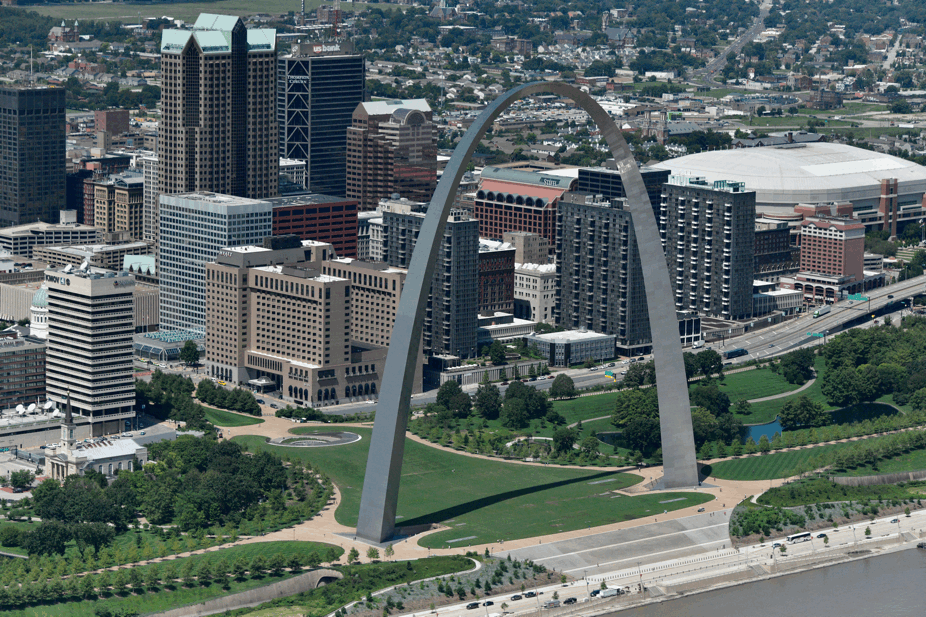 This is the shot Mr. Nikon waited all week for. Can't say as we blamed him, besides the incredible experience of flying a vintage 1941 airplane up the Mississippi River to get this unique perspective. Day 9 - _BFH0618 - St. Louis, Missouri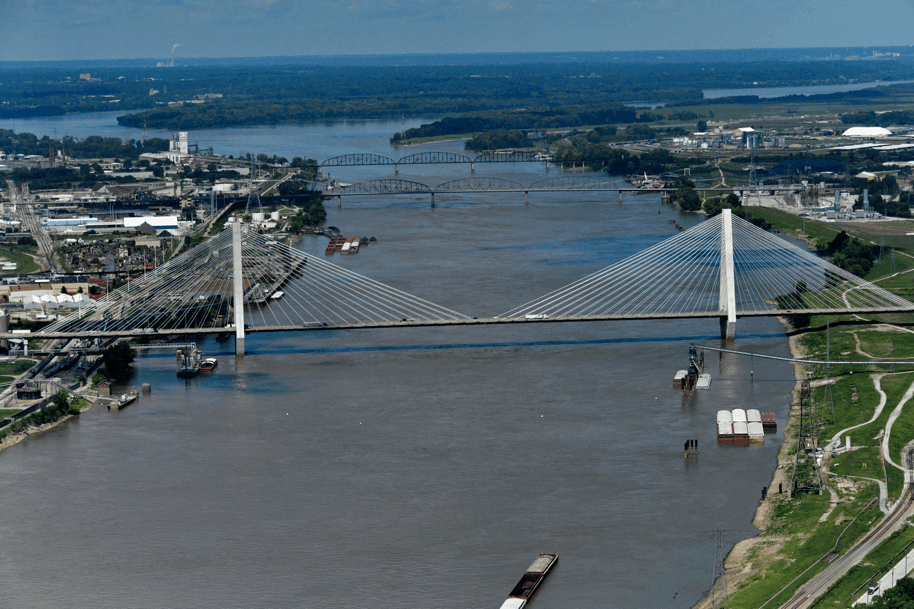 The new suspension bridge in the foreground stands out in contrast to the older truss bridges in the back ground. Not only more aesthetically pleasing but much less utilitarian in its application. Besides, suspension bridges are much more fun to fly over as the next photo pretty much says it all. Day 9 - _BFH0657 - St. Louis, Missouri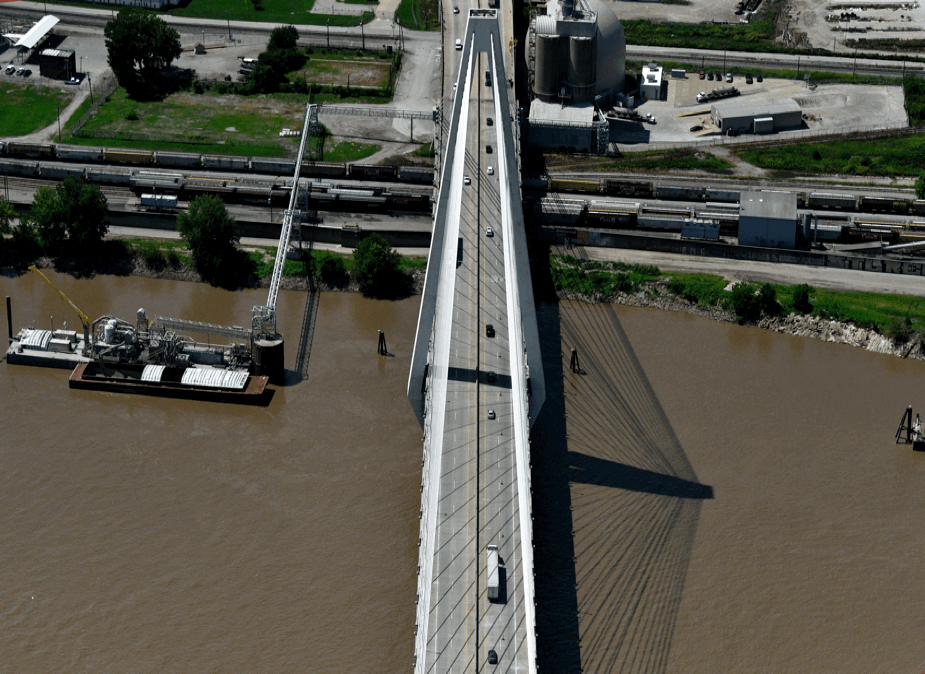 This image gives some people a sense of just how high we are flying and perhaps the perils of vulnerability in our aviation platform. Day 9 - _BFH0716 - St. Louis, Missouri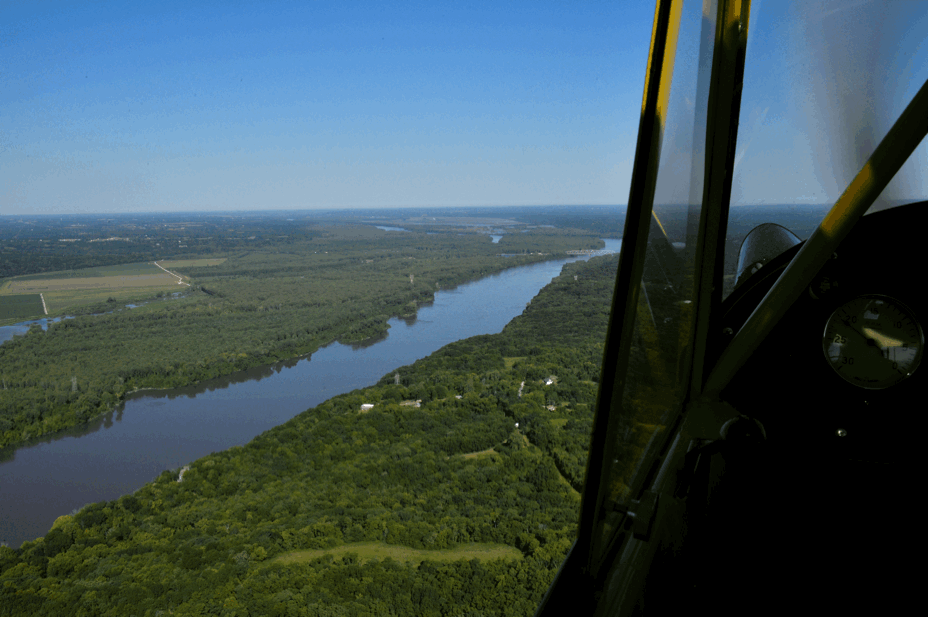 Following the Missouri River has been a treat for us. While significantly smaller than the Mississippi River, its forces change landscapes in dramatically similar ways. Perhaps the idea of a bit more intimate than the powerhouse Mississippi is acceptable. Just below the horizon in this photo lays the town of Boonville, Missouri. Like all the new experiences we encounter, Boonville provided a unique photo opporunity. Day 10 - _BFH0738 - Missouri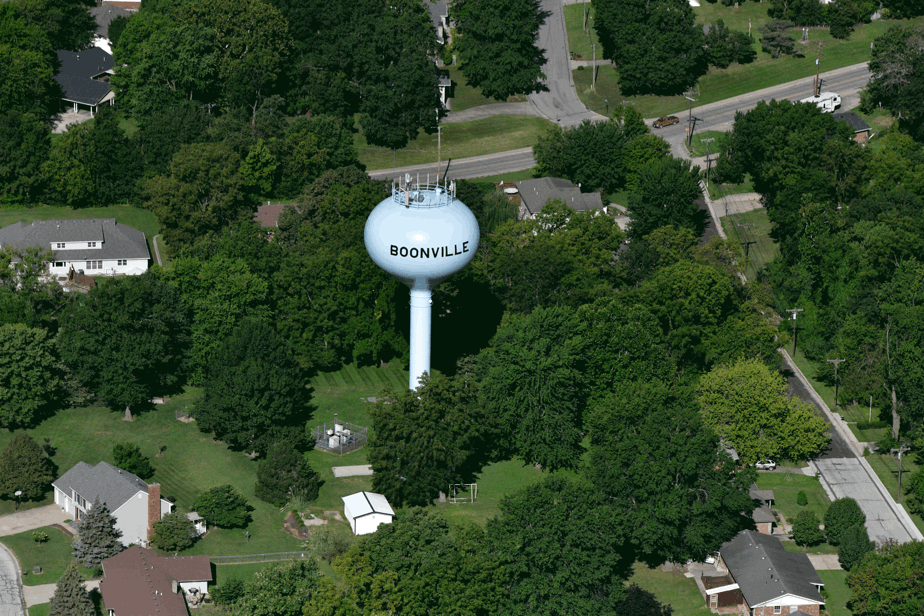 Once again, playing the role of water-tower police, we feel this water-tower is properly marked to indicate the lovely town that stands in its shadow. Day 10 - _BFH0780 - Missouri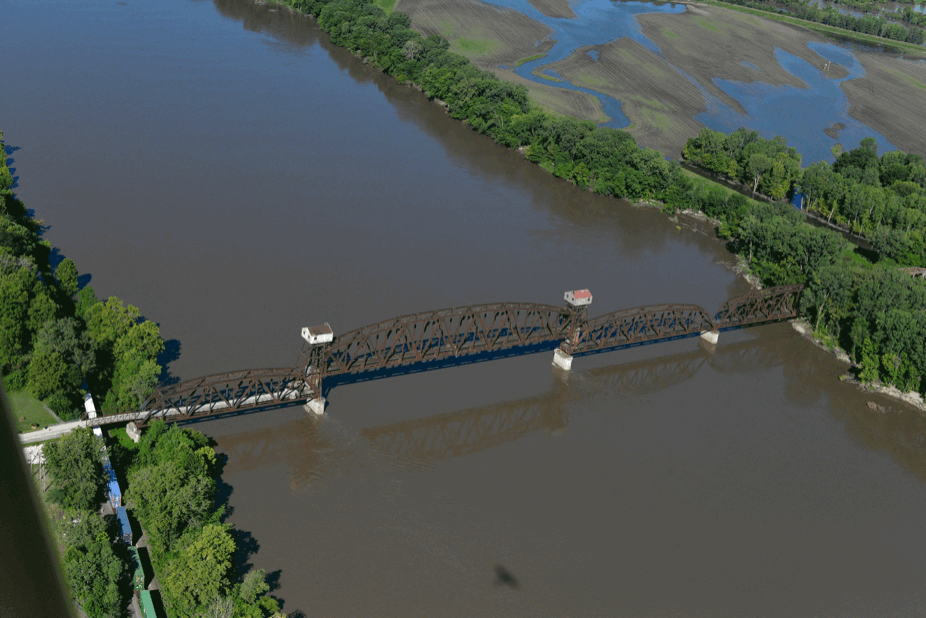 Not sure it's appropriate to label this a draw bridge since its is more of a verticle slide action. With the Cub's shadow (does this count as the Cub photo bombing...again?) in the river, Mr. Nikon captures this wonderful old bridge who is now retired. The next photo was takend just a few seconds after this one. Day 10 - _BFH0798 - Missouri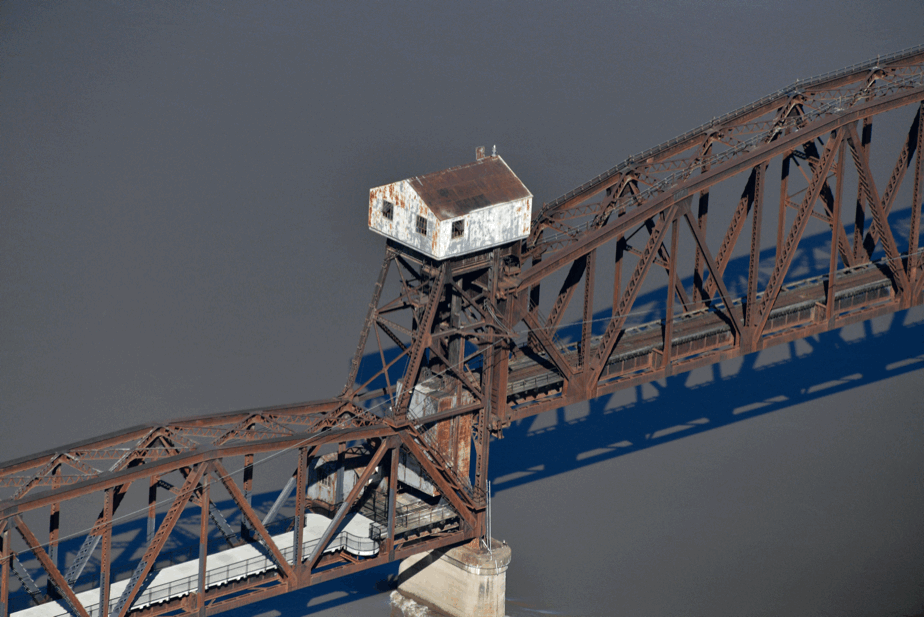 As quickly as Mr. Nikon could respond to the twist of the telephoto lens we got this shot of the bridge keepers house. Imagine the bridge keepers daugther asking her daddy where he works. "Over the river" wouldn't quite cover it would it? Day 10 - _BFH0786 - Missouri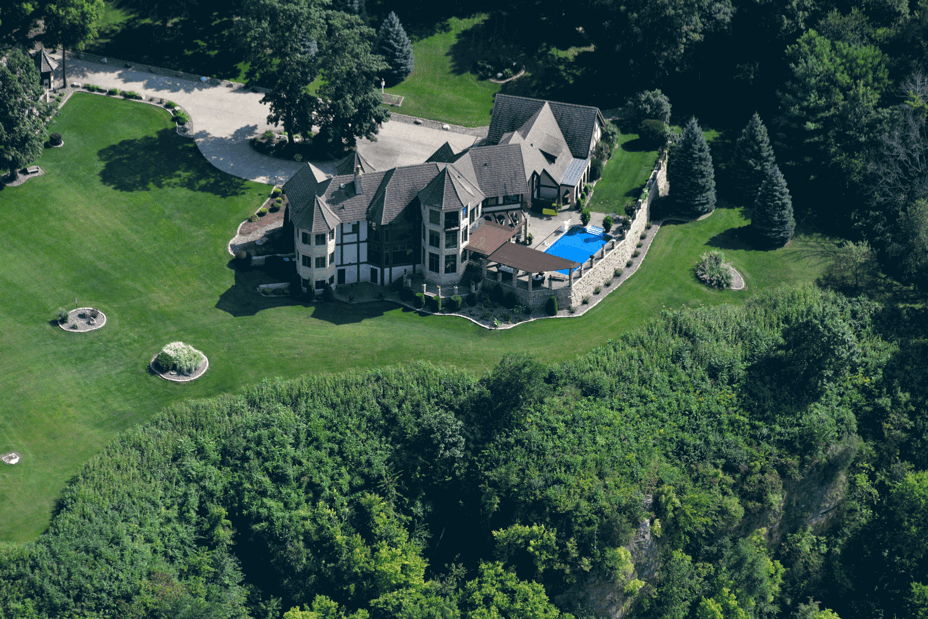 We awarded this home, "Best Use of Architecture and Landscape in Creating a Multi-Focussed Home with Each Wing Providing a Very Different Viewing Experience." As you can imagine it was difficult to find a plaque of the proper size given the length of the title. Day 10 - _BFH1069 - Missouri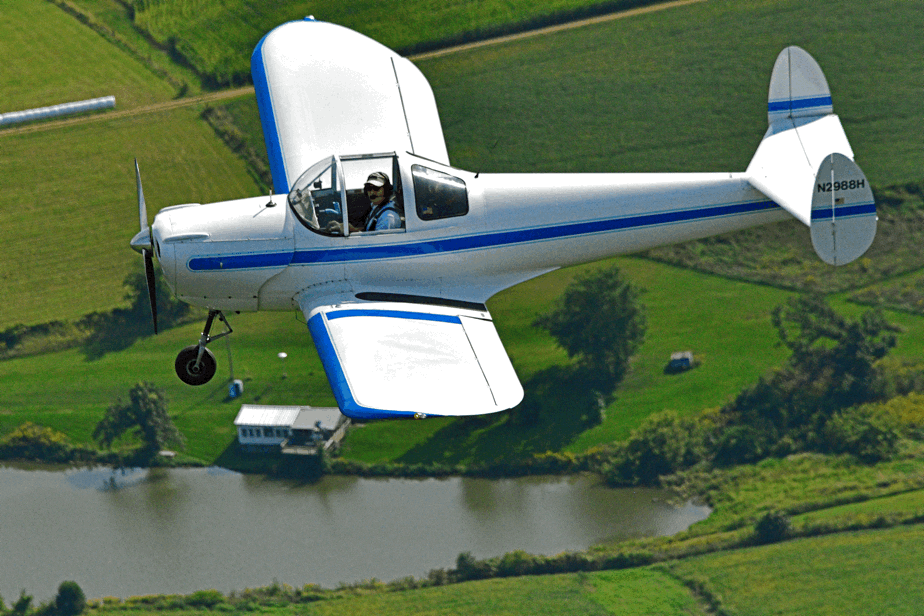 Craig in the AirCoupe flying formation as we fly to Brodhead. Day 17 - _BFH1019 - Iowa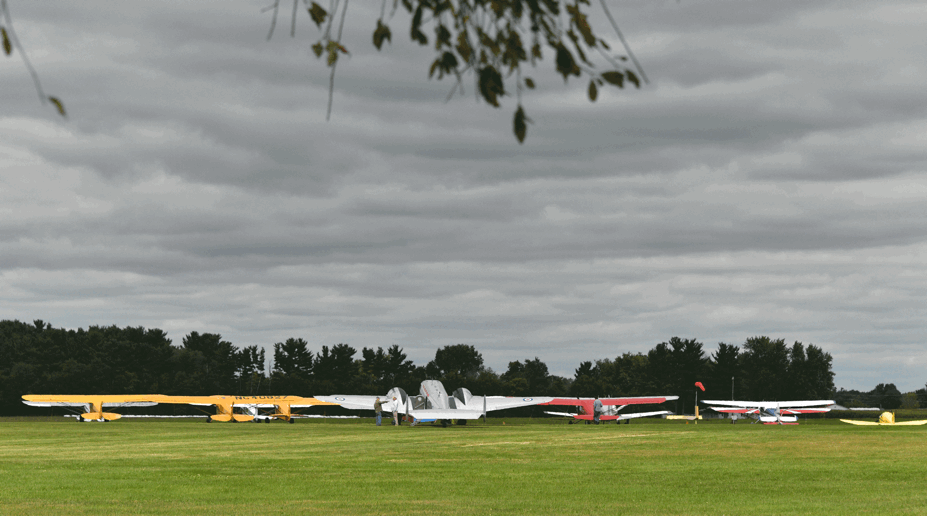 Friday morning at Brodhead proved to be a challenge for many pilots waiting for the weather forecaster's "Promise of 77 degrees and sunny skies." Day 18 - _BFH1162 - Wisconsin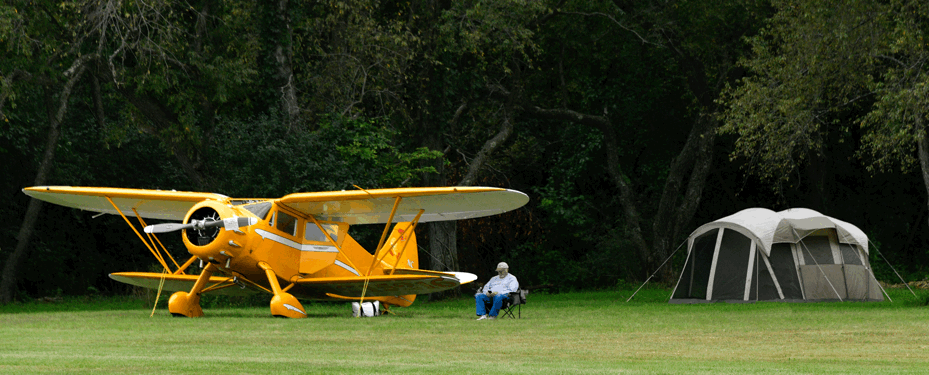 Mark's "Tweety Bird" Waco is the only one of this model flying. Mark explained that the lines of this Waco model had more curves and looked a bit more elegant that later models. One of the truly great traditions at Brodhead Grass Roots is walking around and talking to the owners of these impecably restored and cared for works of vintage aviation art. Thanks Mark for taking the time and resources to bring this beautiful plane back to life for all of us to see. Day 18 - _BFH1138 - Wisconsin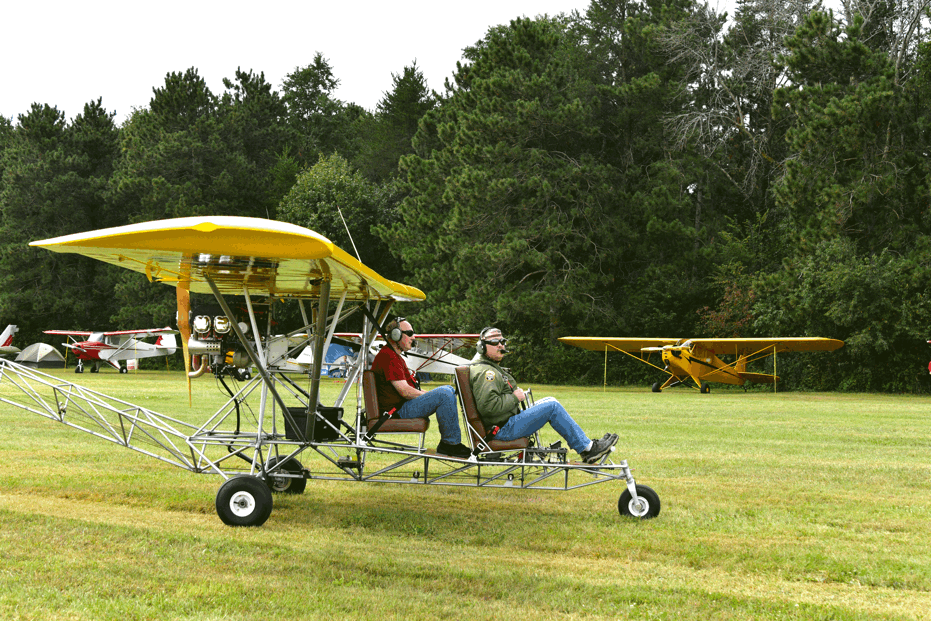 This aircraft is called a "Breezy" but the word "naked" comes to mind first. Day 18 - _BFH1235 - Wisconsin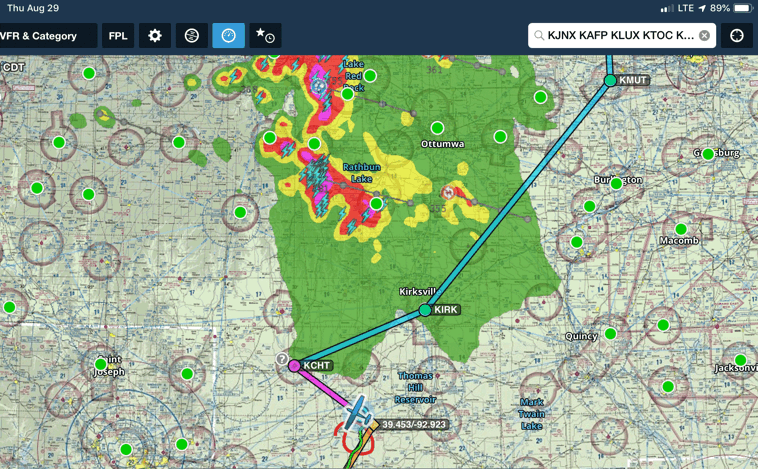 This little gem swooped down and gained speed as we considered Kirksville (KIRK) was no longer an option for a fuel stop. That was remedied by a quick change in direction to Chillecothe, were we waited out the weather to the north of us in complete sunshine. Day 10 - IMG_2727 - Missouri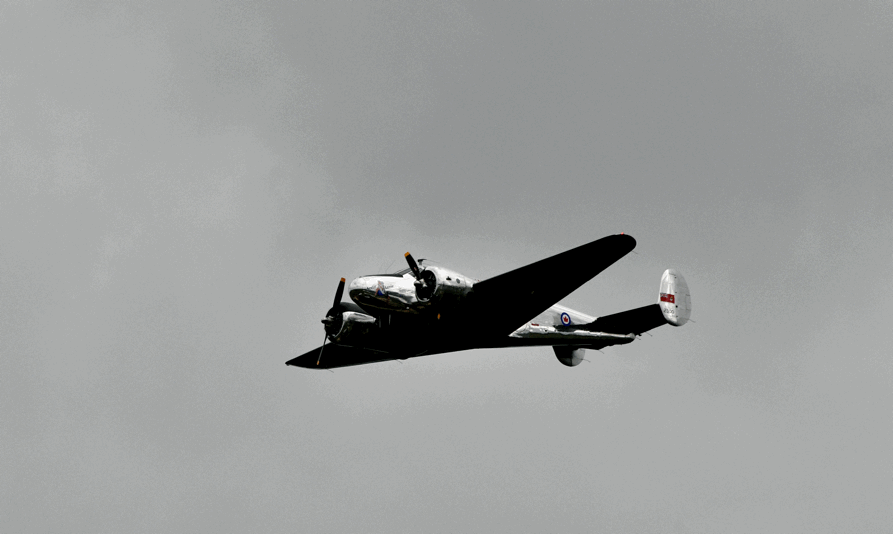 Artic Annie sent chills throughout the crowds when her twin round engines thundered just above the runway. Day 18 - _BFH1104 - Wisconsin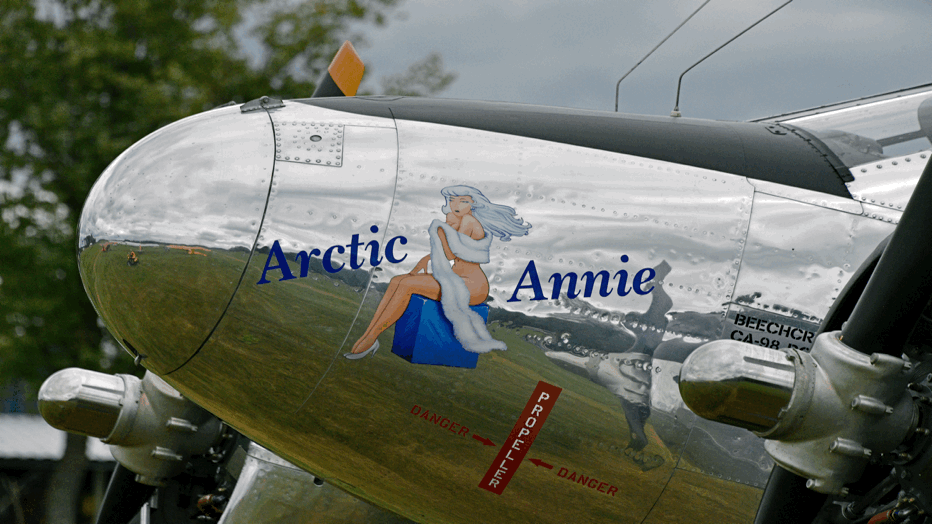 This nose art had the perfect day for its subject matter: cold, windy, and overcast. Day 18 - _BFH1114 - Wisconsin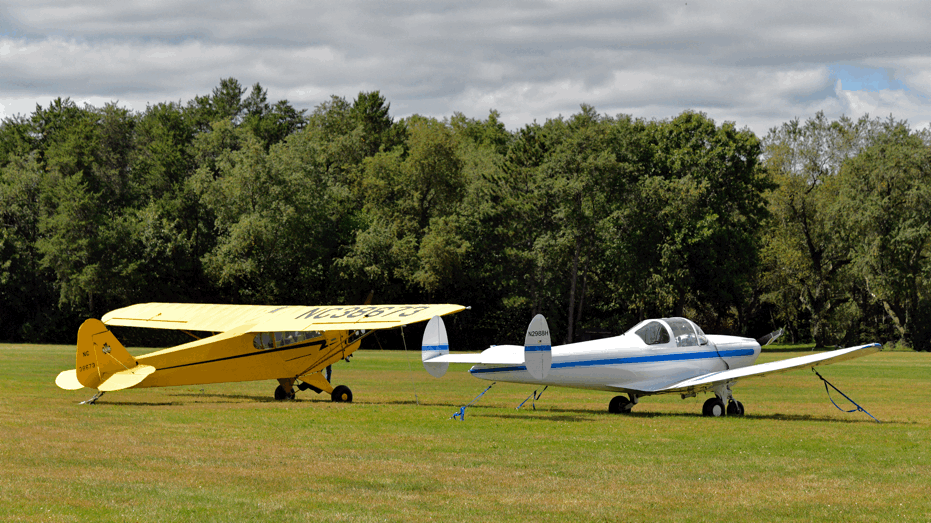 The Cub and the Coupe relax under the afternoon sun. Day 19 - _BFH1175 - Wisconsin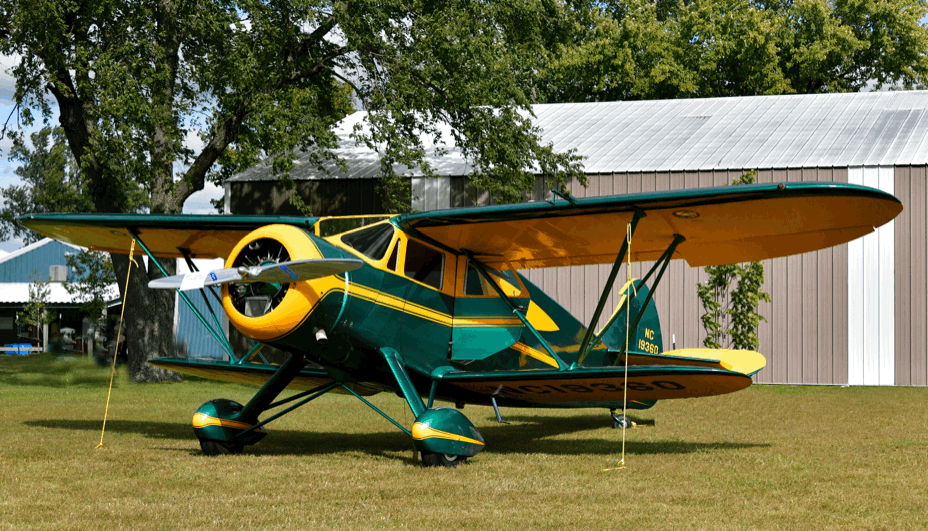 The stunning colors of the cabin Waco could be seen from most every point on the airfield. There were plenty of maticulously restored vintage works of art proudly on display by their owners. Day 19 - _BFH1195 - Wisconsin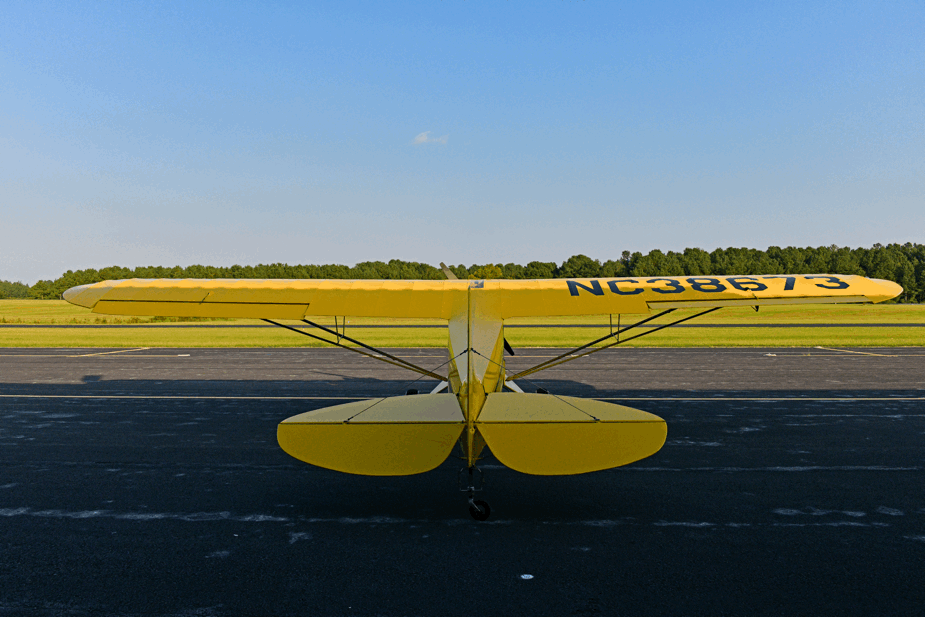 The flight home was not a photographer's perfect weather and subject matter. Mr. Nikon got a multi-day rest from the comfort of his padded backpack.
After a nice touch down and brief taxi to our hangar, we found ourselves in the same place we have ended so many of our recent Adventures. Now, just as then, we knew once our feet touched the ground the adventure had ended. Slooowwwllly we stepped down reaching for the tarmacs warm black, sun-baked surface to leave the Cub. After opening the hangar we happened to glance back and noticed the Cub facing the runway as if is was ready to start all over again. Day 24 - _BFH1245 - North Carolina
We will have a year to consider the "When, where, and why" of taking the Cub to see more of our amazing country.... til then, grab a cup of coffee and consider joining us. We appreciate your coming along.
Trip Statistics:
Number of Days = 24 days
Statute Miles Flown = 2,895.8 statute miles*
Number of Legs = 34 legs*
Longest Leg = 128 statute miles*
Total Flight Hours = 49 hours 12 minutes*
Total Fuel = 183.7 gallons
Average Gallons Per Hour = 3.75 GPH
*Recorded by GPS